More than 5,000 could not travel after Hong Kong banned flights from the Philippines in January.
As thousands of foreign domestic helpers from the Philippines were allowed into Hong Kong from Friday when the city lifted its flight ban, employment agents said they hoped to clear a backlog of stranded workers in the coming two months.

Philippine consul-general Raly Tejada told the Post that the resumption of flights was long-awaited and hoped that all airlines, Filipino travellers and employment agencies would follow the city authorities' requirements.

"We have worked so hard for this and don't want the opportunity to go to waste if the authorities suddenly decide to reinstate the place-specific flight ban due to passengers testing positive upon arrival in Hong Kong," he said.

Thomas Chan Tung-fung, chairman of the Hong Kong Union of Employment Agencies, said more flights from Manila had been added in recent days, while quarantine hotels dedicated for foreign domestic workers became easier to book.

"About 5,000 to 6,000 domestic workers have been waiting to come to Hong Kong since January when the flight ban was implemented," Chan said. "Assuming there is no flight suspension again, we hope to clear the backlog by June."


A Filipino domestic worker, who gave her name as Ruth, was among the first batch of passengers to arrive in the city from Manila on Friday. She said the trip was smooth.

"I worked in Hong Kong for 30 years, and my old employer re-hired me again," she said. "We didn't wait so long at the airport."

According to data from the Hong Kong Airport Authority, only three flights from Manila arrived on Friday – two by budget airline Cebu Pacific and one by national carrier Philippine Airlines.

Two Cebu Pacific flights are also due to arrive from Manila on Saturday, while Cathay Pacific Airways will operate two flights this month, on April 4 and 21.

Hong Kong residents and people with work visas who have received two doses of a Covid-19 vaccine and are stranded in nine countries – Australia, Canada, France, India, Nepal, Pakistan, the Philippines, the United States and Britain – would be allowed to return from April 1.

As part of Hong Kong's eased restrictions effective from April 1, compulsory hotel quarantine has been halved to seven days if arriving travellers test negative for Covid-19 on the fifth, sixth and seventh days of their stay.

Hong Kong authorities warned they would still ban an airline if a flight brought in three or more passengers who tested positive for Covid-19 after arrival, but the suspensions would be for seven days, not the previous 14 days.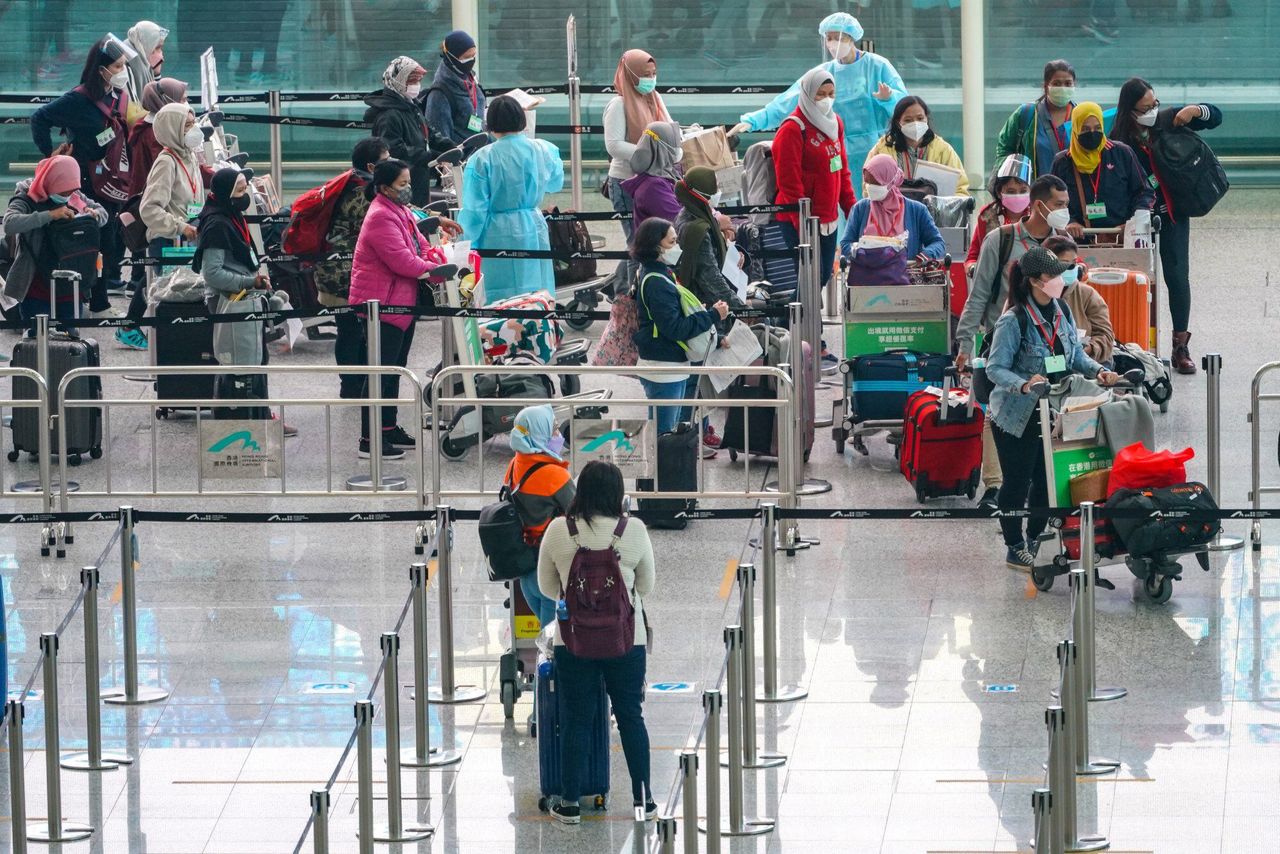 About 5,000 to 6,000 domestic workers are said to have been waiting to come to Hong Kong since January, when the flight ban was implemented.

Chan said agents had found it "relatively easy" to book rooms for arriving domestic workers. The four quarantine hotels designated for them – Courtyard by Marriott Hong Kong Sha Tin, iclub Ma Tau Wai Hotel, O'Hotel, and Rambler Garden Hotel – offered 1,641 rooms.

Mike Cheung Chung-wai, president of the Overseas Employment Centre, agreed that there were ample flights and hotel rooms. He added that cost of flights, quarantine and polymerase chain reaction (PCR) tests amounted to about HK$7,000 per person.

His agency had about 300 helpers who could not get to Hong Kong because of the ban on flights from the Philippines. "We hope the number will drop soon, now that a lot of them can come," he said.

Cheung Kit-man, chairman of the Hong Kong Employment Agencies Association, said Filipino domestic workers heading to Hong Kong still had several hurdles to clear before boarding their flight.

With the eased restrictions announced only on Thursday, he felt that not many Filipinos would be able to travel right away.

"The Philippines is a huge country. It is not easy for someone there to get all their necessary documents ready to fly to Hong Kong," he said.

Those living in outlying provinces had to make their way to Manila, and employment agencies had to ensure that the workers had their PCR test 48 hours before their flight.

"I believe not a lot of people will be able to get everything ready to travel to Hong Kong in the first week of April," he said.

He said it was relatively easy to book flights and quarantine hotel rooms only because it was so soon after the restrictions were eased.

"I expect it will get more challenging in the coming weeks," he added.