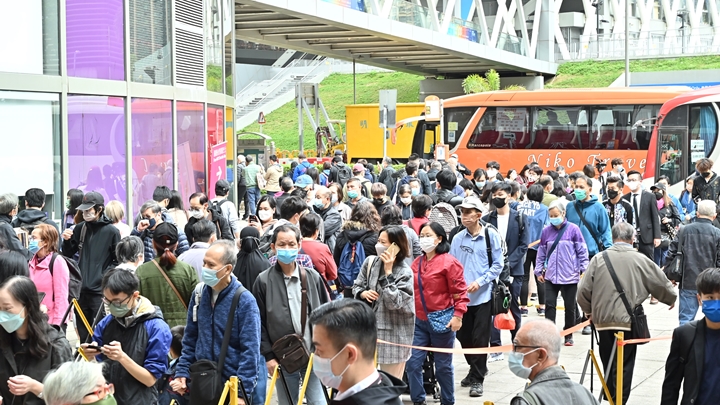 Thousands of commuters affected in the second MTR incident within one month
The disrupted MTR services in Tseung Kwan O Line have gradually resumed after more than four hours of the suspension. Over 1,500 passengers were affected with two being sent to the hospital, including a pregnant woman.
Around 800 passengers were guided by MTR staff to evacuate. Another 700 passengers on the train left with firefighters' assistance.

Ng, a passenger on the train, was evacuated with his son, who was in a baby pram under the MTR staff's help. "We have planned to go to my kid's class," he said, "now we have no choice but to go home."

Congestion once occurred on the platform as over one thousand passengers had to switch to other transportation due to the service suspension of the MTR line from Tiu Keng Leng Station to Po Lam / LOHAS Park Station.

"I may be late for an hour for my work," said a female commuter surnamed Lam, who was waiting for the shuttle bus arranged by MTR Corps to pick up passengers outside the Tseung Kwan O Station.

"There are plenty of people queuing for buses, and it would take more than 15 mins to catch one," she added.

Police confirmed two females, one pregnant, were sent to the hospital.

The incident was due to an equipment fault between the sixth and seventh compartments of the train, leading the emergency brake functioning to stop the train.

On November 13, a train of MTR Tsuen Wan Line at Yau Ma Tei station was reported to suspend service in the morning due to hitting a displaced metal component next to the track, causing two pairs of carriage doors to fall off and get stuck in the train tunnel and over 700 passengers evacuated.