Opposition-leaning media 'have retreated under the national security law', one author says, ceding spotlight to pro-establishment writers.
Pro-establishment writers and politicians have hailed the Hong Kong Book Fair as an opportunity to promote their views amid the diminished presence of the opposition camp at this year's event, brushing aside worries among some residents that long-held freedoms of publication and expression are shrinking.

The annual book fair, one of the largest of its kind in the world, kicked off this month after a one-year hiatus caused by the coronavirus pandemic. It is also the city's first since Beijing's imposition of the national security law, with fears over the legislation prompting some publishers to refrain from selling books penned by opposition figures.

The city's pro-establishment camp, however, has taken the new climate as an opportunity, with prominent figures continuing to publish books amid what they see as more favourable media coverage and increased political support from lawmakers and senior officials this year.

"Yellow media has become the mainstream in recent years, especially during the protests," said author Thomas Chan Man-hung, referring to the colour associated with supporters of 2019's anti-government demonstrations. "But they have retreated under the national security law, and that allowed the coverage from other media outlets to stand out."

"There was also media coverage on pro-establishment writers in the past. They were just hidden among the reports from those yellow media."

Veteran criminal lawyer Cheng Huan and lawmaker and former security chief Regina Ip Lau Suk-yee were among the pro-establishment voices promoting new books at this year's fair. Ip was at the event on Sunday to meet attendees, with the city's security, home affairs, constitutional affairs and technology ministers all swinging by to visit her booth.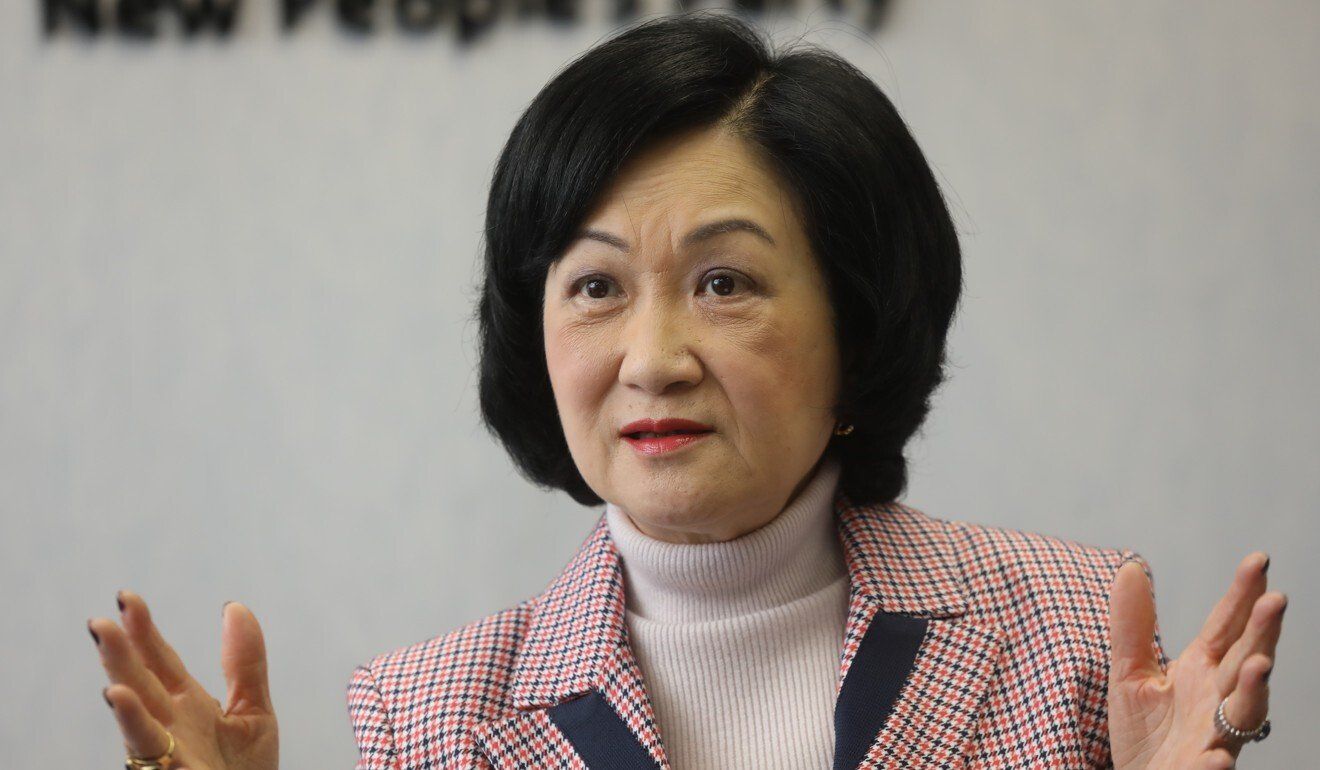 Lawmaker and former security chief Regina Ip was promoting a new book at the fair over the weekend.

"Residents are very enthusiastic about the book fair," Ip said on Monday, noting the popularity of titles from herself and other political figures. "It took hours for some people to queue up for writers' signatures. The only books that might not be that popular were the travel guides."

Meanwhile, a group of 10 of the bloc's most prominent writers – including Chan – took advantage of the fair to launch a series of books on Hong Kong's social issues and its future, aiming to "deliver a professional and rational voice to the city's readers".

Eight of the 10 authors were in attendance at the fair on Saturday, including Chan and columnist Chris Wat Wing-yin.

Wat's book tackled what she described as the fragmentation of Hong Kong society, and urged the city's government to do more to heal the divide and "win people's hearts back". Chan, who is director of the One Belt One Road Research Institute at Chu Hai College of Higher Education, penned a new book on Hong Kong people's identity and world view.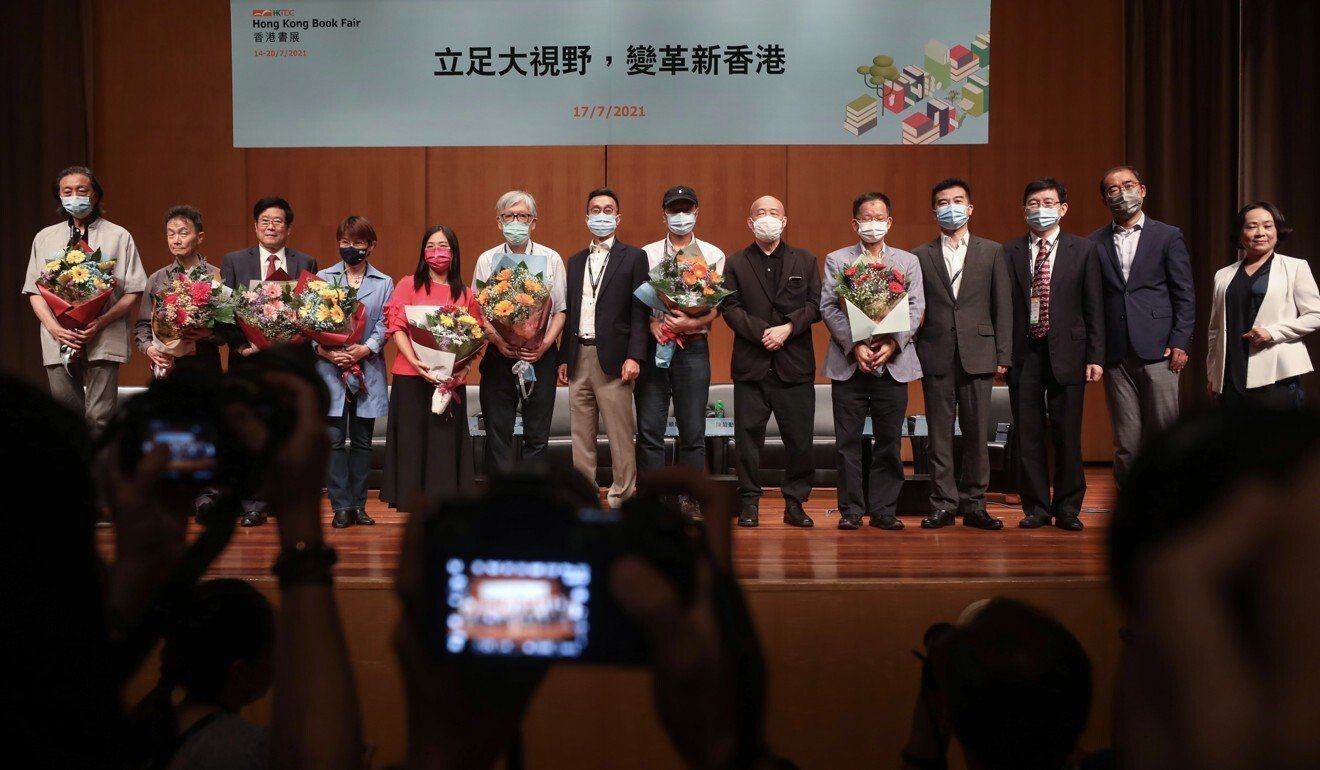 Pro-establishment authors appear at a discussion about their new books at the book fair on Saturday.

Asked by the Post whether this year's fair had remained diverse, Chan said he noticed that pro-establishment writers' works had gained more attention this year.

Wat meanwhile said she was unconcerned that vendors at the fair were not selling books written by opposition activists such as Joshua Wong Chi-fung.

"Figures like Wong … are criminals who broke the law. If the book fair is selling their books, it is problematic, right?" she said.

"I don't think it is a problem to take down books written by criminals or books related to violence. I don't think similar books will be sold in overseas book fairs as well."

Poon Lai-king, founder and chief editor of the publisher Joyful Books, said pro-democracy books that were lawful should be allowed.

"If the books incite violence, of course they are illegal and should be banned," she said. "But I wish that we could return to a more rational environment where people do not have to be this fearful."

Even some supporters of the pro-establishment camp who visited the book fair said it had to respect the freedom of speech.

"It is good to have voices from both sides," said 62-year-old Steven Cheung Kwok-kee, who works in insurance, noting that both camps should be allowed to express themselves so others could make up their minds. "If one side is doing a better job than the other side, people will naturally support the better side."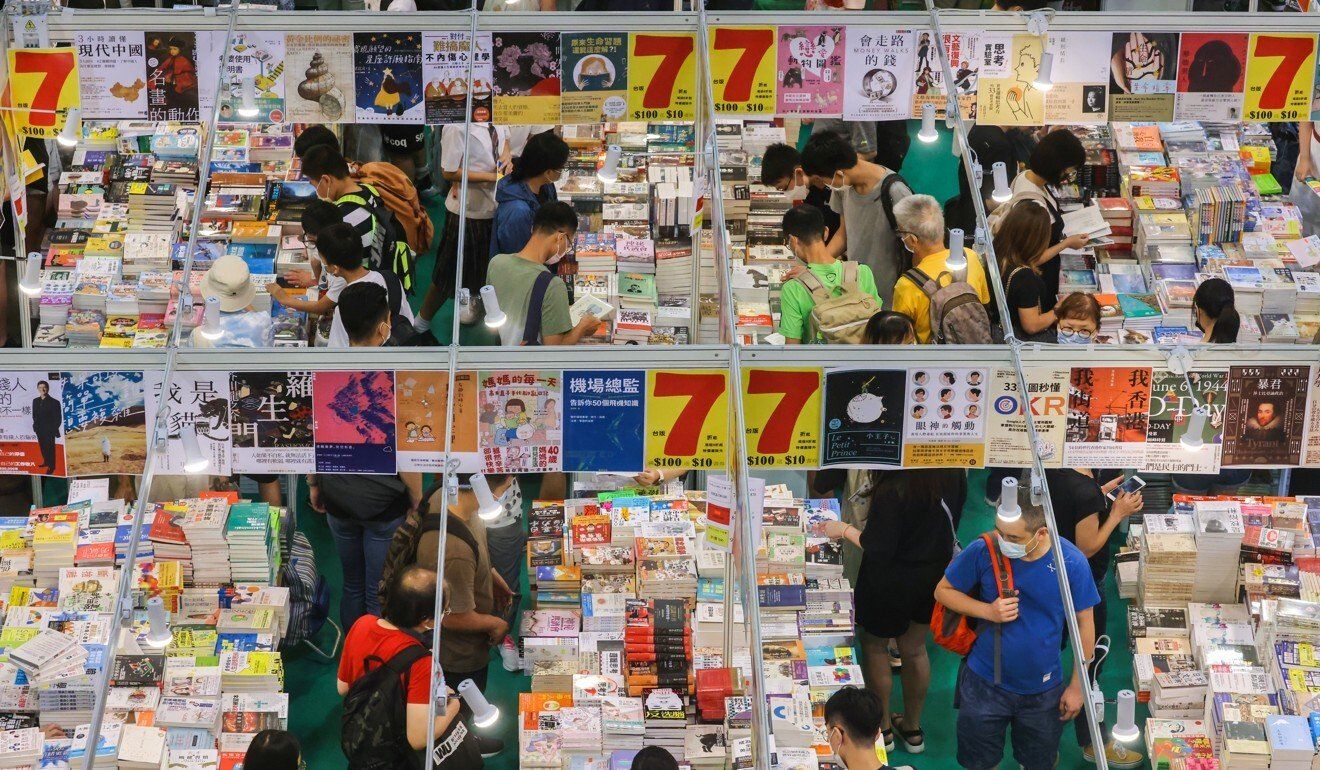 Visitors browse the offerings at the Hong Kong Book Fair on Friday.

Betty Lau Ku-chu, a 60-year-old homemaker, also said that books about the 2019 protests should be allowed at the fair – but only on the condition they were truthful.

"But many of them distorted what happened; for example, they are describing illegal acts as something righteous, which will impact the younger generation," she added.

Supporters of the opposition camp, meanwhile, said they hoped Hong Kong could preserve its freedom of publication.

Last week, the Trade Development Council, which organises the fair, sent letters to publishers Hillway Culture and Kind Of Culture, saying it had received complaints accusing them of breaching the national security law through the books they were selling.

But with no action taken by either the organiser or police, both publishing houses kept selling the books in question.

Some of the books were sold out on Saturday after meandering queues of shoppers appeared outside their booths over the weekend.

Carrie Leung, 40, said she came to the book fair for the first time to support the publishers and bookstores that received warning letters.

"The fact that the [complainants] don't want to read the books does not mean that others don't want to read the books as well," she said.