Architect Jiri Lev's home is a prototype for forward-looking architecture that could make a positive societal impact in Australia.
When Australian architect Jiri Lev set out to design a home for his young family in Tasmania, he saw it as an opportunity to try something different. "I consider self experimentation a bit of an architect's moral obligation and duty," he says.

Rather than relying on traditional synthetic materials, he sought out raw, locally sourced materialsขsheep wool insulation and Tasmanian timber like macrocarpa pine, for exampleขto build a compact, sustainable, and affordable home that's a prototype for his firm's long-term project of developing ecovillages throughout Australia.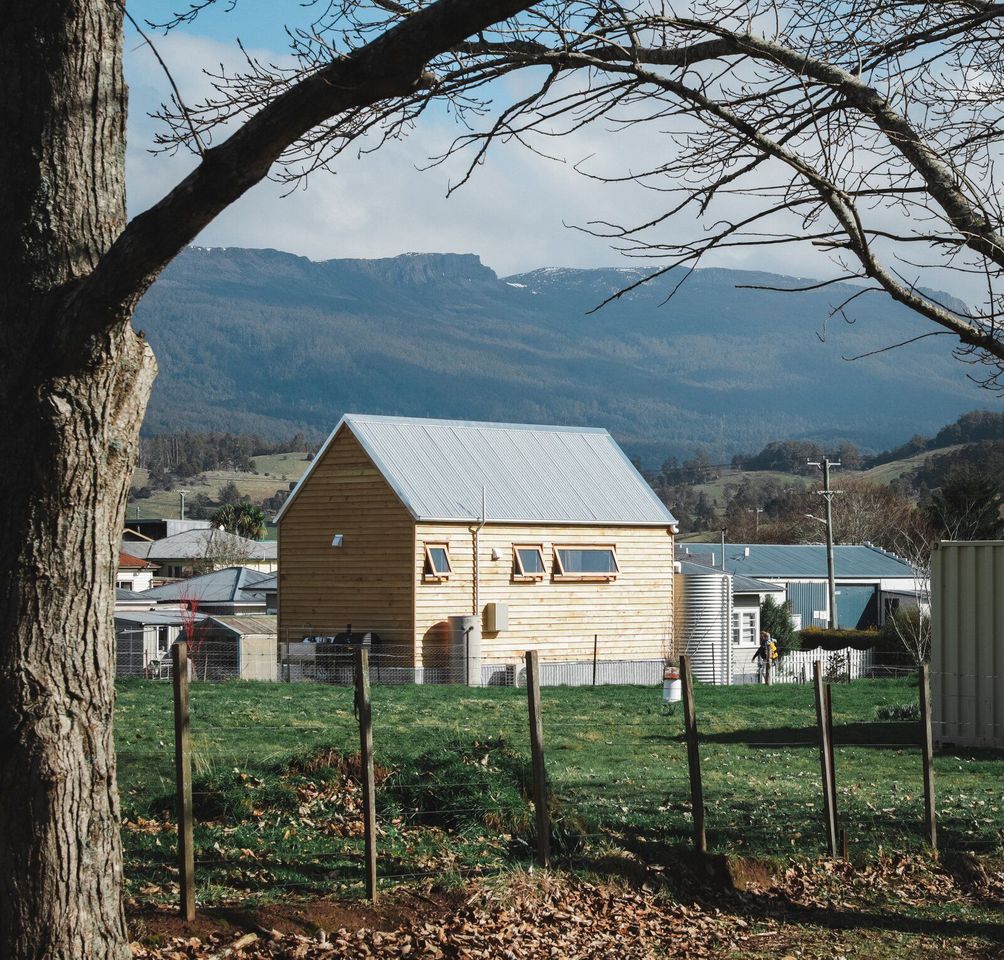 Architect Jiri Lev designed the Tasmanian House with a restrained material palette to keep project costs down and make it more sustainable.

"Our vision is a network of small, compact urban forms surrounded by shared agricultural land and well-managed wilderness," explains Jiri. "Our small cabin demonstrates to potential investors how very comfortable homes could be built economically, utilizing local resources and best practices, and regionally informed design language."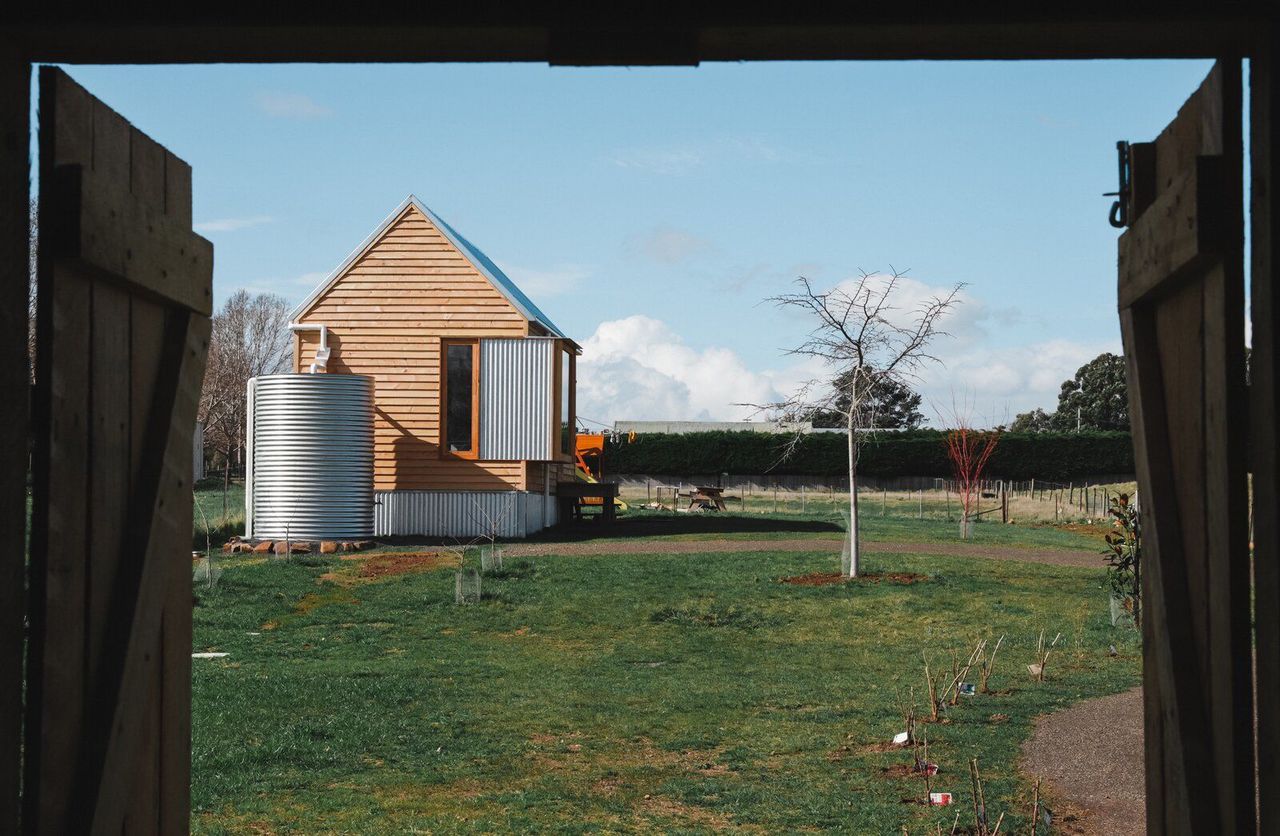 The house sits on concrete pillars and is largely constructed using local pineขradiata for the frame and macrocarpa for the cladding. Corrugated galvanized steelขa "very Australian" material, according to Jiriขis used as an accent on the window seat and base.

The 280-square-foot cabin, a studio meant to be the first phase of a two- to three-bedroom home, is a modern interpretation of the country's Georgian-period vernacular, which Jiri considers to be "the most beautiful and appropriate of Tasmanian precedents." Buildings in this styleขmarked by simple, rectangular structures and gable roofsขcan be seen in well-preserved Tasmanian towns like Oatlands and Richmond.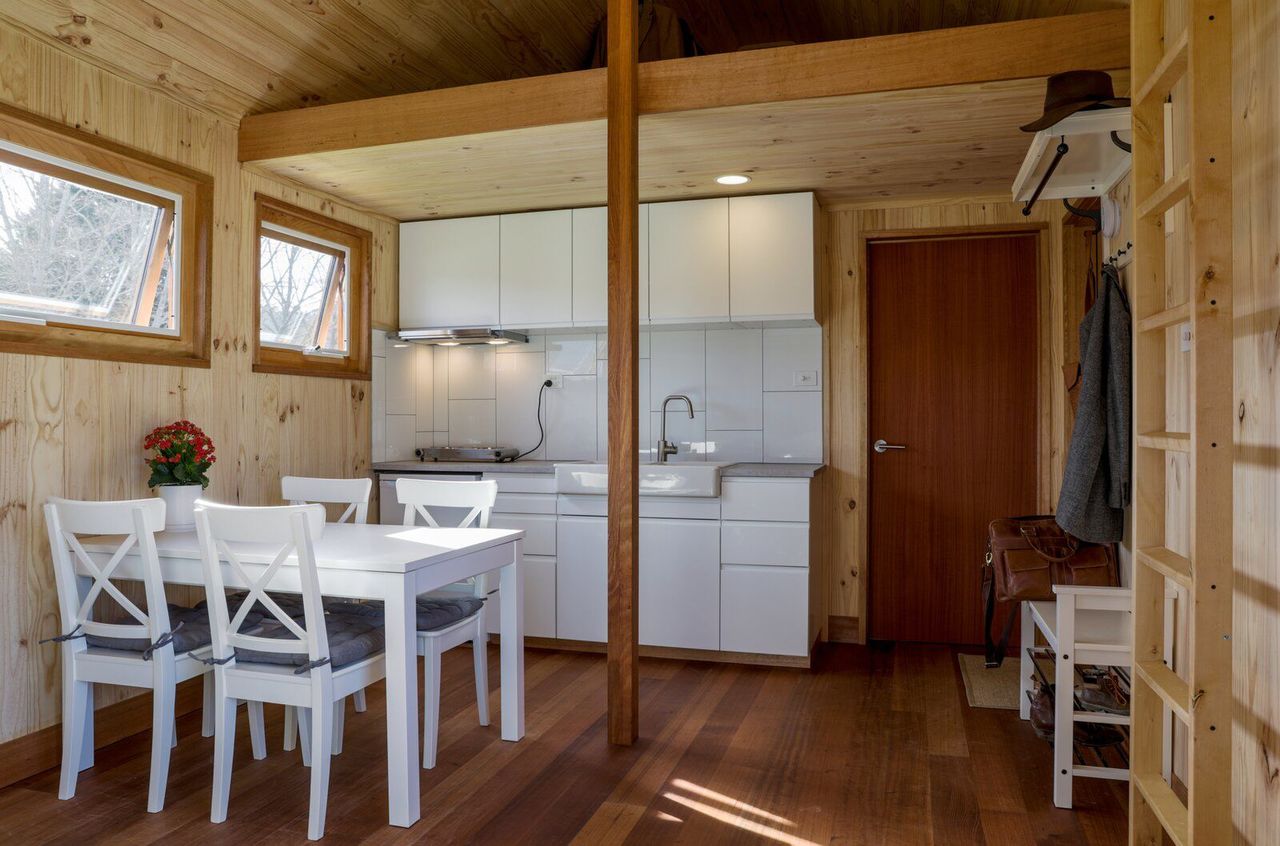 Inside the 280-square-foot studio is a kitchenette and full bathroom, as well as a loft area.

Equipped with a kitchenette, full bathroom, and a loft area, as well as a cantilevered box window seat, the space is home to Jiri, his wife, and their children, both under the age of 3. Flexibility is key to the design, since it will be expanded upon in the future.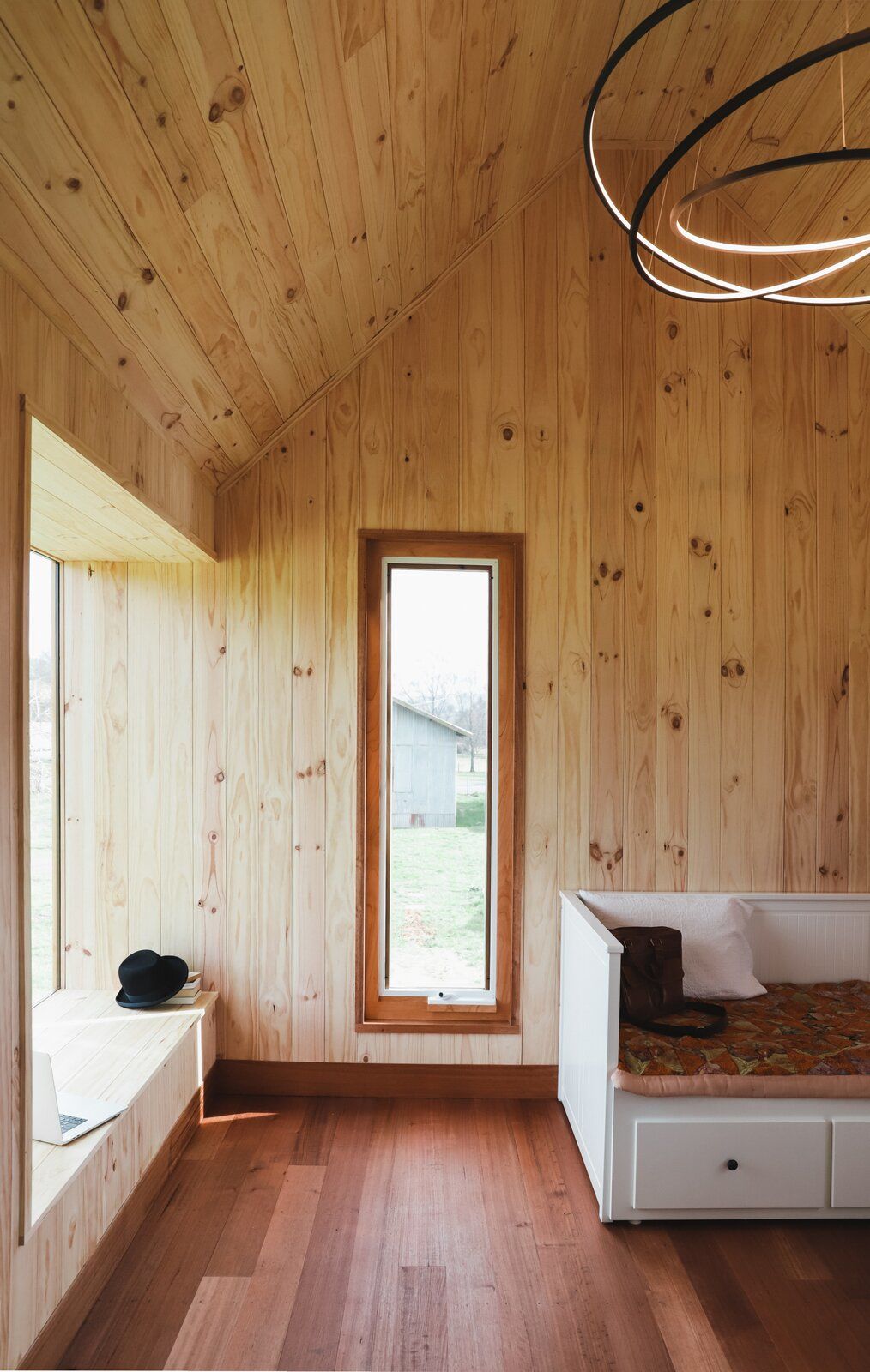 The interior floors are Tasmanian oak treated with a light coat of genuine Danish oil made with raw tung nut oil and citrus terpene. The walls are untreated radiata pine, a material that helps maintain ideal humidity in the home.

"By simply swapping the fridge for a washing machine and adding a single wall, it can easily be converted into a laundry when the house is extended," Jiri says of the kitchenette. "There will be no demolition whatsoever required when the extension is added later this year."

Sustainably, individually sourced Tasmanian timber is the primary construction materialขuntreated radiata pine makes up the framing and floor structure, while the floor is Tasmanian oak and the cladding is durable, long-lasting macrocarpa pine.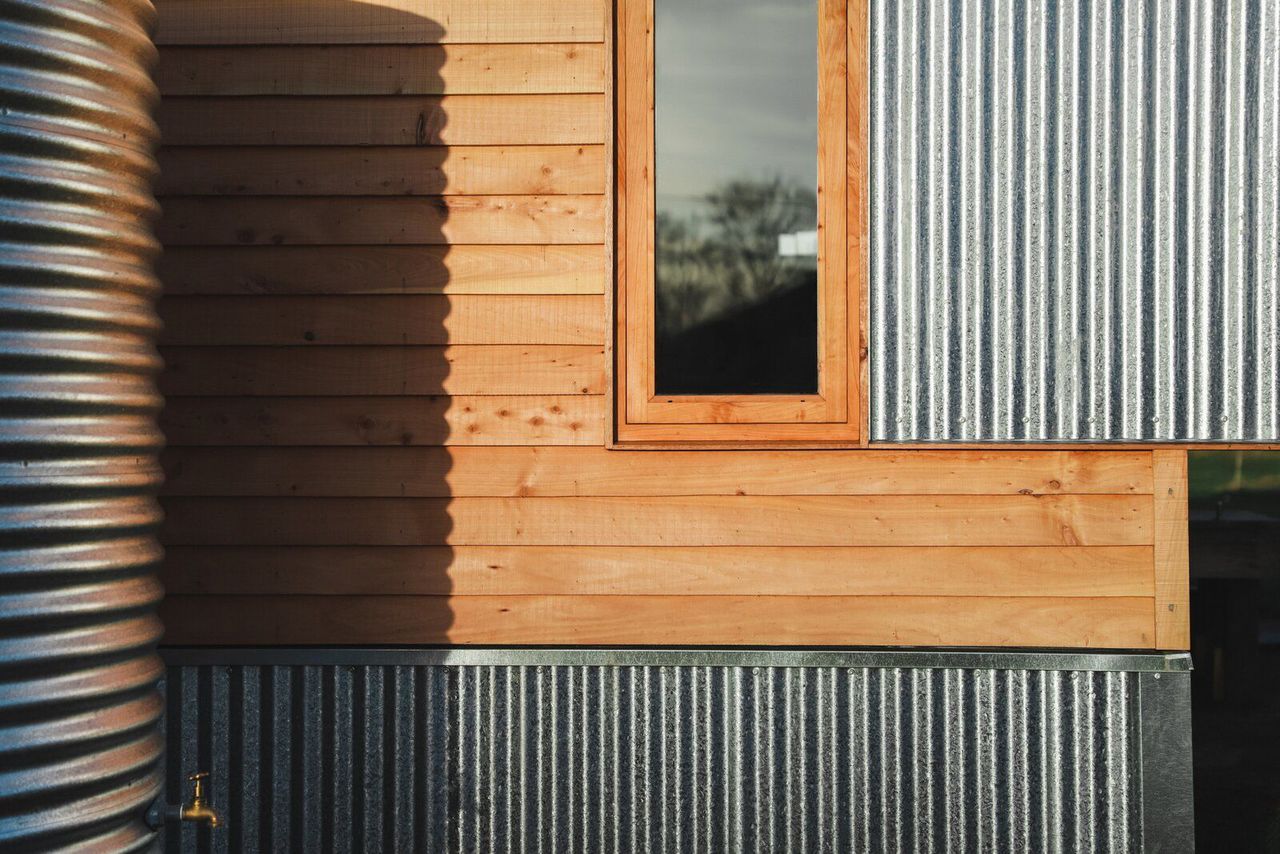 Jiri used macrocarpa pine for the exterior weatherboards, as it's known for its resilience.

"A facade like this, ventilated from both sides, can anecdotally last decades without any paint or oil," says Jiri, adding that the timber boards used for interior lining are "quite vapor permeable, maintaining the optimum 50-60 percent humidity inside."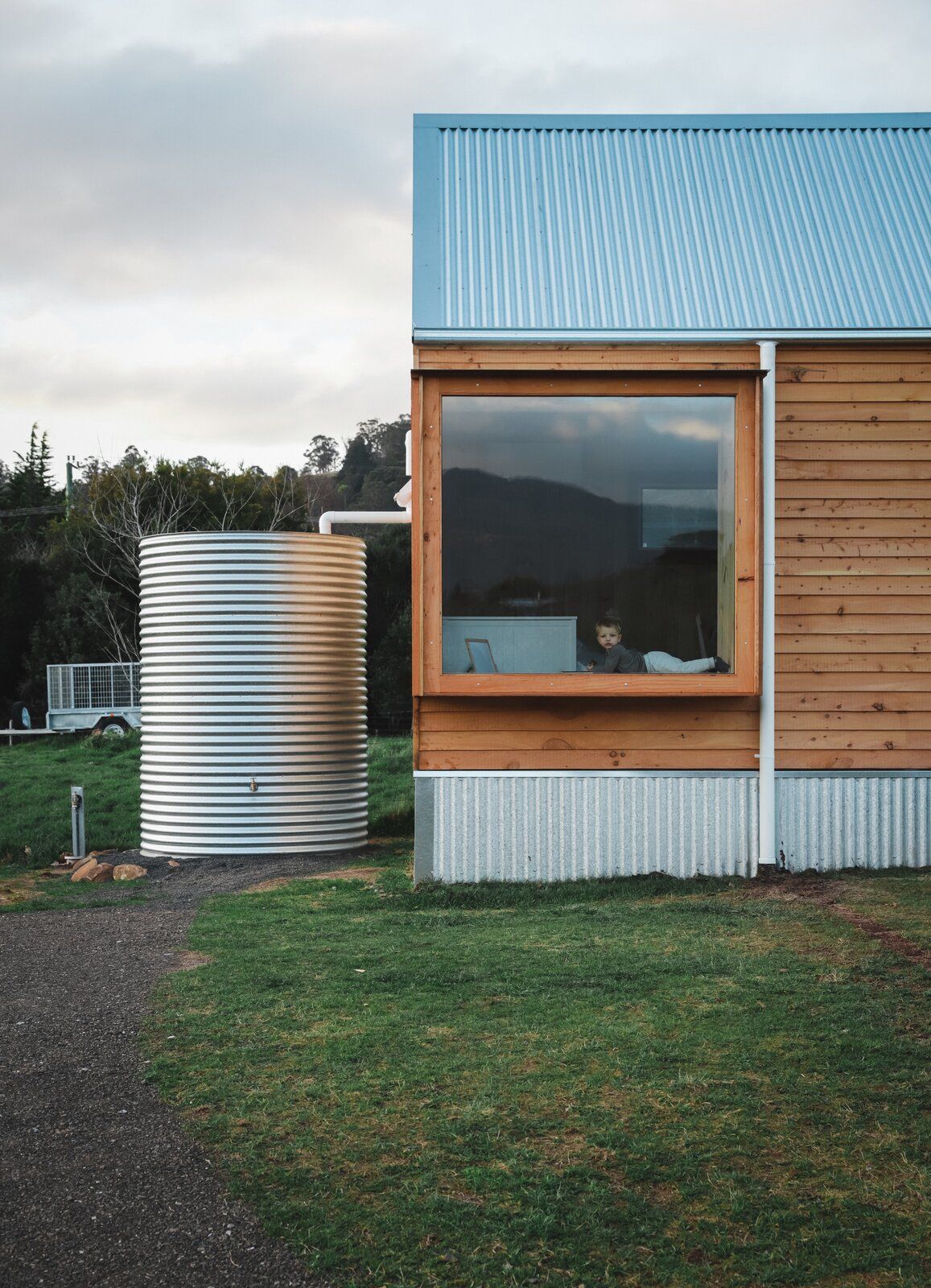 A large window juts out on one corner of the home, creating a cozy window seat inside.

The materials are largely organic, so if just a few things were removedขlike the furniture, bathroom tiles, electric cables, pipes, and the vapor-permeable wrapขthe home would naturally decompose into the soil.

Built at a cost of $90,000 AUD (which could be knocked down to $80,000 with a simpler bathroom and no window seat), the home is no more expensive than a commercially built project, but much healthier to live in, notes Jiri.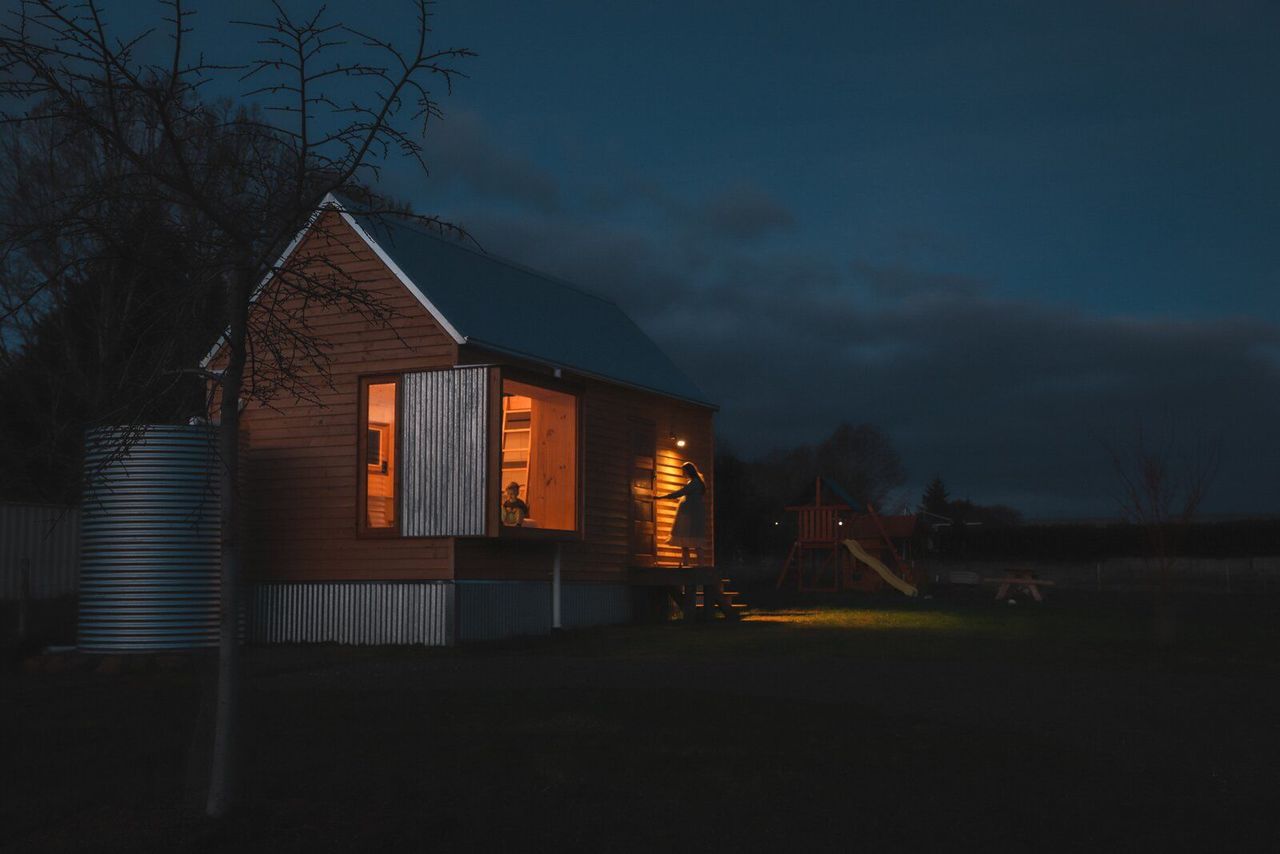 The home will be expanded later this year with a timber structure, and Jiri will test various types of renewable infill materials in its wall panels.
The location of the home, Meander Valley in north central Tasmania, is ideal for an experimental home as it experiences a wide range of weather conditionsขfrom snow and heavy frost to gale-force winds with intense rainfall and the occasional heat wave. It's also a region prone to brush fires, and it sits atop a protected karst systemขa type of landscape where the soluble bedrock creates sinkholes and caves. All of which Jiri says add "a welcome layer of complexity and relevance to our research."

In order to address societal problems like the housing crisis, Jiri sees a need for "an easily replicable model of an affordable home which almost anyone willing could afford to build and later easily extend, without wasting time and resources." He's designed the cabin to meet these needs, and he's made the plans public domain so that anyone can use them, free of charge.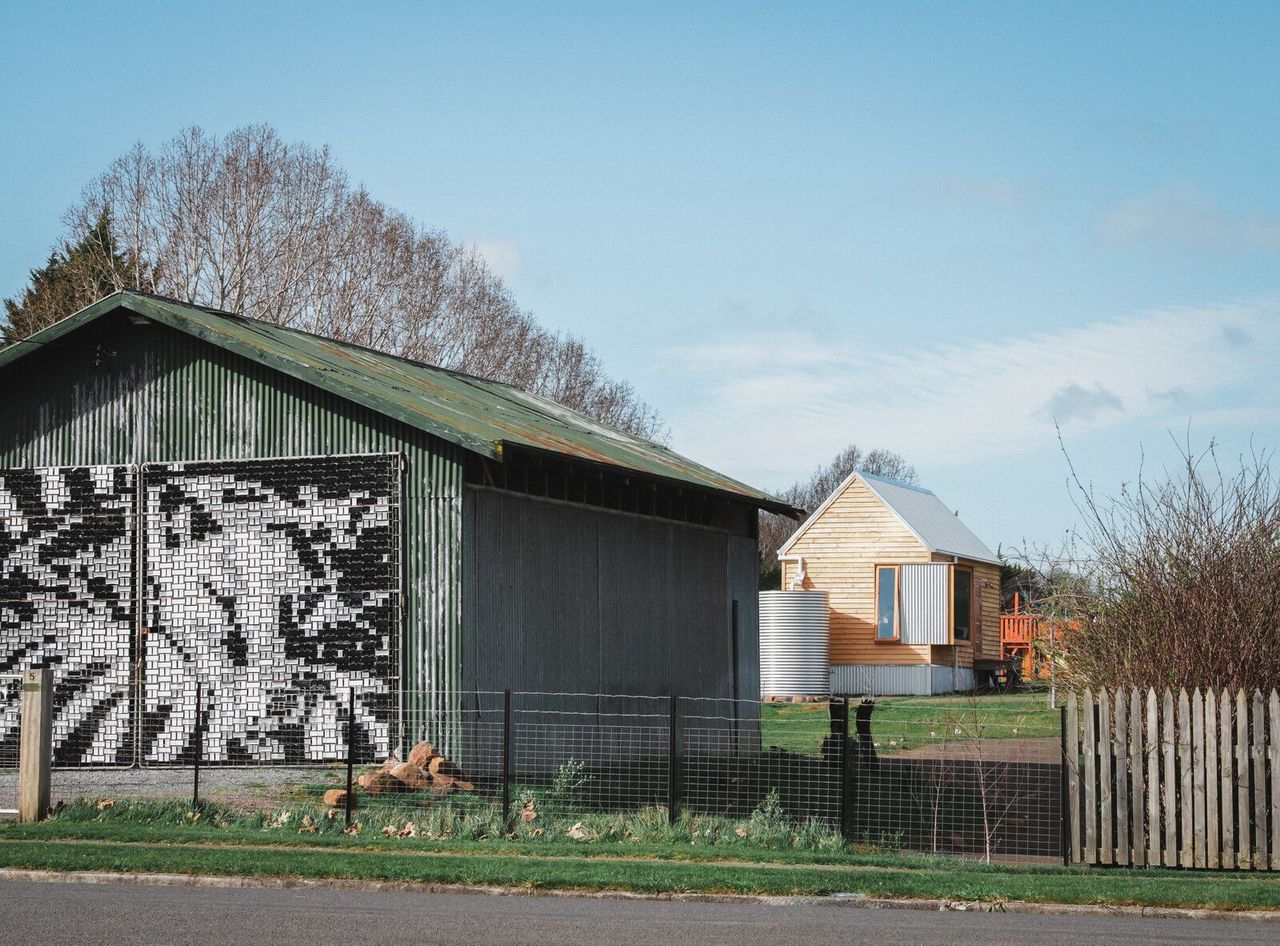 Located in the brush fire–prone Meander Valley of Tasmania, the house will be subjected to a wide range of harsh weather conditions, including snow, heavy frost, intense rainfall, strong winds, and the occasional heat wave.

The second phase of the home, planned for later this year, will involve a large timber structure wrapped in a curtain wall consisting of 40 individual panelsขeach filled with a different material, like wood chips or recycled paper (anyone can submit material suggestions for infill through the website 40walls.org). Jiri will monitor the panels for performance and durability, and the results will be entered into the public domain for all to use.

"The project is valuable not only because of the scope of experimentation it will allow me as the architect," says Jiri, "but also because unlike laboratory tests, this will be an actual space lived in by a family, with all the associated stresses a regular home undergoes."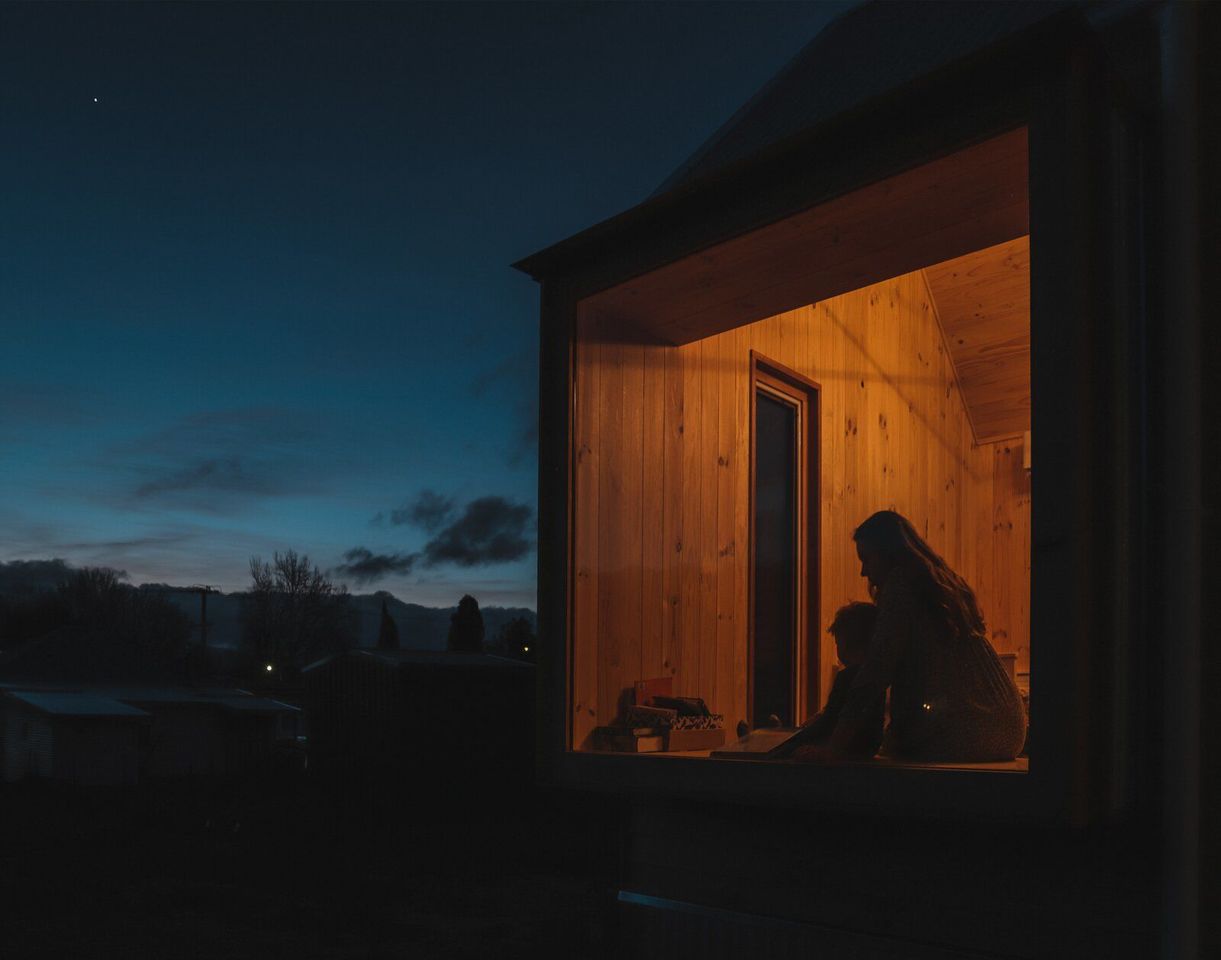 A view of the Tasmanian House's window seat at dusk.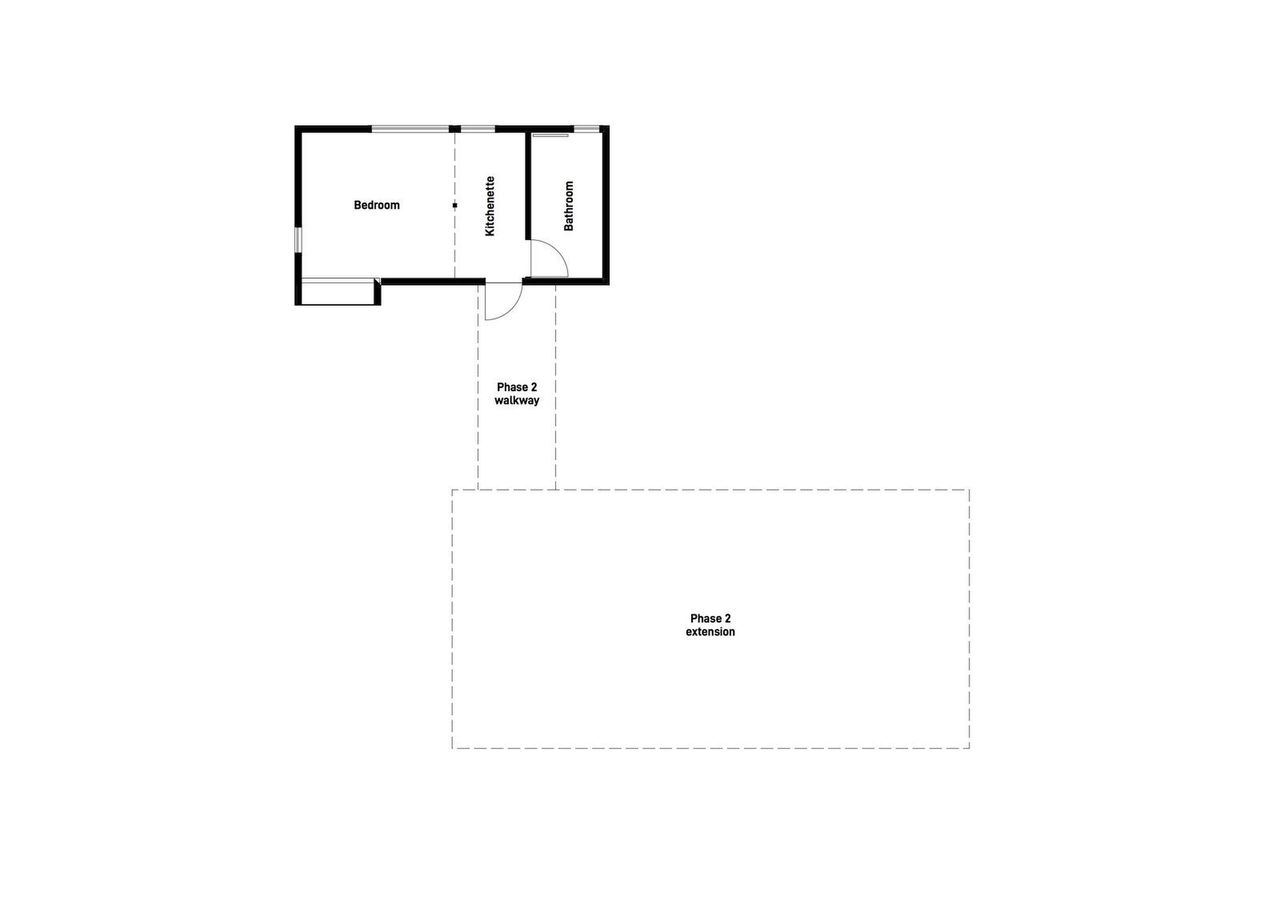 Floor plan of the Tasmanian House by Jiri Lev Architect