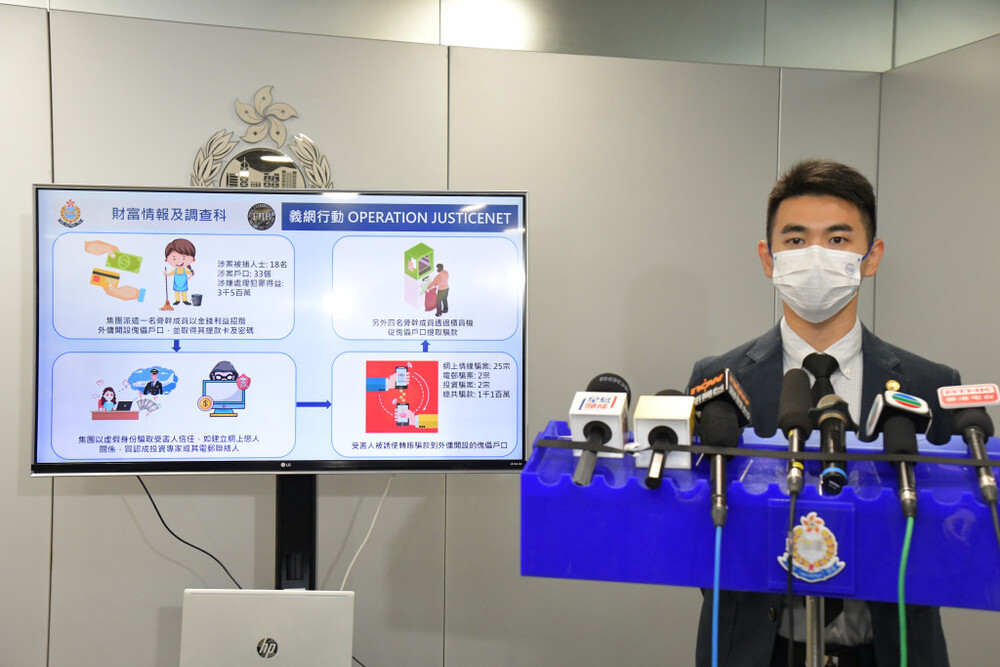 Thirteen helpers among 18 arrested for laundering HK$35m in crime proceeds
Eighteen people, including 13 foreign domestic helpers, were arrested by police for laundering over HK$35 million in crime proceeds using at least 33 stooge bank accounts starting two years ago. 
Police's Financial Intelligence and Investigation Bureau initiated the investigation in May last year and targeted the money laundering syndicate controlled by non-Chinese residents, which lured foreign domestic helpers into opening new bank accounts to launder the crime proceeds. 

On Monday, police's "Justicenet" operation saw 18 people arrested throughout the city on suspicion of money laundering, including a Nigerian man, a Bengali man, and 16 Indonesian women aged 29 to 49. 

Thirteen of the arrested women were the holders of stooge bank accounts and the other five were key members of the money laundering syndicate. 

The 13 have been released on bail and must report to police in mid-April, while the five are still remanded in custody. 

Police said the syndicate allegedly used at least 33 bank accounts to launder over HK$35 million in crime proceeds between May 2021 and October last year. Of which, about HK$11 million was confirmed to be related to 25 online romance scams, two email scams and two investment scams that took place between March 2021 and last October. 

Officers also said that the syndicate started recruiting the stooge bank accounts in 2021 and paid the holders about HK$1,000 to HK$2,500 for each of the accounts, including the ATM machine cards and passcodes. 

Those who fell victim to the scams would then be instructed to wire the money into these stooge accounts. And the syndicate would withdraw the money from ATM machines after making a great number of transactions to confuse police and authorities. 

Police said they are still tracking the flow of the money and added they may make more arrests. 

Police also warned that money laundering is a serious offense and the maximum penalty upon conviction carries a HK$5 million fine and 14 years' imprisonment.