Thirteen up-the-nose PCR tests and one uncomfortable night's rest on an airport floor were a small price to pay by our reporter for nearly a month in the Maldives.
It's dark, I can't feel my left arm and my left hip is throbbing like it's been kicked by a donkey. My mouth is dry and the foam plugs I've wedged deep into my ears to muffle the incessant piped music are making my jaws ache.

Lying on the floor of Gate 28 at Colombo Airport, in Sri Lanka, wasn't where I was supposed to be. I should have been cosseted inside a Qatar Airways Q Suite being fanned with ostrich feathers and having grapes peeled for me but, four days before my return flight to Hong Kong, the Doha-based airline was given a two-week ban after importing four passengers from Saudi Arabia who tested positive for Covid-19.

I am lucky there is a seat on another flight available and am accepting of my fate. I knew before I departed Hong Kong that there was a strong chance my plans might change and, along with a week in quarantine at the Mira Moon hotel in Wan Chai on Hong Kong Island, an overnight diversion to Sri Lanka feels a small price to pay for nearly a month in the Maldives.

I decided to take the hosted trip in late June, when the Hong Kong government introduced a reduction in quarantine from 14 to seven nights for residents coming from specific destinations, as long as they had been fully vaccinated and were in possession of a positive antibody test.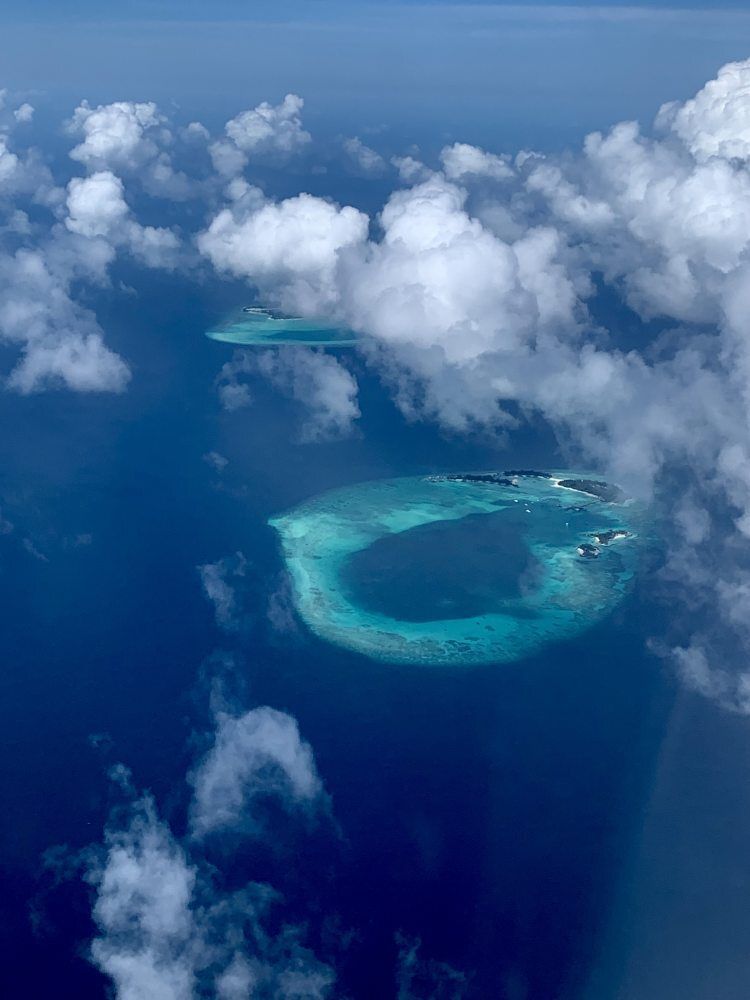 A negative PCR test, an online health declaration and a confirmed hotel booking are all that's required to enter the Maldives (above).

It had been a tough 18 months to be a travel writer and it felt like a tiny window had opened, so I decided to leap through, quickly arranging a flight, an antibody test, a quarantine hotel for my return and visits to nine Maldivian resorts: some new, some revamped and others that have been around long enough to be considered classics.

One year on from reopening to tourism, the Maldives has got pandemic travel down to a fine art. Vaccinated or not, a negative PCR test (issued no more than 96 hours before departure), an online health declaration and a confirmed hotel booking are all that's required to enter the country, from anywhere.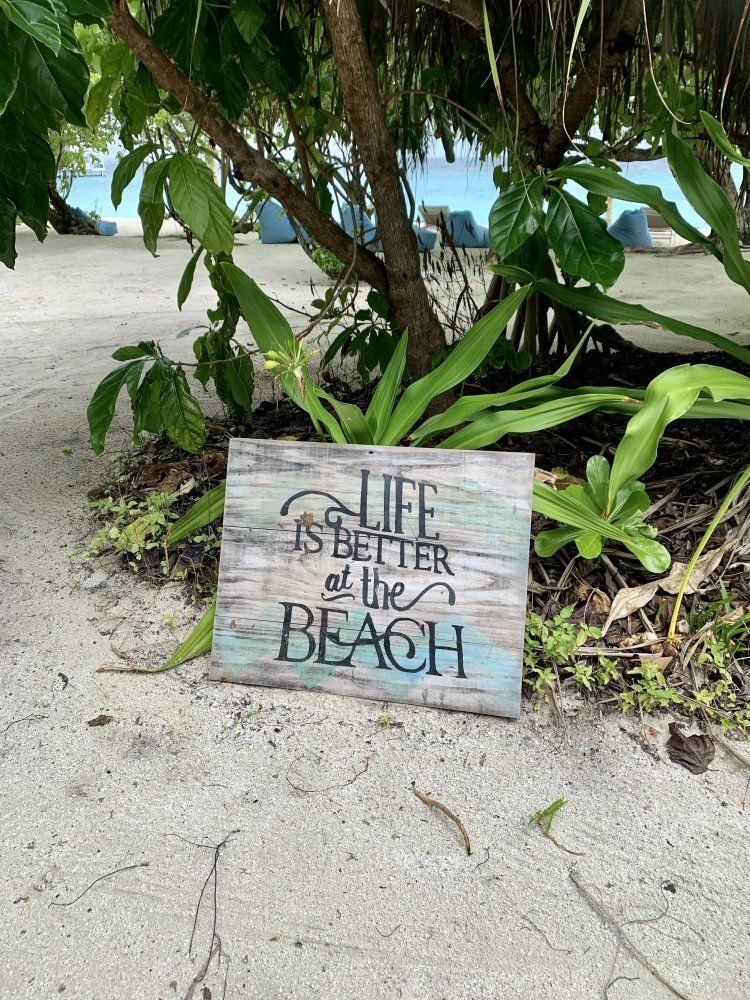 Cases remain low in the Maldives, and more than 60 per cent of the population have received their first vaccination.

From January to June 2021, more than half a million arrivals were recorded by national tourism office Visit Maldives (down by 300,000 compared with the same six months of 2019, but a not insignificant number). Cases remain low – 222 deaths in a population of 531,000, at the time of writing – and more than 60 per cent of the population have received their first vaccination (that number jumps to nearer 90 per cent among hospitality employees).

Along with its isolation and a one-resort-one-island policy, Maldives might be the safest destination in the world to visit at the moment.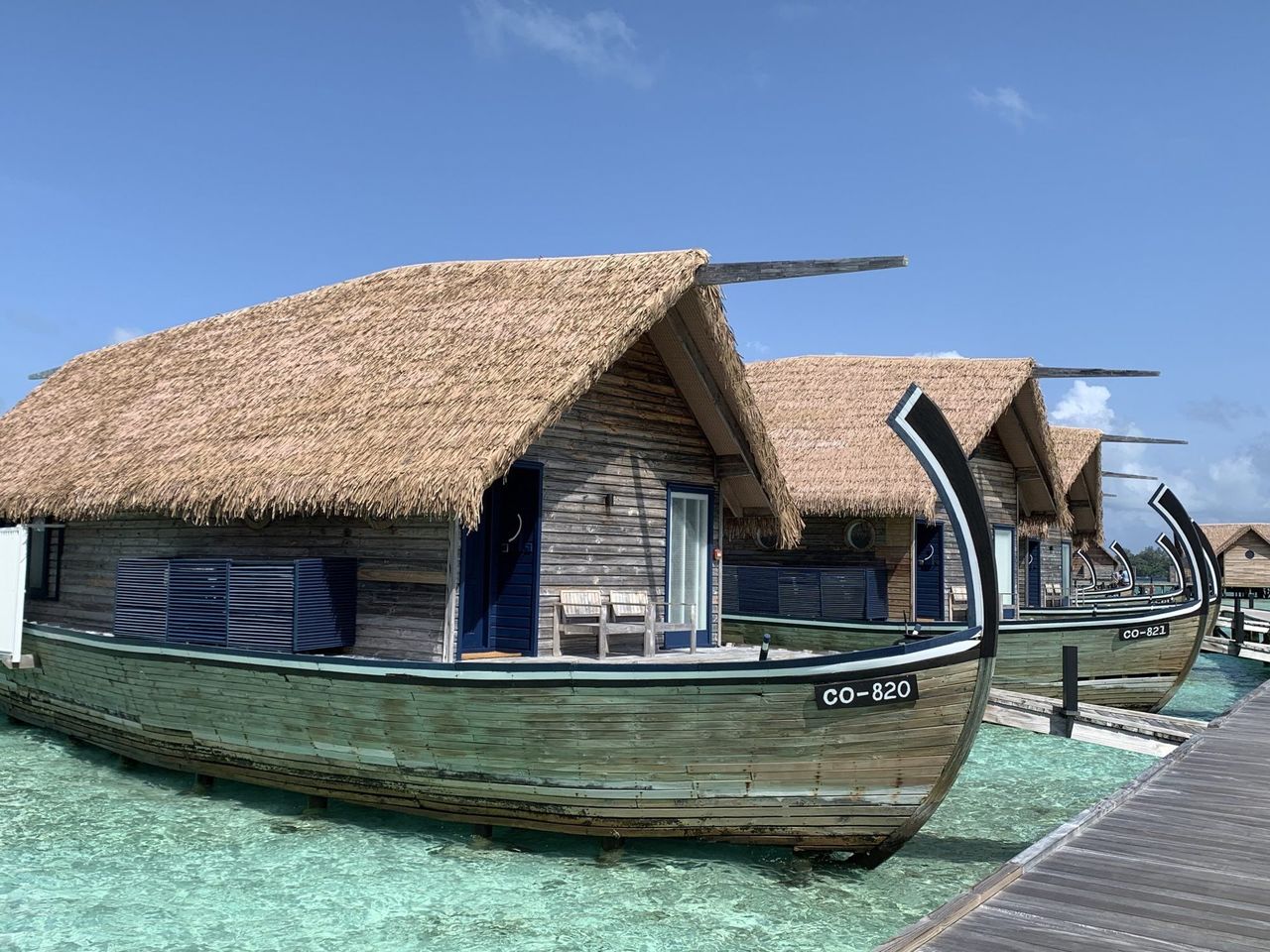 Dhoni villas at COMO Cocoa Island. The resort, just 35 minutes from the Maldivian capital, Malé, by speedboat, has 34 villas.

"You're the first person we had here from the Far East in a long time," says Oscar Perez, general manager of COMO Cocoa Island, the first stop on my Indian Ocean tour. The resort, just 35 minutes from the Maldivian capital, Malé, by speedboat, has 34 villas, some shaped like cute Maldivian dhoni boats. Fewer than half are occupied, but it is low season and I'm quite happy to not have to concern myself with other, possibly non-vaccinated travellers.

I sleep deeply, eat well and come face-to-face with an amber-eyed hawksbill turtle while snorkelling. Within days, the pandemic feels like a distant memory.

The only reminder comes from the staff, who continue to wear masks. Everyone I speak to has been fully vaccinated but all remain alert to the dangers that variants and unvaccinated travellers present, which is reassuring. Hotel staff are also subject to random tests and quarantine, even within the Maldives. My snorkelling guide, Angie, hasn't seen her family, who live in the far south of the archipelago, for more than a year.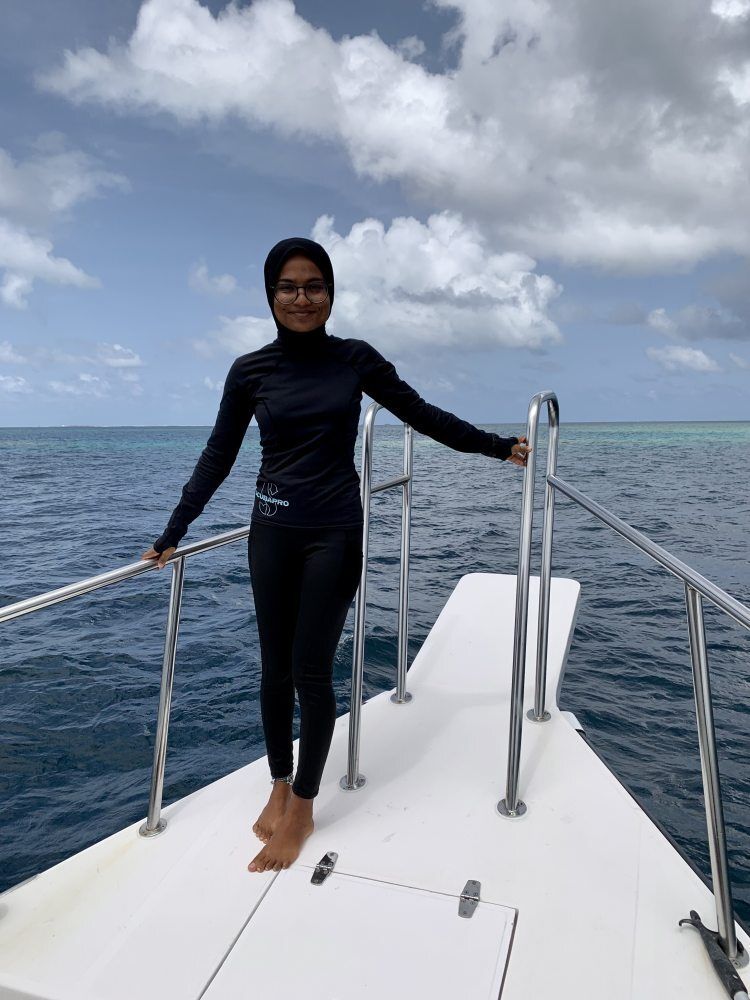 Angie, a snorkelling instructor at COMO Cocoa Island, hasn't seen her family for more than a year.

With the sacrifices the staff are making, both for their families and by gifting the world with holidays, I feel very lucky (and a bit guilty) when I have the PRC test that will allow me to travel to my next resort without any restrictions.

On the seaplane to the Baa Atoll and its three hotels – Seaside Finolhu, Soneva Fushi, Amilla Resort – I strike up a conversation with the German first officer. The Maldives has the biggest seaplane operation in the world and almost half of the pilots are foreigners. The majority were furloughed during the first wave of Covid-19.

"I had to go home because everything was collapsing and schedules were very hard to predict. If the resorts don't have guests, they don't need us to fly. Within weeks, there were only a few flights for transporting health equipment and medical evacuations," he explains. "I was sent back to Germany from April 2020 until December – but we're very busy now. There are still big plans to develop travel and tourism here."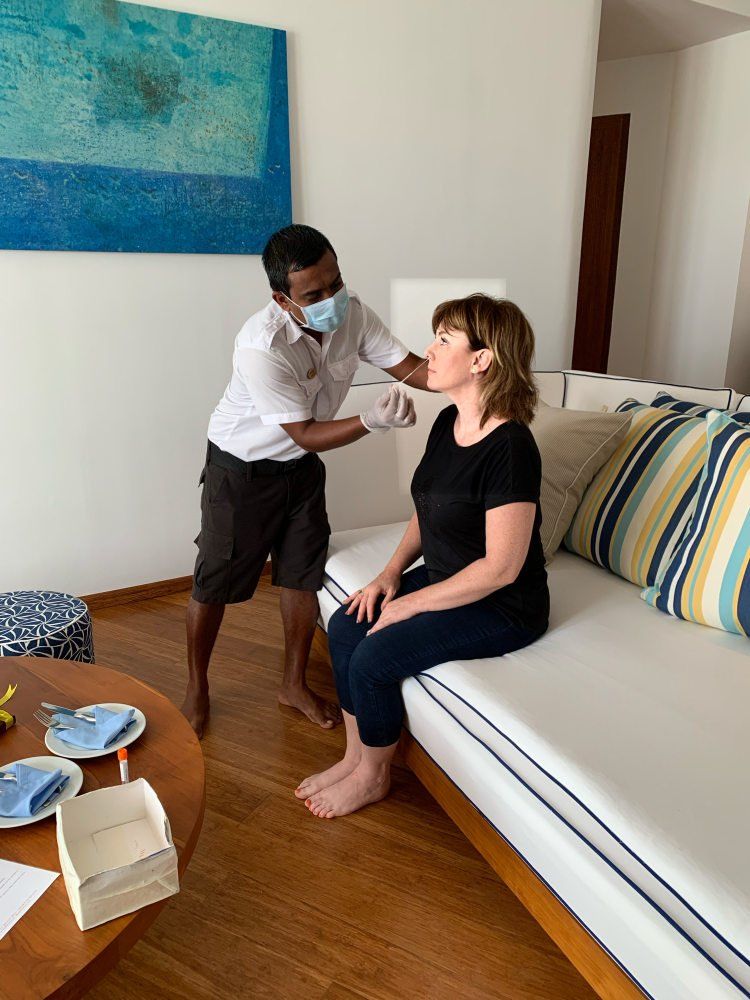 Taking an in-villa PCR test at Amilla, Maldives. One year on from reopening to tourism, the Maldives has got pandemic travel down to a fine art.

Most of the people with me on the seaplane are from Russia. They became the Maldives' biggest inbound market when tourist visas were suspended for residents of India, as well as six South Asian nations, as the Delta variant took hold.

"We've had to be very reactive with our marketing, depending on which countries are open and which are closed," Finolhu's general manager, Mark Reader, tells me as a fearsome-looking (but toothless) nurse shark swishes below our dinner table at the overwater restaurant.

"At the moment, we have lots of guests from Russia and the Middle East, as they're free to travel, but we're getting some guests from Germany and Spain now, too."

At the Amilla, I meet a guest who flew for more than 30 hours for his week in paradise. "We've come all the way from Massachusetts," says Bill, who is on holiday with his wife and their two teenaged daughters. "We looked at going to Montana but it was cheaper to come here and it's all-inclusive – and, wow, look at those beaches," he enthuses, as we stand on a sandbank at sunset drinking champagne.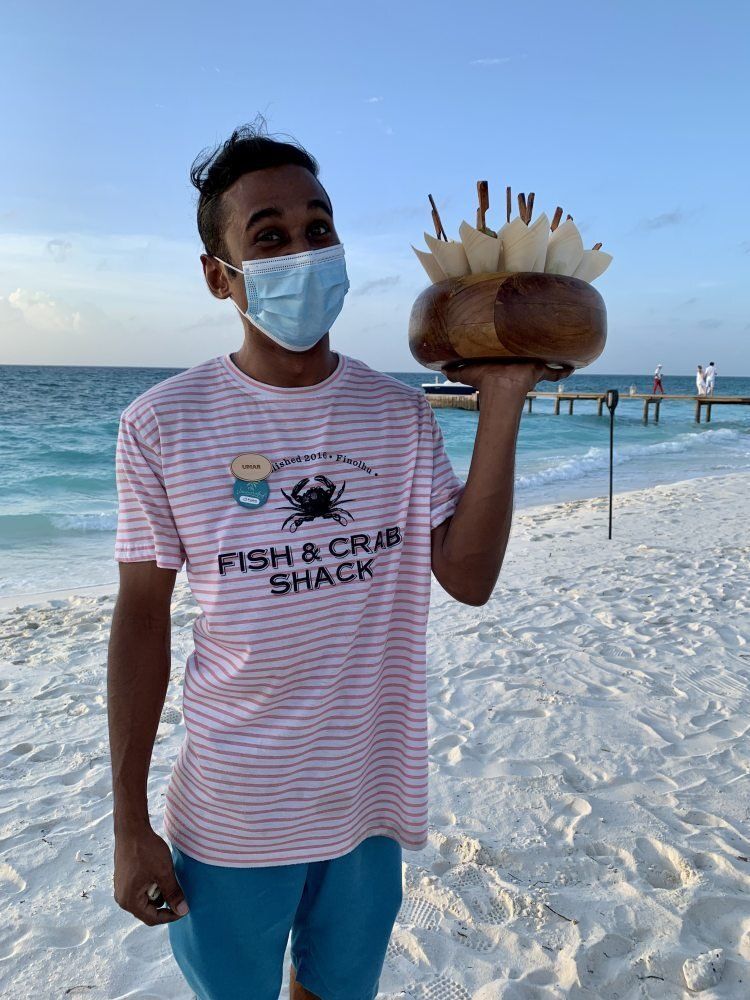 A vaccinated staff member at Finolhu.

The family aren't the only Americans I meet. Fully vaccinated octogenarians Dorothy and Bob flew from North Carolina to the Amilla for a family reunion with their son, who is posted in Guam with the United States military. At the JW Marriott Maldives, Juan and Kelly, from Boston, have cashed in their Bonvoy (Marriott's loyalty scheme) points for a bucket-list break.

"We were among the first hotels to reopen and leveraged that by with redemption offers for our Bonvoy members," says Saadhvi Mehra, Marriott's Maldives communications director. "Recently, we've had a lot of bookings from the Middle East, India, Russia and the US."

On the North Malé Atoll, Gili Lankanfushi is almost full. The rambling villas at this Robinson Crusoe-esque hideaway cost anywhere between US$1,290 and US$25,700 a night, but the pandemic is less of an inconvenience to people who fly by private jet.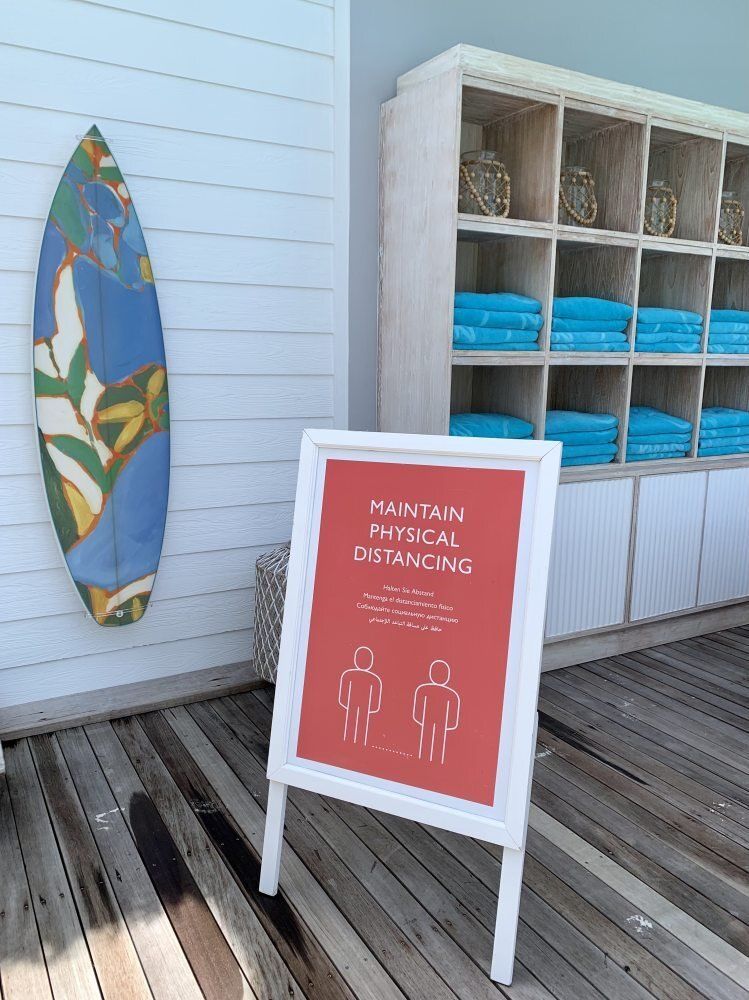 A social distancing reminder at Finolhu in the Maldives.

Forty minutes by speedboat from Malé airport, two of the most-talked about hotel openings of the year have taken place mid-pandemic. The Fari Islands are home to a Ritz-Carlton resort, opened in May, and the first Patina hotel, a new brand from Singaporean luxury hotel group Capella.

"We have people from all over the world already travelling to Patina," says general manager Marco Den Ouden. It's easy to see why. With its tropical modernist architecture, thoughtful design and spectacular art pieces it wouldn't look out of place in the pages of US magazine Architectural Digest.

"We're also finding that guests want to stay for longer," adds Den Ouden. Again, it's easy to see why. Even after 26 nights of island-hopping, and 13 up-the-nose PCR tests, I would be happy to hang around for another week or two.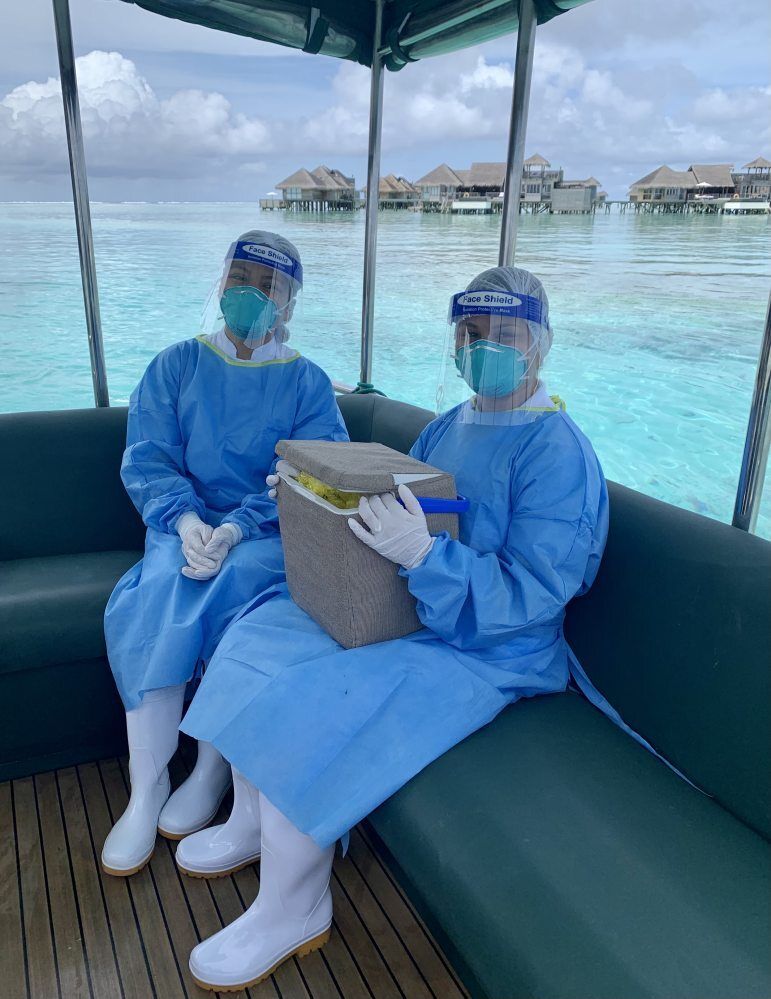 This is what Covid-19 testing looks like at Gili Lankanfushi, Maldives.

Being in the Maldives has felt like a glimpse of what life could be in the – hopefully – not-too-distant future, when we can cast off our masks, meet up with friends and family again and feel safe. Not even a night hugging the floor of Colombo Airport can dampen that happy thought.