Outgoing Chief Executive Carrie Lam said understanding the 'dual accountability' to the Hong Kong people and the central government was key to the job, but every leader has struggled to please both, analysts argue.
Hong Kong has had four chief executives since its return to Chinese rule in 1997, and while each has faced different challenges throughout the city's post-colonial history, they all share one thing in common – none of them have completed a second five-year term, and all have left their posts with significantly lower approval ratings.

Political analysts pointed out that challenges plaguing all four leaders stemmed from having to perform a delicate balancing act in the absence of a strong governing coalition, no reliable support from major political parties in the legislature and the lack of an electoral mandate.

Carrie Lam Cheng Yuet-ngor, the incumbent chief executive who on Monday announced she was not seeking re-election in the leadership race next month, has seen her popularity ratings plunge lower than all her predecessors as she faced months-long anti-government protests in 2019 and later the coronavirus pandemic.

Without referring to her No 2 official John Lee Ka-chiu, tipped by sources as the only political heavyweight to succeed her, Lam on Monday said the "most important attribute" for a chief executive was an understanding of the "dual accountability" to the Hong Kong people and the central government.

Ivan Choy Chi-keung, a political scientist from Chinese University (CUHK), said: "This constitutional requirement made every chief executive struggle to survive in the cracks.

"Whenever they tried hard to please both sides, they often pleased neither and failed hard."

Leaders since the 1997 handover have held wide-ranging powers in an executive-led administration, their authority granted by the Basic Law, the city's mini-constitution, which guarantees a high degree of autonomy for Hong Kong.

But the chief executives, when managing crises, have had to walk a fine line under the "one country, two systems" formula, maintaining an existing way of life for residents while also deepening integration with mainland China.

"The cracks were still small in the initial honeymoon stage after 1997," Choy said, referring to the period from the initial five-year tenure of first leader Tung Chee-hwa to shortly after his no-contest, re-election in 2002.

The first major crisis of governance came in July 2003 when an estimated 500,000 people took to the streets and forced authorities to shelve the Article 23 national security legislation under the Basic Law.

Calls for Tung to step down were one of the key demands of protesters at the time.

"The same tension loomed large in these 18 years – between Beijing's national security concerns amid superpower struggles and Hongkongers' commitment to uphold freedom and democracy as core values," Choy said.

Tung, who resigned in the middle of his second term in 2005, was succeeded by his chief secretary, Donald Tsang Yam-kuen. When taking office, Tsang enjoyed what still is the highest-ever rating of 72.3 among all chief executives, according to tracking polls of the Hong Kong Public Opinion Research Institute, then the Public Opinion Programme of the University of Hong Kong.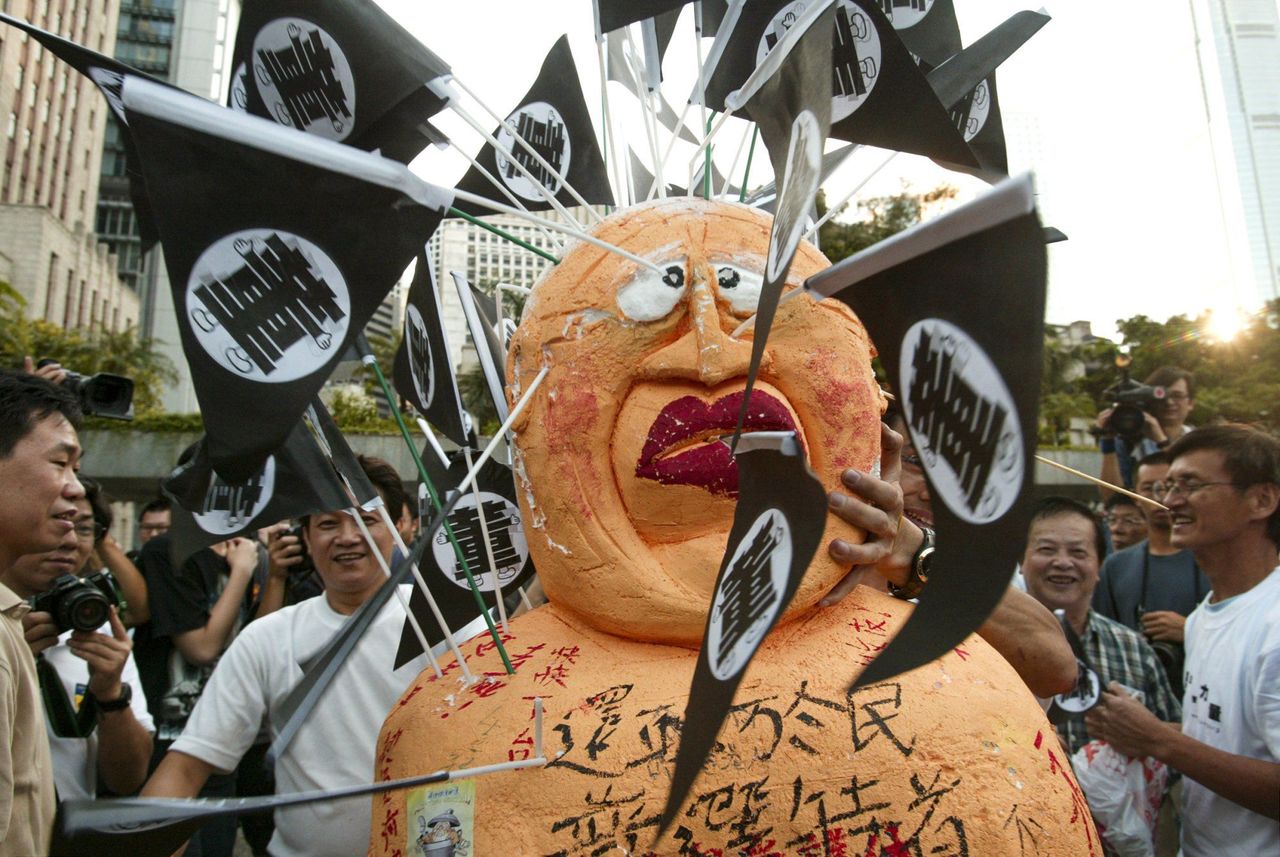 An effigy of Hong Kong's first leader Tung Chee-hwa during a rally in 2003.

Former transport and housing minister Anthony Cheung Bing-leung said Tsang in his campaign had branded himself a "son of Hong Kong" to pursue "a Hong Kong that everybody has known".

"He was trying hard in his balancing act to ease the tension between the city and the mainland," said Cheung, now a public administration professor at Education University.

Tsang tried to reach a consensus with opposition lawmakers in his two rounds of constitutional reforms. The one approved in 2010 was the only political reform proposal passed since the handover.

But the last stretch of Tsang's seven years in office was marred by controversies surrounding the expansion of the political appointment system and corruption allegations, prompting a plunge in his ratings to 39.3 shortly after he stepped down in June 2012.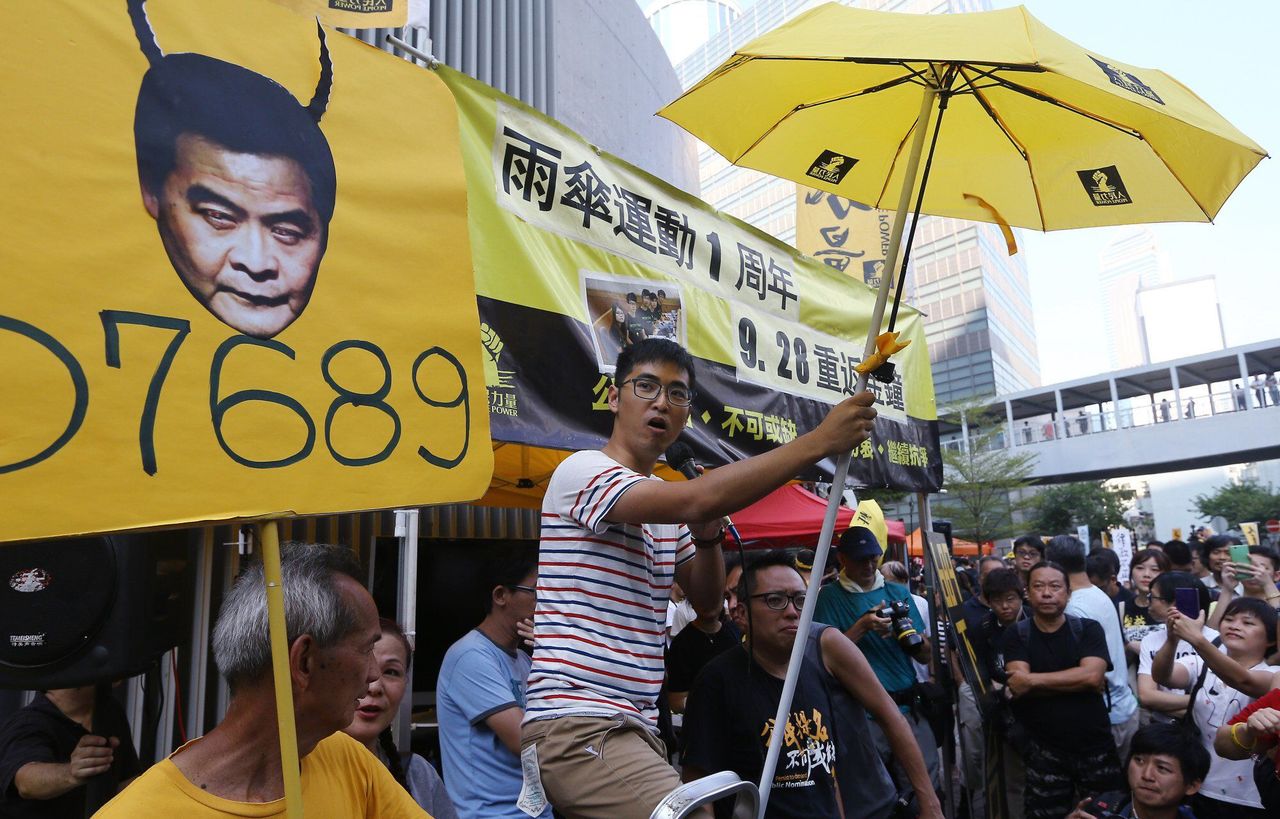 The Occupy protests in 2014 are believed to have marked a major turning point in Hong Kong's worsening relationship with the mainland.

Cheung said he believed the first major turning point in the city's worsening relationship with the mainland was the Occupy protests in 2014 against the Leung Chun-ying administration. Beijing had earlier that year in a white paper stressed its "comprehensive jurisdiction" over Hong Kong.

Leung started with a 52.5 in ratings, bottoming out at 38.2 after five years. In 2016, he cited family reasons when announcing not to seek election.

Cross-border relations took another turn for the worse in 2019, two years after Lam came to power. Her administration struggled with handling months of social unrest sparked by a now-abandoned extradition bill that would have allowed for the transfer of fugitives to the mainland.

Lam's critics characterised her years in office as tumultuous, ones that saw Beijing exercising unprecedented control over the city, with the implementation of the national security law in 2020 and a "patriots-only" overhaul of the electoral system.

"If there was no mishandling [by Lam], Beijing would remain hands-off on Hong Kong matters. But it had to put out the flames," Cheung said.

CUHK's Choy said the death knell for any potential re-election bid by Lam came in the form of the Omicron-fuelled fifth wave, which pushed the number of Covid-19 infections in Hong Kong beyond 1 million in a mere three months, leading to a fatality toll of more than 8,000.

The health crisis sparked a rare warning by Chinese President Xi Jinping, who expressed deep concern for the city and reminded officials that taming the coronavirus surge was of utmost priority. The mainland donated supplies, provided medical workers and built makeshift hospitals.

"In her struggle to stick to the mainland's 'dynamic-zero' Covid policy, she failed to please either Beijing, Hong Kong residents or our overseas friends," Choy noted.

Analysts said the city's next leader – whether it is John Lee, whose entire civil service career involved security matters – should expect more turbulent waters ahead, especially from unsettled political tensions, including demands for universal suffrage and the need to implement the Article 23 legislation.

But Choy said he expected that divisive policies would no longer trigger the previous scale of governance crises, as most voices of dissent had left the city.

"Hundreds of thousands of residents already left Hong Kong in recent years, which included a significant portion of the population who are outspoken in politics," he said.

"The next question is how Beijing gauges public opinions effectively."

Cheung suggested that instead of judging governance by a leader's approval ratings, one should look at his or her art of persuasion to win trust from both sides.

"The success of the balancing act in Hong Kong hinges on whether the administration can accurately identify wounds caused by the social unrest and pandemic, then win support from Beijing and Hongkongers with solutions."