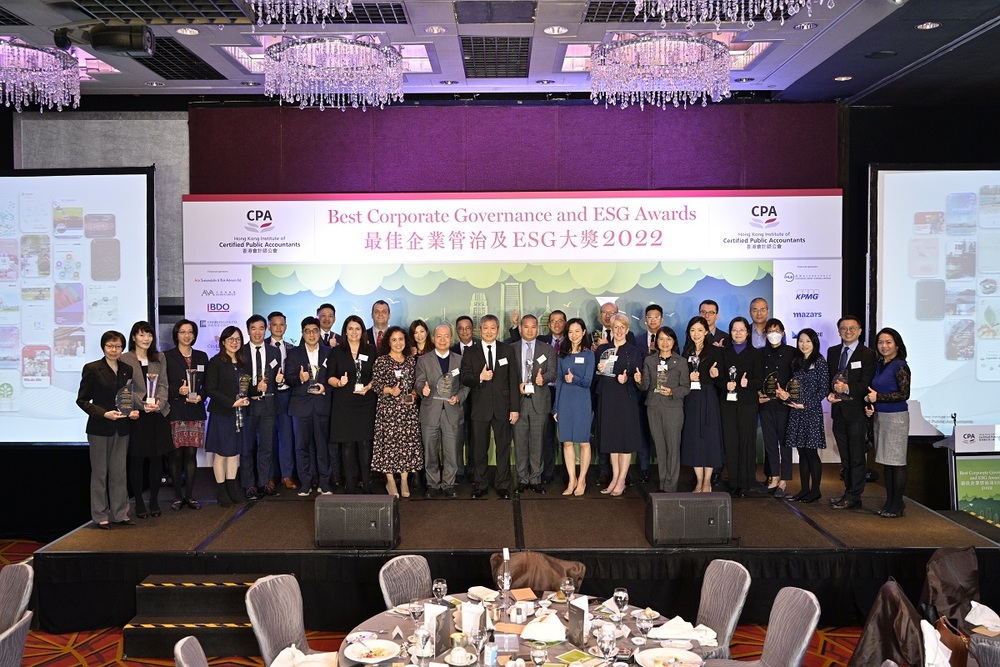 The HKICPA's Awards recognise companies and organizations with stellar corporate governance and ESG performance
Organized by the Hong Kong Institute of Certified Public Accountants (HKICPA), the Best Corporate Governance and ESG Awards 2022 recognise companies and organizations that have achieved outstanding performances in both corporate governance (CG) and environmental, social and governance (ESG) practices and reporting, in the Most Sustainable Companies/ Organizations ("MSCO") Awards, or in either one of these areas, in the separate CG and ESG awards.  
"We are pleased to see that all the MSCO awardees continued to uphold high CG and ESG standards, with, for example, their clear sustainability governance structures and integrated risk management processes," Ms. Loretta Fong CPA, HKICPA President and chair of the judging panel of the Best Corporate Governance and ESG Awards 2022 remarks. "As the minimum standards are progressively raised for all companies, the MSCO candidates are often early adopters and may already be applying practices that exceed any new requirements."

In the separate ESG awards category, a record number of candidates made it through to the review and final judging stages against the background of increasing efforts by the government towards delivering on its commitment to achieve carbon neutrality by 2050. Meanwhile, Awards' judges observed that the CG performance for the mass of listed companies in Hong Kong is still below where it should be, as reflected in the limited number of awardees in the separate CG awards this year.

Launched in 2000, the Awards reflect the Institute's continuous effort in encouraging listed companies and public organizations to give equal attention to their CG and ESG practices and reporting, and, ultimately, to integrate these two elements into their business values, strategies and operations.