The combined GDP of the 11 cities in the Greater Bay Area was close to US$2 trillion in 2022, up 25 per cent from US$1.65 trillion in 2019, Hong Kong's finance chief says.
The Greater Bay Area's economy is now comparable in size to Italy's, with the southern Chinese economic hub expected to continue to be a driving force for Hong Kong's financial markets and a wide range of industries, according to the city's Financial Secretary Paul Chan Mo-po.

The combined gross domestic product (GDP) of the 11 cities in the Greater Bay Area – which includes Hong Kong, Macau and nine mainland cities in Guangdong province – was close to US$2 trillion in 2022, up 25 per cent from US$1.65 trillion in 2019, when China announced the blueprint for the development zone, Chan said in a public speech on Saturday.

"The Greater Bay Area recorded strong growth even amid the pandemic," Chan told over 350 attendants at the 2nd World Chinese Accountants Conference on Saturday held in Wan Chai. Chan was an accountant before joining the government.

If considered as a stand-alone economy, the Greater Bay Area would have ranked as the world's 9th-biggest economy last year, just below Italy and ahead of Canada, South Korea, Russia and Brazil, according to data from the International Monetary Fund.

In 2019, the Greater Bay Area trailed 11 countries in economic output.

Chan also compared the Greater Bay Area to New York and San Francisco, saying that the development zone is similar to a combination of the two American cities, as "Hong Kong has a strong financial industry like New York, while Shenzhen is like the Silicon Valley".

The Greater Bay Area will keep being an important growth engine for Hong Kong as its economy gradually rebounds, said Wang Songmiao, secretary general of the central government's liaison office, at Saturday's event.

Hong Kong's GDP grew 2.7 per cent year on year in the first quarter. The government expects the local economy to rise between 3.5 per cent and 5 per cent this year.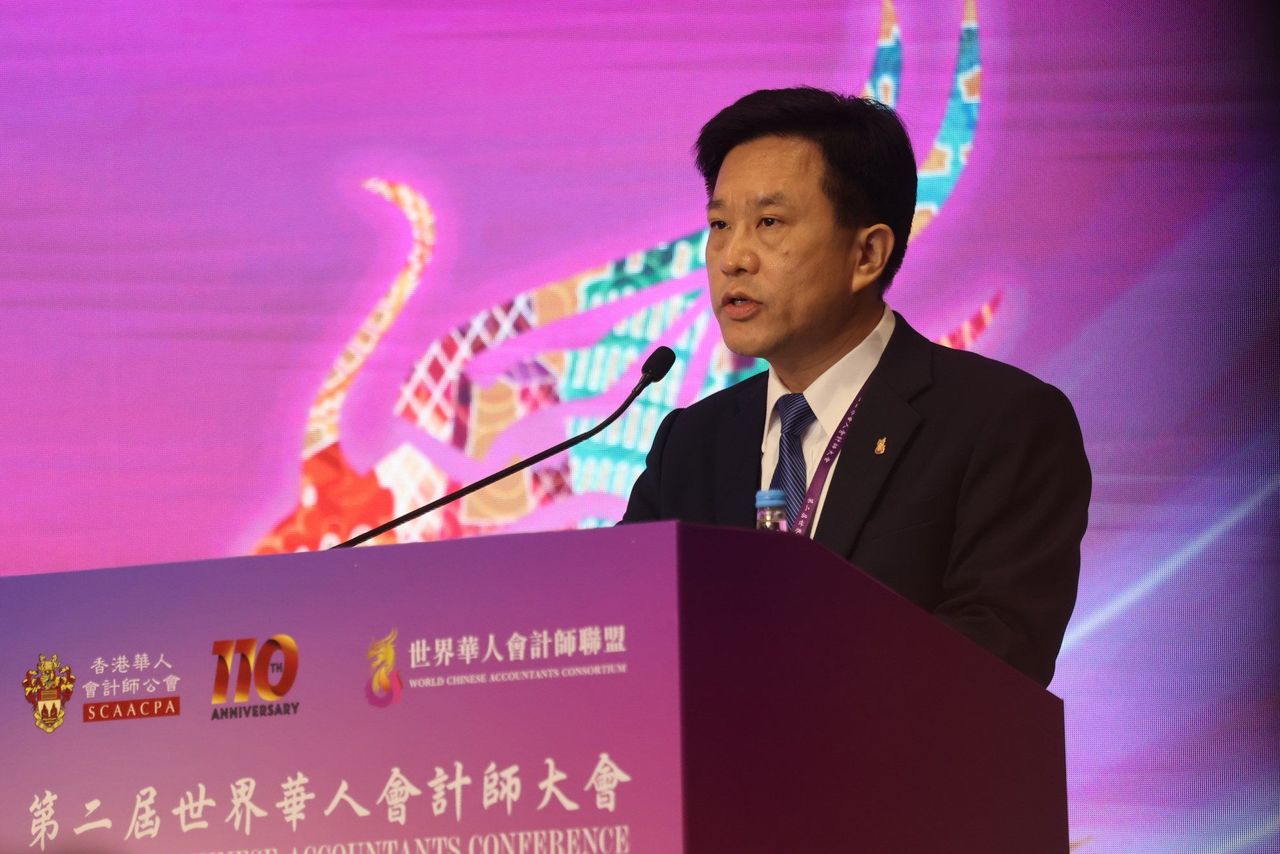 Wang Songmiao, Secretary General of the Liaison Office of the Central People's Government, speaks at the 2nd World Chinese Accountants Conference.

"Hong Kong is back," Wang said. "That will benefit not only accounting professionals, but also other industries."

Chan said some 260 companies have gone public under the city's new listing regime, which was the result of reforms carried out by bourse operator Hong Kong Exchanges and Clearing (HKEX) and other regulators in 2018, allowing companies with multiple voting rights and pre-revenue biotechnology firms to list.

Together, these companies raised more than HK$1 trillion (US$128 billion) over the past five years, said Chan, who became Financial Secretary in 2017.

"These new-economy companies now represent 25 per cent of Hong Kong's market capitalisation and turnover. Hong Kong has also become the world's second-largest fundraising hub for biotechnology firms, only next to New York," Chan said.

"These achievements indicate the importance of reforming our markets from time to time," he said.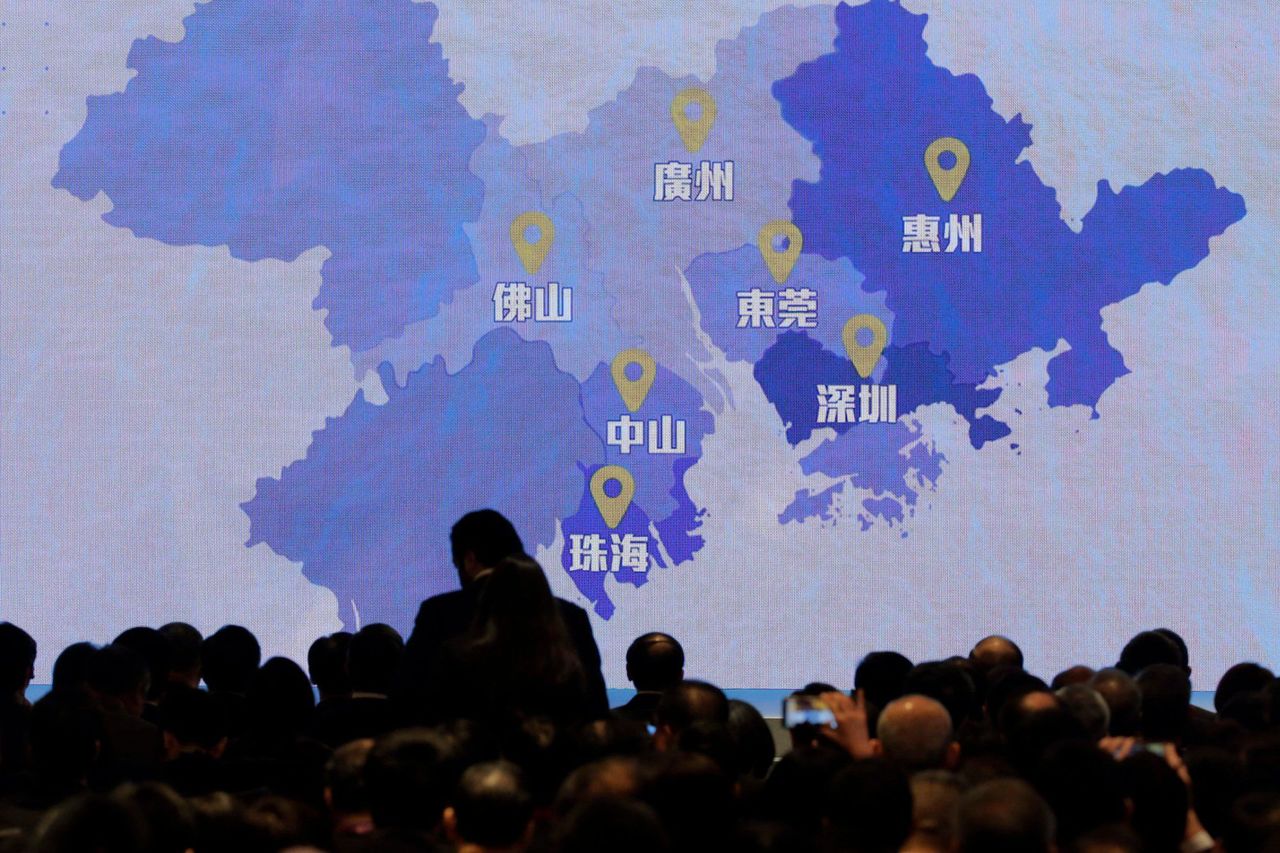 A screen shows a map of the Greater Bay Area during a symposium in Hong Kong in February 2019.

HKEX on Friday said it would introduce yuan share trading starting June 19, in a breakthrough that brokers expect will boost the city's status as an offshore centre for the Chinese currency.

In March, HKEX started to accept applications by tech companies without revenue to launch initial public offerings as long as they are valued at HK$10 billion or above.

Another growth opportunity for Hong Kong would be to act as a green financing hub for climate change projects, according to Chan.

China's southern island province of Hainan in October issued 5 billion yuan (US$713.5 million) of "blue bonds" in Hong Kong, tailored to support the protection of oceans and the decarbonisation of related industries.

The Shenzhen government in 2021 also issued 5 billion yuan worth of green bonds in Hong Kong.

"All these offerings have strengthened Hong Kong's position as an ­offshore yuan trading centre and a green financing hub," Chan said.

Chan and Wang co-hosted a ceremony on Saturday to mark the establishment of a new alliance among 38 accounting bodies in the Greater Bay Area, the US and the UK, with the aim of arranging more exchange activities between members.