Mars Landing Surveillance Camera was invented by researchers at Polytechnic University. China is just the third country to successfully land a rover on the Red Planet.
When China's Zhu Rong rover finally touched down on Mars on Saturday after seven months of space travel, a "Made in Hong Kong" camera installed on the rover ensured the landing was smooth.

The Mars Landing Surveillance Camera, which is just 390 grammes in weight but can withstand extreme temperatures, was invented by researchers at Polytechnic University.

"I am honoured that two PolyU research teams from different disciplines have participated in this landmark mission," Professor Teng Jin-guang, the university's president, said. "They played a vital role in landing-site mapping and evaluation, as well as in the development of a sophisticated space instrument.

"We will continue to engage in cutting-edge projects in space exploration and technology in order to support the nation's space development with our pioneering research capabilities."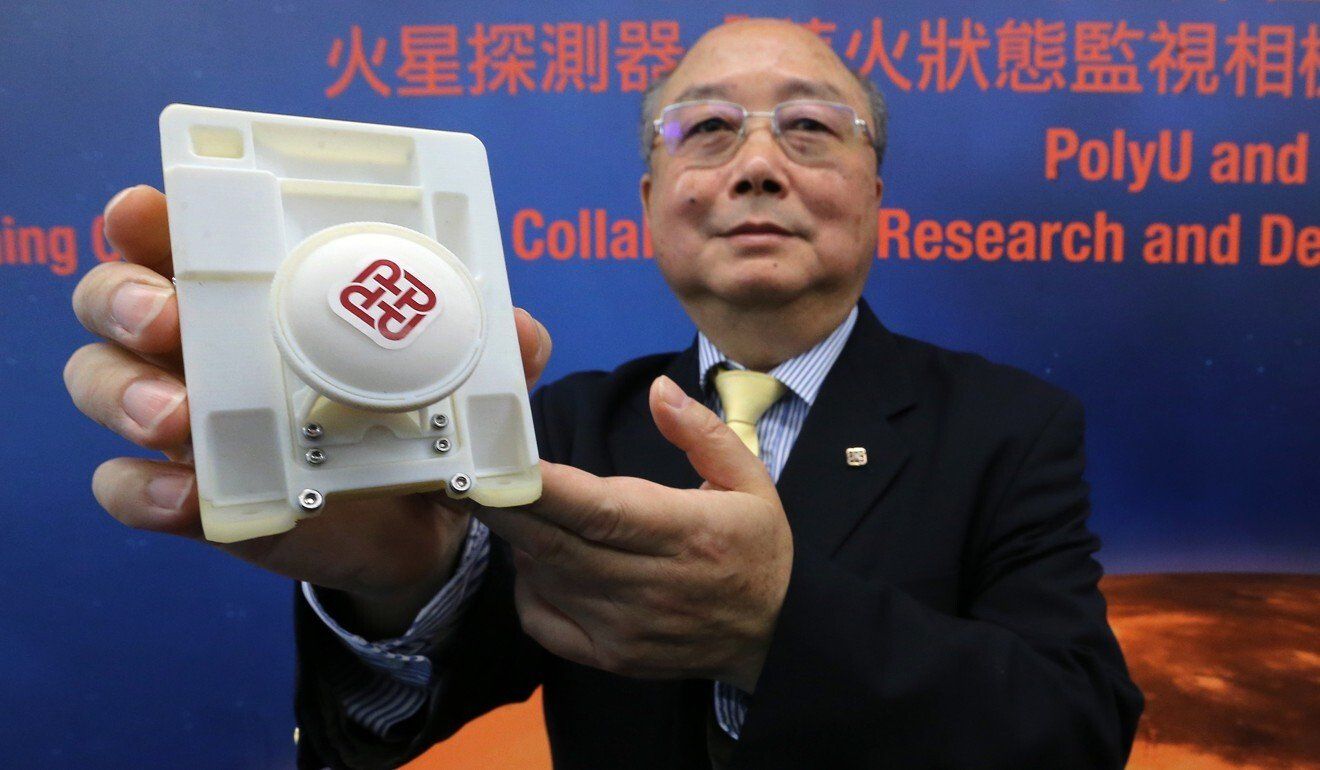 Professor Yung Kai-leung with a model of the Mars camera at Polytechnic University.

After seven months of travelling, three months in orbit and "nine minutes of terror", China on Saturday became the third country to safely land a rover on Mars.

The China National Space Administration (CNSA) said the rover, named after the Chinese mythical god of fire and war, had successfully landed after "nine minutes of terror", referring to Nasa's description of the time when engineers on earth have no control or oversight of the vehicle because of a radio signal delay.

Before China, only the United States and the former Soviet Union had managed a successful soft landing on the Red Planet 319 million kilometres (198 million miles) from the earth. A soft landing means the spacecraft performs a gentle touchdown on the surface without any significant damage.

PolyU's Mars camera is located on the outside top surface of the lander platform, and is responsible for monitoring the landing status, the surrounding environment and the movements of the rover.

It can withstand impact shock of 6,200G, which is about 6,200 times the force of the earth's gravity. It has a wide-angle field of view – 120 degrees horizontally and 120 degrees vertically – with low image distortion.

The camera was both invented and made in Hong Kong, a PolyU spokeswoman said, in a project led by Professor Yung Kai-leung.

The spokeswoman said another team of researchers, led by Professor Wu Bo, helped the CNSA decide exactly where the rover should land. The researchers were not available for comments on Saturday.

"Mars exploration is an extraordinarily difficult and ambitious mission," Dr Lam Tai-fai, chairman of PolyU's council, said. "The Tianwen-1 landing is an impressive demonstration of the nation's advanced technological capabilities in deep space exploration."

Zhu Rong is part of China's first Mars probe, Tianwen-1, which was launched in July 2020 with three parts, an orbiter, lander and rover. The probe reached Mars and started orbiting in February.