The government's strategy aims at expanding Hong Kong's role as a finance, technology and trade hub to drive high-quality growth. For this we will need skilled workers from diverse backgrounds – will they come?
The most important sentence in Financial Secretary Paul Chan Mo-po's budget speech this year appears in paragraph 134: "Talents are the most important resources for growth." Clearly this was a reminder rather than fresh insight, the same point having been made by Chief Executive John Lee Ka-chiu in his policy address last autumn.

The annual budget speech is one of the two occasions each year when the government sets out its thinking on economic and social development. It has two main tasks: to flesh out with more detail the various initiatives previously outlined by the chief executive, and to explain how it's all going to be paid for.

The economic backdrop has been grim. Gross domestic product fell by 3.5 per cent last year and exports of goods fell 13.9 per cent. Our economy is in recession. The top priority must be to return to a growth track with the emphasis on quality.

The budget set out the government's plans to establish or strengthen our role as an international and regional centre in many areas: green technology and green finance; innovation and technology; financial, aviation and maritime services; trade; law and dispute resolution; cultural exchange; intellectual property trading. At the heart of all these ambitions is a skilled workforce.

The budget also had to take on board the recent report by the Census and Statistics Department. For three consecutive years our population has fallen and is now 7.3 million.

There is no magic number that would enable Hong Kong to fulfil its economic targets. A population that fell to 6 million would not mean we were sure to fail, and one that rose to 60 million would not guarantee success. What matters is the level of professional skills.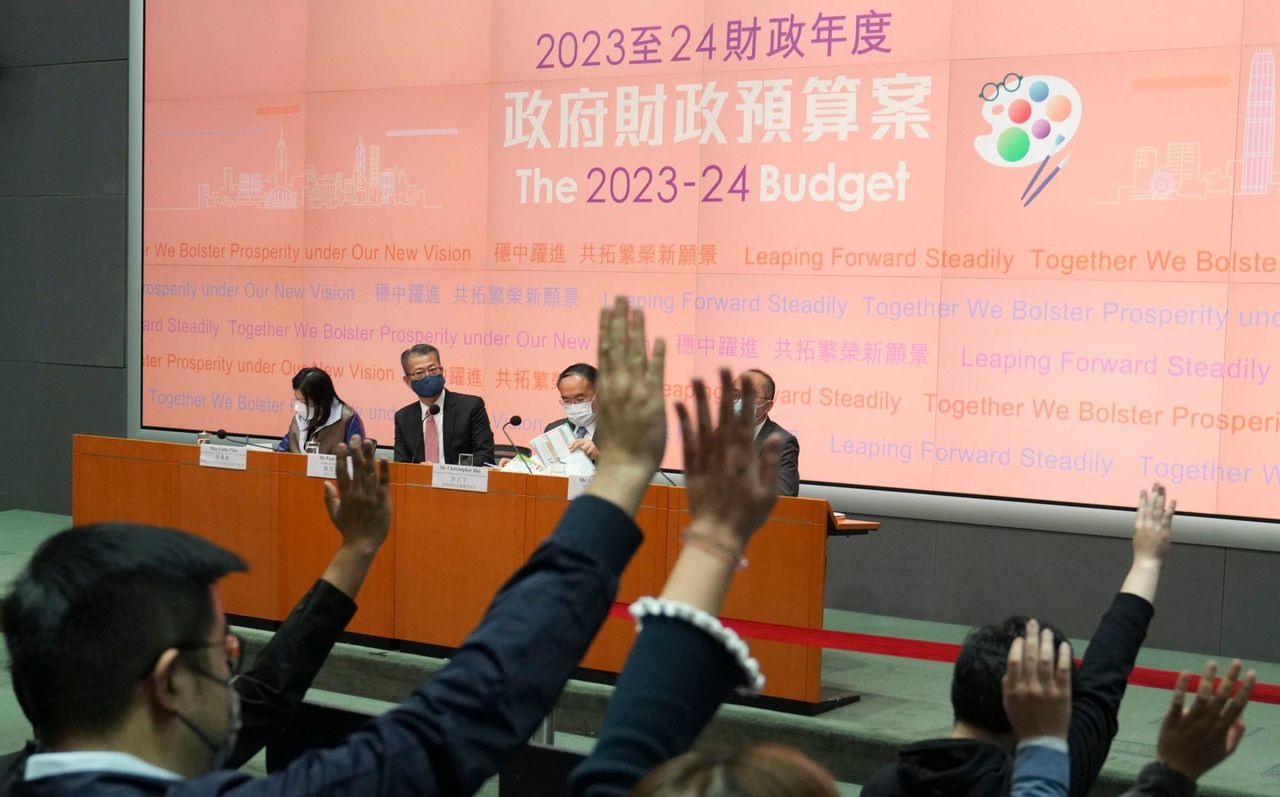 Financial Secretary Paul Chan takes questions from the media on the 2023-24 budget at the government offices in Admiralty on February 22.

Here the news has not been encouraging. At the personal level, we all know of high-quality professionals in our social or business circles who have packed up and left Hong Kong with their families. Some are expats returning to their home countries, or going elsewhere in the region; others are locals driven out by lack of employment prospects here or attracted by opportunity elsewhere.

The Covid-19 control measures still lingering here months after they have been dropped elsewhere have not helped.

A discussion on RTHK's Backchat programme last week confirmed the anecdotal evidence: migration consultants reported the calibre of client they had been helping over the past two years was overwhelmingly the highly qualified people we would want to retain if we could. This is not surprising, as they are the ones best able to take their skills to another society.

In fairness, we should acknowledge that the new administration quickly recognised the weak hand it had inherited from its predecessor in this area. Lee announced four months ago the creation of the Office for Attracting Strategic Enterprises to attract businesses and talents. Chan reported the office had already begun assisting companies in establishing or expanding their business in Hong Kong.

The Top Talent Pass Scheme announced by Lee in the policy address has attracted more than 10,000 applications, some two-thirds of which came from the mainland.

That is fine; our country has many talented people and we need them. By making their home here, they bolster Hong Kong's international role while benefiting the country and themselves. But as time passes I hope the scheme will become better known further afield. We need to attract a reasonable number of foreigners from elsewhere, including Westerners, if we are to maintain Hong Kong's international flavour.

There are several other aspects of the budget worthy of comment.

One is the repeat of sweeteners, such as the HK$5,000 vouchers and the salaries tax reduction. These are very expensive in terms of government finances as expenditure or revenue foregone. But in economic terms they are largely irrelevant. I can only assume this was an attempt to boost community morale after a few tough years.

Then, there are the consequences for government reserves. The forecast deficit for the 2022-23 financial year is estimated to be nearly HK$140 billion (US$17.8 billion), higher than the original estimate of HK$56 billion. The fiscal reserves will fall to about HK$820 billion, a bit more than one year's expenditure. This is manageable and still an enviable position compared to the massive accumulated debt in other advanced economies such as the United States and United Kingdom.

But we are not quite as flush as we once were. Chan is forecasting another substantial deficit for 2023-24. The number being widely quoted is HK$54 billion but the true number is HK$120 billion because the lower figure takes account of anticipated bond proceeds of some HK$65 billion.

As a qualified accountant, Chan knows well that such proceeds help with cash flow but they are not revenue in the accepted sense. They are debts that need to be repaid. The argument, which I accept, is that surpluses and deficits should be judged over the whole economic cycle, not just a few years of strong or weak circumstances.

Finally there is the "Happy Hong Kong" campaign. It will not be easy to judge the success or failure. Since we are still not allowed to see people's faces, how will we know if they are smiling?