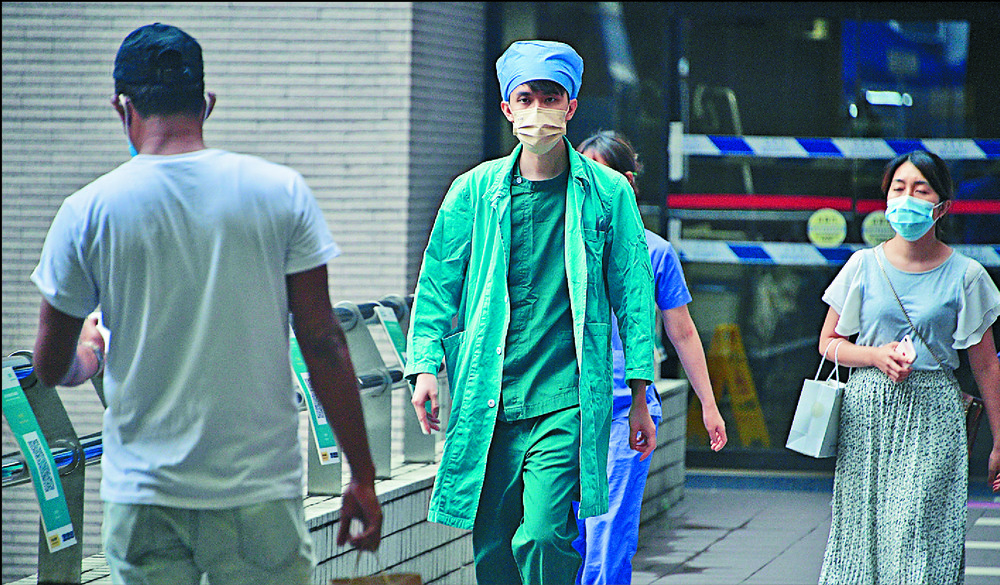 Testing time for key medics as infections spike
Medics, especially those taking care of high-risk patients, will soon need to take more frequent PCR tests as Covid-19 patients in public hospitals have exceeded 1,000, the Hospital Authority has announced.
That seemed to be par for the course with Hong Kong yesterday seeing 3,154 new infections, 387 of which were at schools, and two more deaths of a 65-year-old man and a 102-year-old woman.

The chief manager for patient safety and risk management, Sara Ho Yuen-ha, said hospitalization numbers, as the latest figures show, are worrying.

"At the moment, all staff need to perform the RAT test in the morning before reporting for duty. Our plan is to for them to do the PCR test, particularly those who mainly take care of groups that are more susceptible to infection," she said, pointing out that the hike in cases suggests there are silent transmission chains.

All infected elderly residents have to undergo PCR tests before being discharged.

More hospital staff, 61, tested positive yesterday, including two from Queen Elizabeth's orthopedic ward, bringing the cluster to two patients and two staff.

The Centre for Health Protection's head of communicable diseases, Chuang Shuk-kwan, said the new cases included 2,943 local and 211 imported cases.

The 387 cases reported from 309 schools involved 314 students and 73 teaching staff.

The student cases include two from class AM of First Assembly of God Primary School & Kindergarten, three from class 4A of Maryknoll Convent School's primary section, two from K2B class of CCWF King Shing Kindergarten and three students from class 1B of Tsuen Wan Public Ho Chuen Yiu Memorial Primary School. Face-to-face teaching at these classes has been suspended for a week.

Four residents at four elderly care homes also tested positive.

The city added 58 cases of the Omicron BA.2.12.1 subvariant, including 40 from unknown sources. There were also 24 cases carrying the Omicron BA.4 or BA.5 subvariants, 15 of which were untraceable infections detected in places such as Taikoo Shing, Laguna City, Shun Lee Estate and Long Ping Estate.

Macau saw 32 more infections, taking its tally to 1,615, and a fourth death of a 94-year-old woman.

Its residents have to stay at home and non-essential businesses must close between Monday and July 18. So far, 19 have been charged for flouting rules.