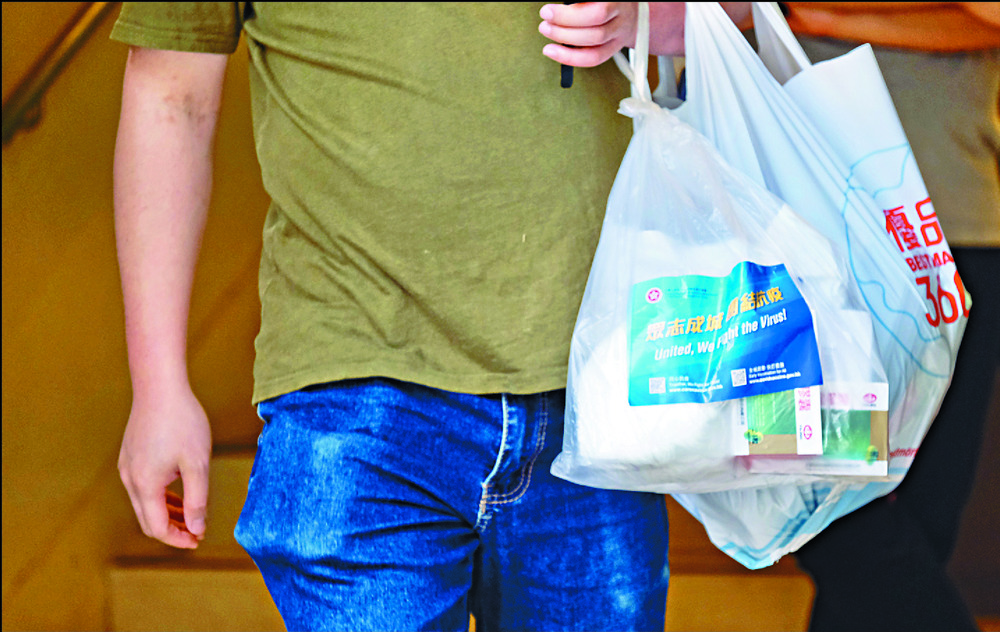 Testing crunch starts in race for normalcy
Those who missed home deliveries of anti-Covid packages raced to some 90 collection points to pick up their bundles as authorities strongly advised people to conduct rapid antigen tests for three straight days starting today to flush out silent coronavirus carriers.
In a statement yesterday, the government called on people to conduct rapid antigen tests for three consecutive days between today and Sunday, which would help them identify infected persons and cut transmission chains in the community as quickly as possible.

"Let us all play a part to contain the virus and cut the transmission chain early to return to normal life," a government spokesman said.

The Civil Service Bureau followed suit shortly afterward, calling on civil servants to conduct self-tests in the mornings starting today.

Secretary for the Civil Service Patrick Nip Tak-kuen said that as public services gradually resume, the flow of people at government buildings was likely to increase.

"Although the seriousness of the fifth wave of the epidemic has been subsiding, we must not let our guard down. Government staff should conduct tests with the rapid test kits in the anti-epidemic service bags," Nip said.

That came as authorities have almost finished distributing the service bags - with each containing rapid tests, face masks and Chinese medicine - to over three million households across the SAR.

At a collection point at Sai Lau Kok Garden in Tsuen Wan yesterday, several people queued to pick up their packages, including a man who said there were many people in his household and one pack was not enough.

Another person, who lives in a village house, did not receive a notification card and was made to fill a form before being allowed to receive a bag.

"I am going to use the rapid test kits provided in the service bag to do the self-administered test in the coming three consecutive days," he said.

One woman said she had no idea about the packs at all and only learned she could get one from a collection point through news reports.

Acting Secretary for Home Affairs Jack Chan Jick-chi went to a Tsuen Wan collection point to check on operations and said progress was better than expected. "We have made 3.5 million service packs and distributed over three million in five days. Residents who have not received their packs can pick it up at 89 collection points," Chan said, urging everyone to take the tests every day until Sunday.