Cumulative net retail purchases in Tesla stock shot up more than 400% this year to leap over $15 billion.
Tesla has dethroned Apple as the most popular stock among retail investors in 2022, research firm Vanda said Wednesday, with the EV maker's historic sell-off driving a recent surge in buying. 

Cumulative net retail purchases in Tesla stock exploded by 424% to $15.41 billion this year from $2.94 billion in 2021, Vanda said in a weekly note. 

That overtook $15.21 billion in cumulative net purchases of Apple this year, with a relatively more modest growth rate of 18% from $12.85 billion in 2021. 

Flows into Tesla dropped when the company enacted its 3-for-1 stock split in August but later began surpassing those of the iPhone maker. 

"[Retail] investors' contrarian bias shifted into a higher gear as TSLA shares fell following Musk's recent antics as Twitter's CEO and against Apple earlier in the month," Marco Iachini, senior vice president of research at Vanda, wrote in the research firm's last note of 2022. 

Tesla shares are headed for a 60% decline for 2022 amid the worst sell-off since their 2010 public debut. Tesla's year-to-date loss outpaces the S&P 500's decline of 18% and the Nasdaq 100's dive of 31%. For its part, Apple stock has lost 23% during the year. 

Tesla has been sinking quickly in recent weeks as investors and analysts voiced concerns that Musk is overly focused on Twitter, which he acquired for $44 billion in October. 

Meanwhile, Musk last month claimed Apple was threatening to remove Twitter from its App Store. He later said there was a "misunderstanding" about the situation, saying Apple's CEO Tim Cook had never considered doing so. 

On a wider scale, Tesla, Apple and other large-cap tech companies have been slammed down this year with borrowing costs soaring as the Federal Reserve hiked up interest rates and investors worry about an oncoming recession.

But in singling out Tesla, Vanda pointed to its reach, saying the stock makes up about 11% of the average retail portfolio. 

"Given its growing importance, we view retail activity around it as a crucial signpost for what may be an eventual full-fledged capitulation in 2023," said Iachini.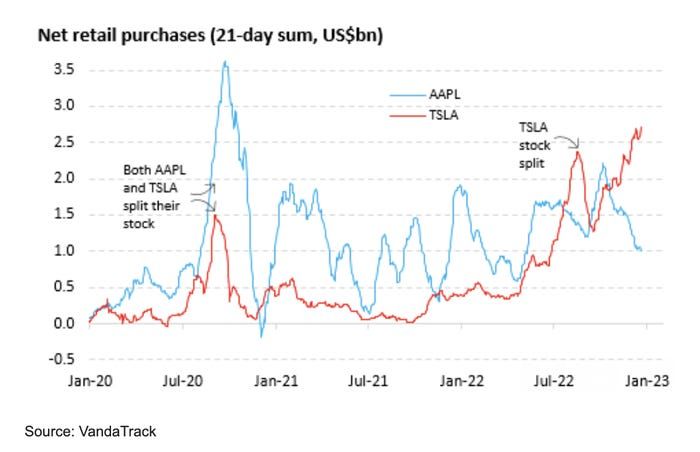 Net retail purchases of Tesla and Apple stock in 2020 through 2022.