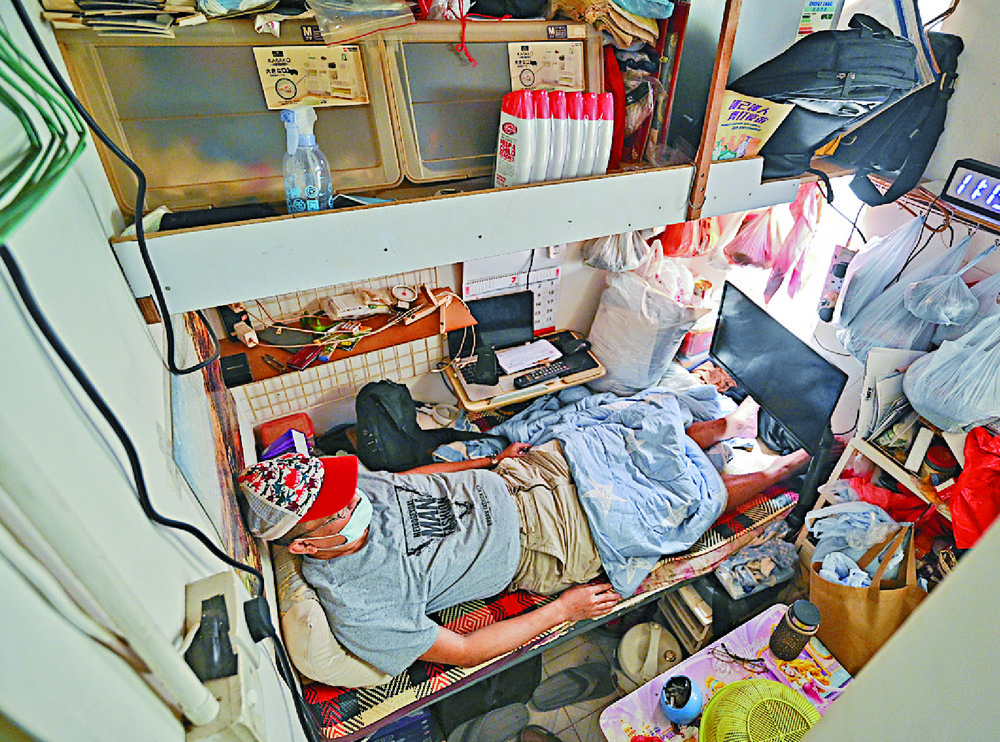 Tenants hot and bothered as mercury rises
A fifth of partitioned flat residents said there are no windows in their spaces, while more than 40 percent indicated temperatures at home reach at least 30 degrees Celsius, a grassroot concern group has found.
Concern for them came as the Observatory issued the very hot weather warning yesterday, with temperatures hitting 34.9 degree Celsius in Sheung Shui in the afternoon. It is forecasting hot weather in the coming three days, with the highest temperature at its headquarters reaching 34 degrees.

There are currently around 226,000 people living in 100,943 subdivided units in the city.

That came as Concerning Grassroots' Housing Rights Alliance interviewed 156 tenants living in partitioned flats, rooftop housing, cubicle homes and caged homes between June 3 and June 15 on living conditions.

Apart from data provided by the residents, it sent people to record indoor temperatures in 103 flats. In 47.6 percent of these, the average temperature was 30 degrees or above.

Some 20 percent didn't have a window for ventilation. One third had only one window.

Wong, 65, a tenant of a 50-square-foot unit in Prince Edward, said air-conditioning was a must for the summer.

The only window in Wong's unit was shut to prevent rodents. Ventilation was so bad steam was trapped in his unit after cooking.

More than 90 percent urged the government to speed up the process of building public housing, while over 70 percent said it should provide a subsidy for energy use.

More than 98.7 percent said bills piled up in hot weather, with over half saying the power bill was more than HK$400 then.

The alliance called for laws on basic housing standards to set a minimum housing area per person. Toilets and windows should be mandatory for subdivided flats.

A bill has been tabled in the Legislative Council to regulate rental increases for partitioned flats and penalize landlords for overcharging utility fees. They cannot increase the rent for two years, and the hike cannot exceed 15 percent after the two-year period.

The rental increase curbs could be enforced by the end of this year or the beginning of next year if lawmakers pass it within the current legislative year.