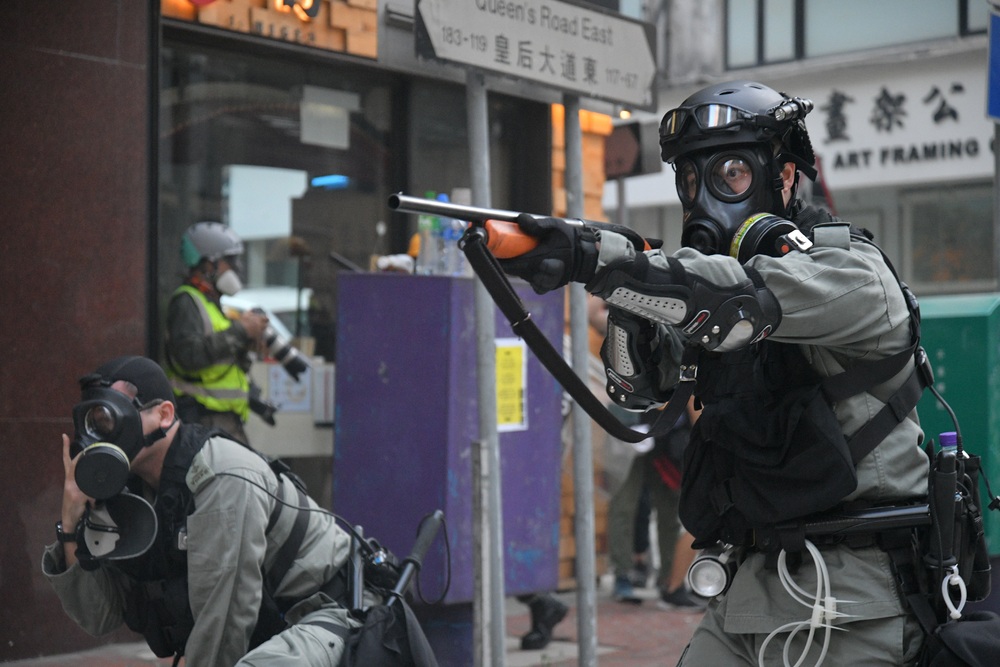 Ten people jailed four years and four months for rioting on National Day 2019
Ten people were on Saturday jailed for four years and four months for rioting outside Tsim Sha Tsui Police Station on National Day four years ago, and an underage co-defendant was sent to a training center.
The ten defendants were clerk Yuen Kwan-wing, 31; movie worker Avian Wong Wai-lam, 23; students Lai Wing-lam, 23; Ng Piu-ling, 18; Yan Wai-yi, 18; construction worker Pang Hon-sum, 29; Jenny Samekham Rai, a 22-year-old Nepali student; accountant Mui Cheuk-ling, 24; photographer Lam Yiu-kei 26; and salesman Cheng Tsz-kin, 27.

They and the only underage defendant – 17-year-old student Cheung Chun-hin – were earlier found guilty of rioting on Nathan Road on October 1, 2019, while the 12th defendant was acquitted after a trial.

The District Court case was passed to the West Kowloon Magistrates' Courts today (Sat).

Handing down the sentences, judge Lily Wong Sze-lai pointed to the large scale and the destructive nature of the riot that day.

She also blasted the defendants for challenging the police's power and authority on purpose in a town center area flooded with pedestrians amid National Day celebrations.

They might have encouraged others to participate in the riot, endangering the safety of innocent passers-by, and it was pure luck that no casualty was reported that day, Wong added.

Wong noted the maximum penalty of 10 years imprisonment for the rioting charge upon conviction. She also rejected the defense, saying that the defendants didn't take an active role in the riot and throw Molotov cocktails and ruled that they most definitely were accomplices in rioters' crimes.

Wong then gave the ten defendants a three-month discount for their past contribution to society, including volunteer services, and jailed them for four years and four months.

Wong also sent Cheung to a training center, citing reports by a probation officer that said Cheung suffered from social anxiety disorder and had learned a valuable life lesson from this case.