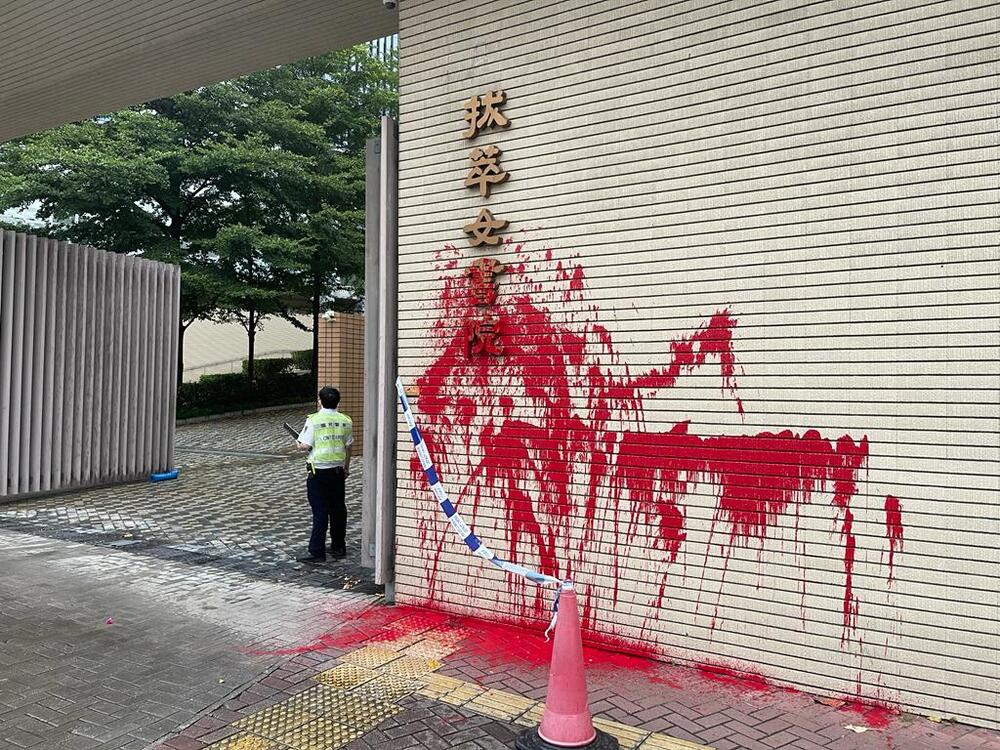 Teen arrested for splashing red paint at Diocesan Girls' School
A 17-year-old teenager was arrested on Wednesday as police suspected he was the vandal who splashed red paint at the main gate of Diocesan Girls' School in Jordan this morning over a monetary dispute.
Police said they received a report from school security around 6am saying their premises were found to be splashed with red paint. Apart from the paint, dozens of debt notes were also seen left behind at the entrance.

The case was listed a debt collection and criminal damage, and was handled by Yau Tsim district crime squad.

After reviewing the security camera footage, officers found that a teenager committed the crime around 3am and fled the scene to Mong Kok by taxi.

Officers believed the teenager was about to commit the crime again as he was caught carrying two cans of spray paint in a plastic bag when he was intercepted in Mong Kok this afternoon. He was then arrested for criminal damage and possessing instruments fit for illegal purposes.

The teenager surnamed Sun was also escorted to his home where officers seized the clothes he wore when committing the crime.

Sun is now remanded in custody and the case has been passed to Yau Tsim district anti-triad unit. Police said the investigations are ongoing and officers may make more arrests.

It was understood that Sun was collecting debts from a student's parent who have disappeared for an extended period. Sources added Sun was a member of triad society Wo Shing Wo and he would be rewarded HK$500 for each "recovery."

Replying the media inquiries, the school stressed they are not related to the monetary dispute.