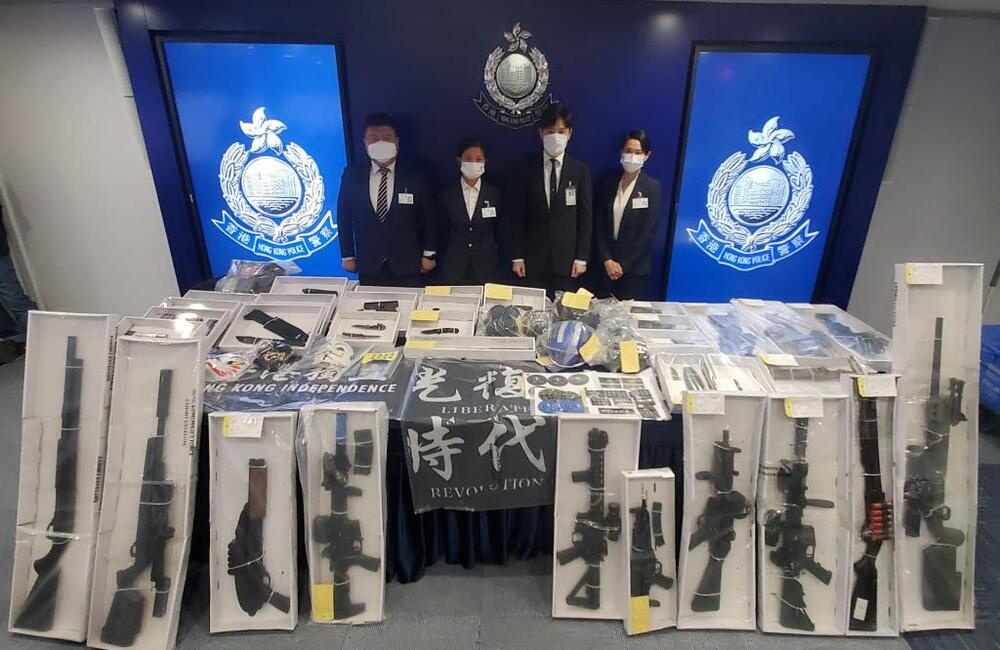 Teen aged 17 among three arrested over seizure of imitation guns
Three males aged 17 to 44 were arrested over three imitation gun cases, as police seized 38 fake guns and some anti-government flags.
Poice cracked three cases of possession of imitation guns and searched several flats on Monday morning, seizing 38 imitation guns, eight knives, a retractable stick, a number of gas masks and anti-government flags.

Senior superintendent Ho Chun-tung said preliminary investigations found no relation between the three arrested.

New Territories South police said they found someone selling gas masks and filter canisters earlier in an online group and identified the 17-year-old secondary student.

He was arrested this morning and was found with an air gun, a retractable stick, a folding knife, a hammer, an anti-government flag, and some cloth badges with anti-government slogans. The student is still being held for investigation.

Separately, New Territories North police said an officer raided a flat in Tin Shui Wai this morning, where they found nine suspected modified air guns, 18 magazines, three sabers, a gas mask, and two anti-government flags. A 23-year-old unemployed man was arrested in the operation and held for investigation.

In addition, West Kowloon police identified a unit in Sham Shui Po, where they arrested a 44-year-old delivery worker and seized 27 air guns, 56 magazines, and three sabers.

Police called on the public to fight terrorism, and report any suspicion they observed.