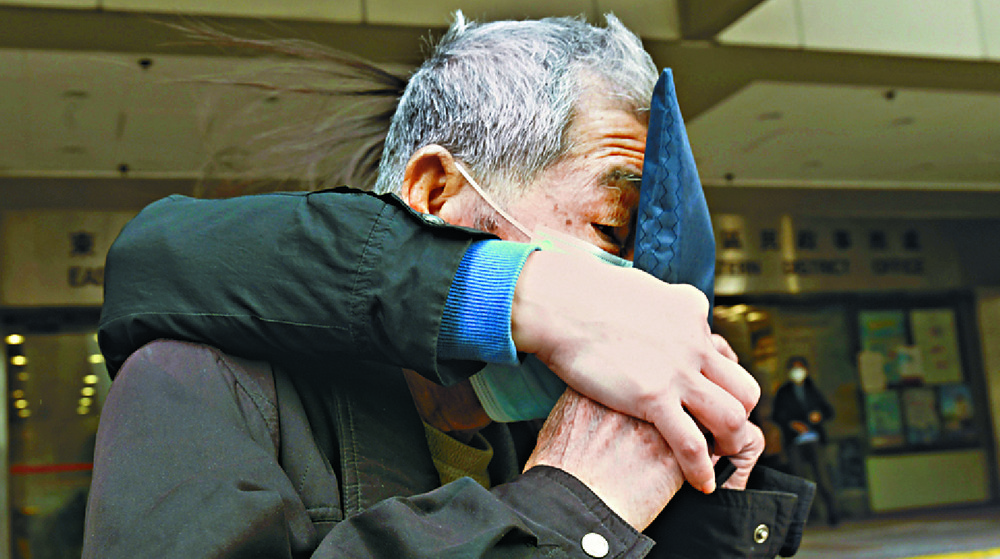 Taxi driver, 85, granted bail
An 85-year-old taxi driver was granted HK$5,000 bail in the Eastern Magistrates' Courts yesterday after he lost control of his cab while driving down Fortress Hill and knocked over three pedestrians at a busy junction in North Point on Sunday.
No plea was taken from the driver, Ngai Choi-nung, who was seen wearing hearing aids in court, as Principal Magistrate Ivy Chui Yee-mei adjourned the hearing to May 16 for further police investigation.

Ngai was ordered to surrender his travel documents.

He is not allowed to leave the city and must report to the police every week. Having considered the severity of the case as well as the age of Ngai, Chui said Ngai must also surrender his driver's license to protect other road users.

Ngai was arrested on Sunday for dangerous driving and causing grievous bodily harm.

Ngai apparently lost control of his cab when driving down a slope from Fortress Hill, knocking over the three women on the pedestrian crossing at King's Road, leaving two of them in critical condition.

Preliminary investigation has found no mechanical issues with the taxi, and it is understood that Ngai did not switch gears to slow down, pull the handbrake to stop the vehicle or sound the horn.

Meanwhile, an expert panel set up last summer is in the process of reviewing health check-up arrangements for elderly commercial vehicle drivers, Commissioner for Transport Rosanna Law Shuk-pui said.

On a radio program yesterday, Law said the panel will hold a crucial meeting later this month, with consultations with the Legislative Council and the transportation industry to follow.

"If we want to improve the situation, there has to be a legislative amendment process," she said.

"We guarantee that we won't leave this unfinished, especially since there's a consensus on the issue, which would allow us to move forward with works." A Transport and Housing Bureau initiative to improve driver health checks a decade ago, 2013, was aborted.

She said health checks have to be improved, since accidents are prevalent among older drivers, in an already aging industry, but added the government's health checks should not interfere with drivers' livelihoods.

Asked whether an age cap would be imposed for commercial vehicle drivers, Law said drivers need job security and citizens need enough taxis.

The president of the Medical Association, Cheng Chi-man, called on the government to set up a computerized simulation center for drivers, since private doctors are not always able to gauge drivers' coordination abilities from a clinical examination.

"Elderly drivers can experience significant changes in physical health very rapidly. The minimum requirement of one health check every three years isn't enough," he said, adding that latent conditions usually go unnoticed at health checks.

The president of the Hong Kong Automobile Association, Ringo Lee Yiu-pui, said Hong Kong driver health requirements are lacking compared to other countries.

"How can a private doctor determine whether they meet those health requirements in 10 to 20 minutes?" he said.