Social media posts published by pair said official endeavours to curb spread of Covid-19 were either politically motivated or driven by bad faith.
The owners of a Taiwanese drinks shop in Hong Kong have been jailed for up to seven months under a colonial-era sedition law for inciting others to flout public health curbs and refuse Covid-19 vaccines.

A magistrate hand-picked by city leader Carrie Lam Cheng Yuet-ngor to oversee national security proceedings convicted the two women at West Kowloon Court on Tuesday upon their admission to a joint count of doing an act or acts with a seditious intent.

Chinese University student Hau Wing-yan, 24, and Lam Yuen-yi, 21, were the administrators of an Instagram account for the now-defunct Ascohesion Cheese Tea shop in Mong Kok when nine posts criticising the government's anti-pandemic measures and vaccines were published on the platform between February 9 and 17 this year.

The Instagram posts, which were also published on the shop's Facebook page, suggested that official endeavours to curb the spread of Covid-19 amid a surging fifth wave of infections were either politically motivated or driven by bad faith.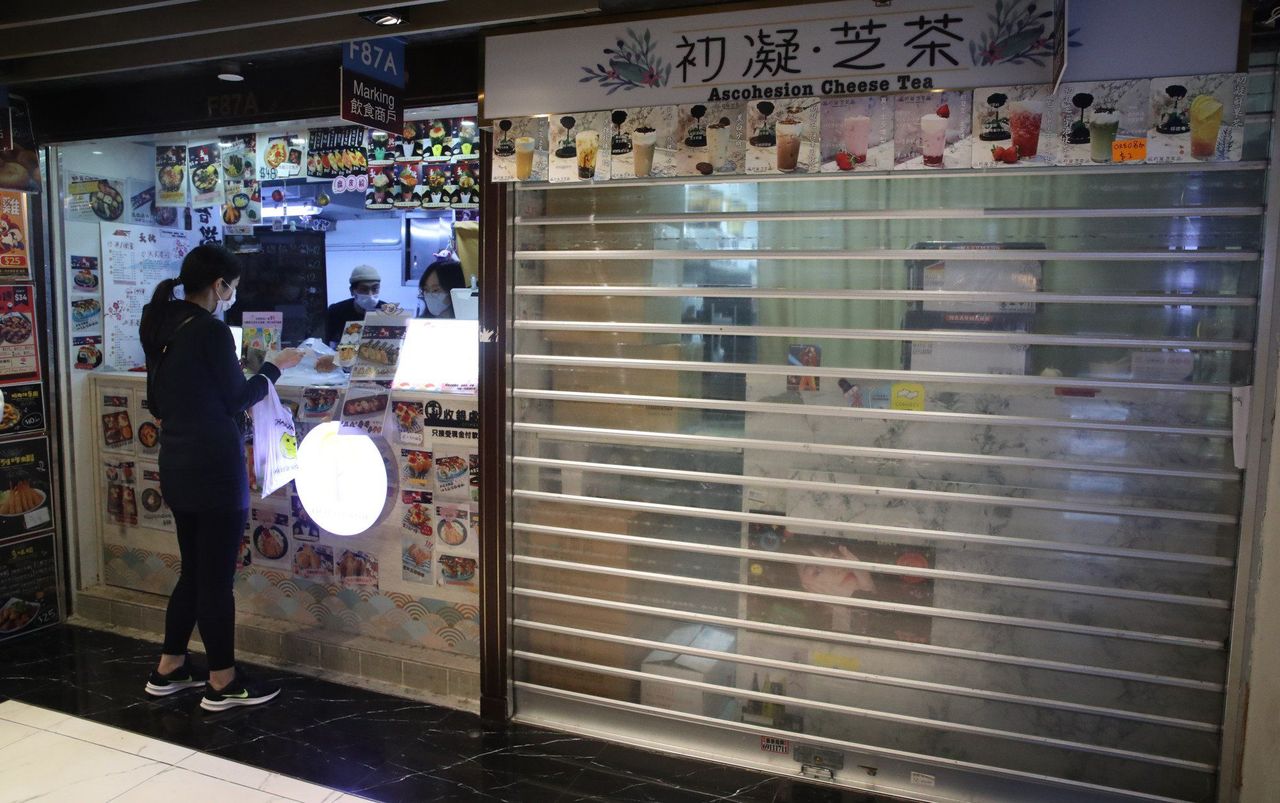 The Ascohesion Cheese Tea shop in Mong Kok.

Some posts argued the government's aim to restrict public gatherings during the pandemic was to prevent large-scale demonstrations similar to the anti-extradition bill movement in 2019, while an official contact-tracing app was launched to collect residents' private information in retaliation for opposing authorities during the protests.

Other posts sought to hamper authorities' efforts to inoculate the population and screen for positive cases via mandatory testing.

One post suggested that "unnecessarily wasting time lining up" for coronavirus testing would "put yourself in trouble", while another post described government officials as "murderers" and called on students to pretend to be ill and skip classes after receiving vaccination.

Claims were also made that anti-pandemic measures were aimed at achieving certain political objectives related to the city's chief executive election, as well as Beijing's disputes with Southeast Asian countries over claims in the South China Sea.

The police force's national security department had initially accused the defendants of also making anti-government remarks online and hiding in the shop a flag bearing the protest slogan "Liberate Hong Kong; revolution of our times". Prosecutors, however, decided against pressing further charges in light of the pair's guilty plea.

Counsel for Hau submitted in mitigation that the biomedical engineering student committed the offence on impulse after her mother, who was asked by her employer to get the jab, had an adverse reaction upon receiving the first dose. The counsel said the defendant had hoped to press the government to relax its vaccination policies.

Lam's lawyers said their client did not write the statements in question but had nonetheless consented to their publication. They said Lam was deeply remorseful and had received two doses of vaccination after forming a different view on the matter.

Principal Magistrate Peter Law Tak-chuen said the defendants had taken advantage of the public's fear and anxiety over newly developed vaccines and were looking to stir up negative sentiment which had grown in society since the social unrest in 2019.

"What the defendants suggested were in no way based on scientific findings. Their intention was to merely express their grievances and hate [towards the government]," Law said, adding the case was made serious by the pair's attempt to undermine trust between students and their parents.

The magistrate jailed Hau for seven months to reflect her leading role in the offence, before handing six months to Lam. The two defendants will soon be eligible for early release having been incarcerated for over four months before the sentence.

Sedition is punishable by up to two years' imprisonment upon a first conviction under the Crimes Ordinance. The Court of Final Appeal has classified it as an offence capable of endangering national security under the Beijing-decreed national security law.