Taipei is discussing relaxing visa and residency rules for foreign professionals under its Taiwan Employment Gold Card with its population set to start declining in 2031 due to a low birth rate and competition from mainland China and Hong Kong.
Taiwan is making moves to relax visa and residency rules for foreign professionals as the industry-reliant island races to ensure a flow of talent before its population falls, according to the director of the project office in charge of the scheme.

Four government agencies that vet applications for the Taiwan Employment Gold Card are discussing admitting professionals from new fields and making it easier for arrivals to stay longer, director Jonathan Liao told the Post on Tuesday.

The changes, which could follow internal discussions expected in the first quarter of next year, would further Taiwan's goal of finding 400,000 mostly foreign white-collar workers by 2030, Liao added.

Taiwan's population of nearly 24 million is expected to start declining in 2031 due to a low birth rate caused by rising childcare costs and other socio-economic factors.

That threatens the productivity of the US$759 billion economy that relies on the latest talent to produce consumer electronics, machinery and other manufactured goods for global export.

"Moving forward, they're still looking at all the areas where restrictions can be relaxed in a sense, looking at the criteria in terms of which ones are too strict," Liao said, referring to Taiwan's policy-setting ministries.

"I think there's always a balancing act. They want to make it attractive, but not just open the flood gates."

Taiwan is competing for foreign expertise with mainland China and Hong Kong, as well as other parts of Asia, amid widespread concerns over shrinking workforces due to low birth rates and ageing populations.

Chinese President Xi Jinping pledged last year that China would "exhaust all means" to recruit innovative professionals from abroad.

Analysts, though, have said that strained relations with the United States and a strict immigration policy have so far hobbled the ambition, with China expected to focus on attracting its own citizens back from abroad.

Hong Kong Chief Executive John Lee Ka-chiu said in his maiden policy address on Wednesday that 17 offices overseas will form teams to attract businesses and talent.

They will reach out to professionals and approach the world's top 100 universities, Lee said, while improving links with Hongkongers studying or working overseas to encourage their return.

Employment visas will also be extended to three years, Lee said, while employers seeking foreign talent in 13 professions experiencing staff shortages, or if the annual salary for a post is HK$2 million (US$255,00) or more, will not need to prove difficulty in hiring local staff before bringing in overseas talent.

Taiwan has taken applications for 2,200 gold cards this year after receiving 3,200 in 2021 and 2,500 in 2020, Liao said.

Overall, applications have been received from 85 countries, with around 6,000 approved from 44,320 consultations. The programme currently has 5,361 active participants.

Gold cards include a visa, three years of residency and a work permit that can be used for any job, including self-employment.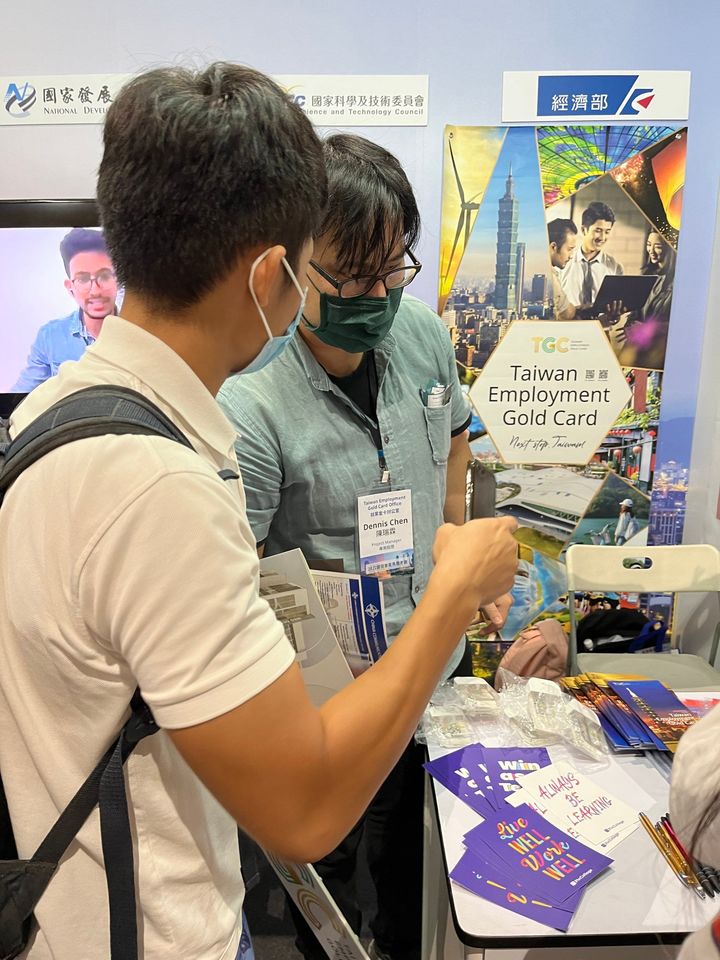 Taiwan officials explaining the Taiwan Employment Gold Card in Singapore.

Taiwan officials have already relaxed some regulations, Liao added. Agencies in charge of immigration, foreign affairs and national development all set policies for the gold card.

He pointed to a surge of amendments since mid-2021, with national defence one of the industries added to the list open to applicants.

The sports sector is also due open by the end of 2022, while applicants with cross-industry experience have already started to receive special processing.

Gold card holders may also now apply for permanent residency after just three years, a status that normally requires holding a standard work visa for five.

"Criteria also continue to be adjusted to reach a larger pool of applicants," Liao added.

Officials are targeting new sources for talent, Liao added, with more Singaporeans already applying after a gold card delegation visited the city state last month.

Taiwan's National Development Council launched the gold card scheme in response to 2017 legislation aimed at attracting skilled foreign talent as its population aged.

Professionals often cite Taiwan for availability of local technology talent, lifestyle conveniences and living costs below those of Hong Kong or Singapore.

So-called digital nomads should receive priority as part of the gold card liberalisation, said David Chang, secretary general of Crossroads, a Taipei-based non-profit organisation that focuses on improving Taiwan's internationalisation.

Digital nomads work via the internet, without a fixed base, and are often self-employed without the patents, awards and other hallmarks of success that government visa case reviewers want, Chang said.

Some 49 countries have digital nomad visa schemes or are working on them, according to the multi-writer travel blog Nomad Girl.

"A lot of countries are intensifying competition to grab these kinds of talents," Chang said.

"Taiwan still doesn't have a digital nomad visa. They're often looking for achievements that are well known to a typical Taiwanese bureaucrat."

Some gold card holders said Taiwan should make conditions easier for new arrivals so they do not leave during the three years.

A recent survey of gold card holders showed that 60 per cent are actually in Taiwan.

They point to obstacles in finding well-paid career jobs in Taiwanese companies, as well as barriers to services at local banks and trouble enrolling children in local schools, although Liao expects certain elements to improve as the foreign population grows.

"The entrepreneurial environment here is extremely challenging," said Jonathan Gropper, an American who joined the gold card scheme in 2019 to run the numerous e-commerce companies that he built in Philadelphia.

"Working in a Taiwanese company doesn't make sense because the pay is not commensurate with similar positions in the West. Unless you're an English teacher or vacationing, I'm having a hard time seeing longevity."