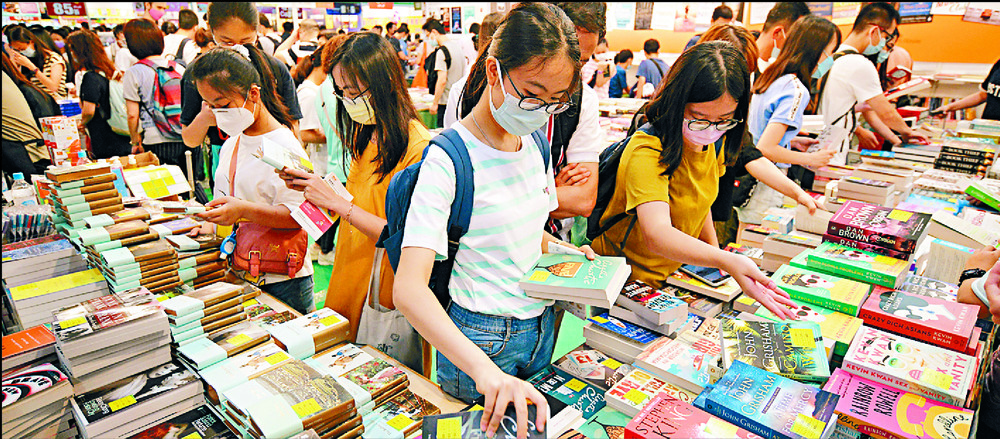 Super passes set to be fair game
Bookworms can visit this year's Book Fair unlimited times with a super pass priced at HK$80, as ticket sales for the annual event began yesterday.
The fair will be held at the Hong Kong Convention and Exhibition Centre between July 20 and 26.

Tickets are priced at HK$10 for morning or night admission, while a whole-day ticket costs HK$25 for adults and HK$10 for children. Kids aged under three and seniors over 65 get free admission.

Fair attendees on the first two days get one special re-entry after 7pm from July 22 to 24, and then once again on the 25th.

The tickets were sold at all 7-Eleven stores as of yesterday and will be available at Circle K outlets from today.

They will, of course, be available at HKCEC or can be purchased through HK Ticketing or by calling the 3128-8288 hotline. E-tickets are sold via the Octopus app and the 01 Space website.

Besides unlimited entries, super pass holders also get to use the special entrance to avoid queues. The pass will be available from July 1 to July 26 while stocks last. However, it can be purchased at only 13 outlets and by filling in a personal information form and providing a color photo.

The fair is being held at the same time as the fifth HKTDC Hong Kong Sports and Leisure Expo and the second HKTDC World of Snacks fair. Visitors can enjoy all three exhibitions with a single ticket.

This year's Book Fair theme is History and City Literature, with the tagline "Reading the World: Stories of Hong Kong."

The organizer, Hong Kong Trade Development Council, said on its website that thematic exhibitions titled History Writers and City Literature will be featured at the art gallery, which will allow visitors to savor Hong Kong's unique story through literature and art.

Two other exhibitions, Tastes of Hong Kong and Hong Kong Architecture, will offer different perspectives on the city's lifestyle and culture through artwork collections.

Another highlight will be the Eight Seminar Series. This year's topics include Stories of Hong Kong, Renowned Writers, English and International Reading, World of Knowledge, Children and Youth Reading, Lifestyle, Hong Kong Cultural and Historical and Personal Development and Spiritual Growth.

Meanwhile, the always popular "Storytelling by Celebrities" series will invite star speakers to share inspirational stories with children.

Reservations for the seminars opened on Friday on the fair's website on a first-come-first-served basis.