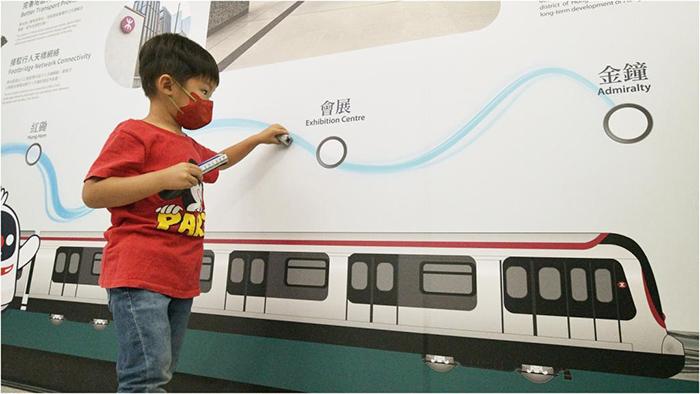 Sunday opening set for the East Rail cross-harbor extension
Excitement is growing among train buffs, and commuters as the East Rail Line cross-harbor extension will start services on Sunday, with the new Exhibition Centre Station opening on the same day.
A special train for the opening day will depart the Exhibition Centre Station at 5.25am that day, with the station opening to the public at 4.45am.

With the new extension, passengers can reach the commercial, convention & exhibition, and financial hubs in the Wan Chai North and Admiralty areas on the East Rail Line without interchanging.

It will be the fourth cross-harbor railway route. The estimated transit time from Hung Hom to Admiralty will be shortened from 19 minutes to 7 minutes. And the transit time from Admiralty to Kowloon Tong will be cut to 13 minutes.

The extension section of the East Rail line from Hung Hom to Admiralty, via the new Exhibition Centre station, will see the rail line extending to approximately 46km through 16 stations.

From Sunday onward, East Rail Line commuters will be able to alight at the new terminal station in Admiralty instead of Hung Hom as part of the extension.

The new terminal station will become the one and only four-line-interchanging mega station in the MTR network. East Rail Line passengers arriving at Admiralty Station can interchange to other lines with new escalators connecting different levels of the station without exiting the paid area.

The new Exhibition Centre Station is a three-level underground station comprising a station concourse and two platform levels. It is adjacent to the Hong Kong Convention & Exhibition Centre and connects to the nearby commercial buildings with the Wan Chai footbridge network.

The East Rail Line cross-harbor extension started its trial operations on February 1. The extension section was initially targeted for commissioning between June and July.

In October last year, the MTR Corp announced that the project would be delayed for a third time until June or July because of setbacks caused by signaling glitches.