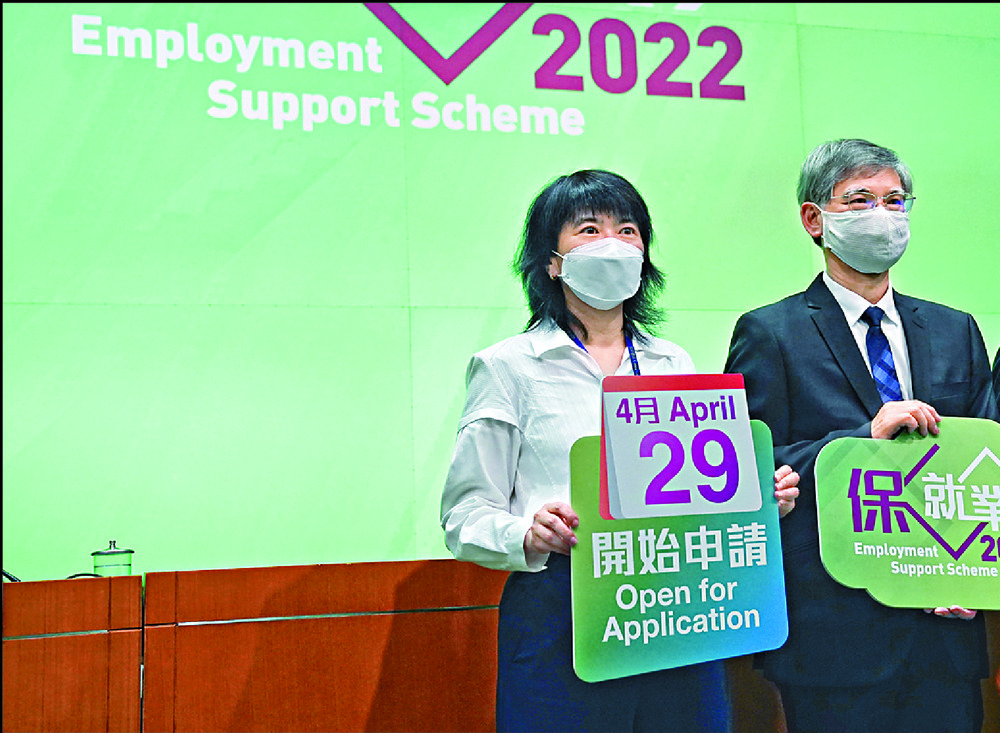 Subsidy penalty looms for firms
Tougher penalties will be in place for this year's employment support scheme, as employers who fail to hire the number of workers as promised would have to return the subsidy and pay an extra 10 percent fine.
This came after authorities announced that the scheme, worth HK$43 billion in this latest round, opens for application from Friday.

It may benefit 1.6 million employees and 140,000 self-employed workers.

The head of the Policy Innovation and Coordination Office, Doris Ho Pui-ling, said yesterday that employers can apply for subsidies each month by citing the number of employees - full-time, part-time and elderly - they intend to hire.

However, Ho said, those who fail to fulfill their pledged headcount between May and July - the duration of the scheme - will have to return the relevant subsidy amount with an extra 10 percent as penalty.

"From the policy objective of guaranteeing as many jobs as possible, we would like to put in place a heavier penalty to provide a stronger deterrent effect against any non-compliance," she said, adding that this year's subsidies will be distributed to employers in four installments, with the subsidy for July being handed out in two rounds so authorities can deduct any penalties if necessary.

From Friday to May 12, employers or self-employed workers can submit their applications online and schedule an appointment at the service centers in North Point, Kwun Tong, Cheung Sha Wan, Sha Tin and Tsuen Wan by calling the hotline, 1836122.

Companies could file applications with the number of employees they quoted in the last round of the scheme in 2020 or the updated numbers as of the fourth quarter last year.

Secretary for Labour and Welfare Law Chi-kwong said he believed that now is the right time to roll out the employment support scheme again.

"We hope the new round of the scheme can provide more flexibility to employers and better safeguard employees' interests," Law said.

He also believes that Hong Kong has passed the peak in joblessness and expects the unemployment rate to decline in June.

This is because the figures for that month will showcase the employment situation between March and May, after social distancing measures were relaxed and the consumption vouchers disbursed.

Under the scheme, each full-time worker is entitled to a HK$8,000 monthly subsidy between May and July.

Part-time workers who earn HK$3,000 to HK$8,000, as well as elderly aged 65 or above who earn less than HK$3,000 a month and has a mandatory provident fund account, can also get a half-rate wage subsidy of HK$4,000 per month from May to July. Self-employed workers with an MPF account will get a one-off HK$8,000 subsidy.

Companies can apply for the subsidy for a maximum 1,000 workers, while those on the "restricted list" can apply for 100.