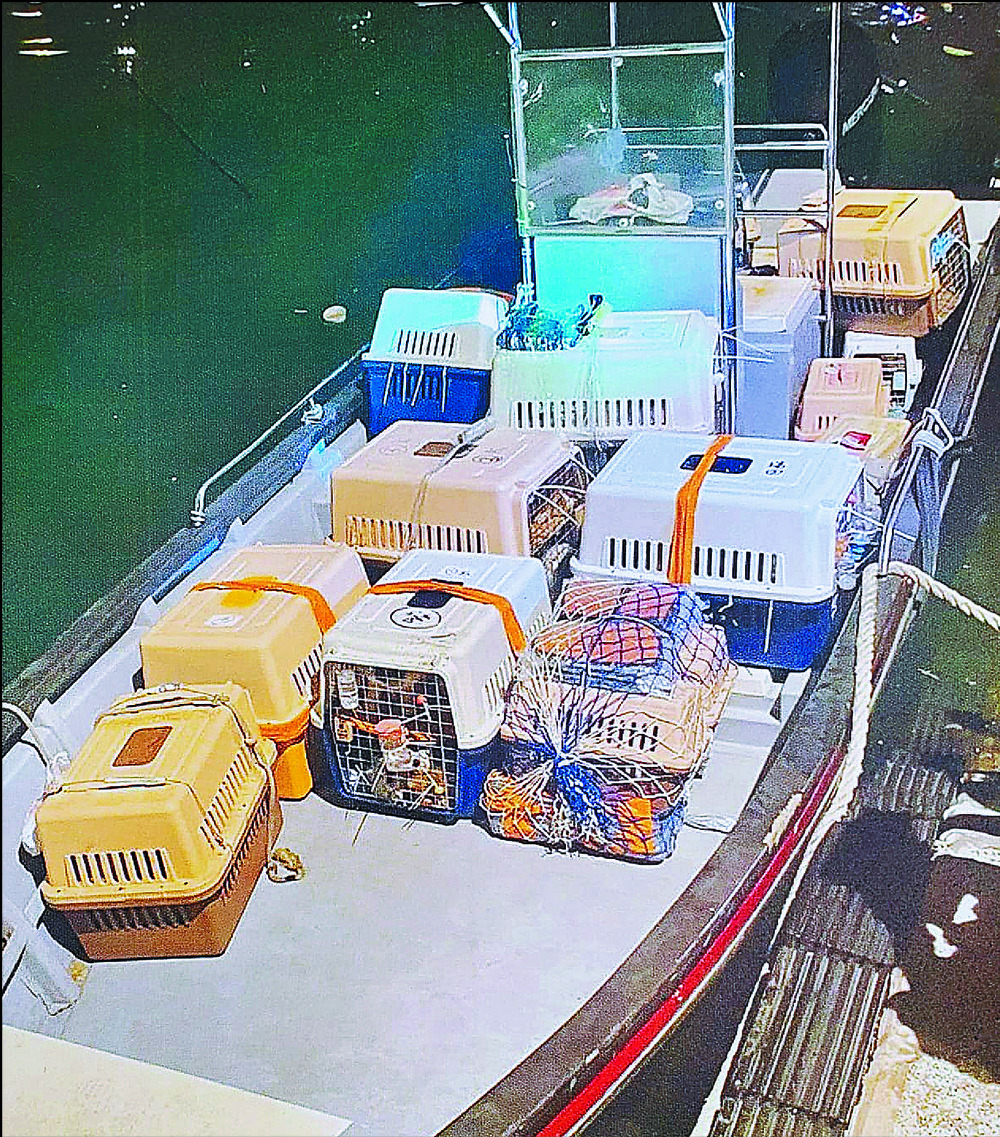 'Stuffed and scared' - smuggling case busted
More than 130 purebred cats and dogs were found stuffed inside 17 cages on a speedboat after marine officers arrested a 30-year-old man for smuggling the animals to Hong Kong on Wednesday night.
The animals, including British shorthair cats and Corgis, are believed to have been brought in from the mainland and intended for sale in the local market where they are guaranteed to fetch a handsome profit.

The man was arrested for cruelty to animals, importing unmanifested cargo, endangering others' safety on seas and refusing to stop for inspection.

Senior inspector Yung Kam-lun from the force's small boat division yesterday said officers spotted a suspicious speedboat at around 11.50pm on Wednesday when it entered Hong Kong waters from the west of Sha Chau.

When patrol boats approached the speedboat for closer inspection, the latter made a swift U-turn and started heading back in the direction of the mainland. A chase ensued, during which the speedboat tried to escape by making a series of sudden turns, Yung said.

The speedboat was eventually stopped northwest of Black Point in Lau Fau Shan.

During its inspection, the speedboat was found to contain 101 cats and 35 dogs. One cage was packed so tight that it contained 16 cats in total.

"The animals stuffed in the cages were very scared and we immediately gave them the proper care they needed," Yung said.

"That same night, we contacted the Society for the Prevention of Cruelty to Animals. After examination, it determined the animals were in good health."

The animals are now in the care of the SPCA and the Agriculture, Fisheries and Conservation Department. The Customs and Excise Department's senior inspector Kenneth Tang Sau-yin said the animals are worth between HK$10,000 and HK$15,000 each.

It's possible some of these animals have already been bought online by local buyers, Tang said. The animals, along with the seized speedboat, are worth around HK$1.4 million.

In a separate case on Tuesday, two men were arrested for selling endangered freshwater turtles.

The AFCD's endangered species protection officer Edward Lau Tak-chuen said that the residence of the two men were raided, during which 31 turtles - 10 of whom were already dead - were found.

Meanwhile, a dog died in Central yesterday after falling through a hole in a fifth-floor canopy. The male mongrel died instantly and its body was taken away by SPCA officers.