Student Politicism's leaders appear in District Court for mitigation in their case involving charge of conspiracy to incite subversion.
Four student activists awaiting sentencing for advocating Hong Kong's independence and a "struggle" against authorities have pleaded for leniency on the grounds they are remorseful and voluntarily ceased all acts endangering national security.

The quartet from the now-defunct Student Politicism appeared in the District Court for mitigation on Saturday as the defence argued the case, involving a charge of conspiracy to incite subversion, was less serious than similar offences and warranted lighter penalties.

The group's convenor Wong Yat-chin and secretary Chan Chi-sum, both 21, along with spokeswomen Jessica Chu Wai-ying, 19, and Alice Wong Yuen-lam, 20, admitted in July to making numerous offensive statements at seven street booths between October 2020 and June last year.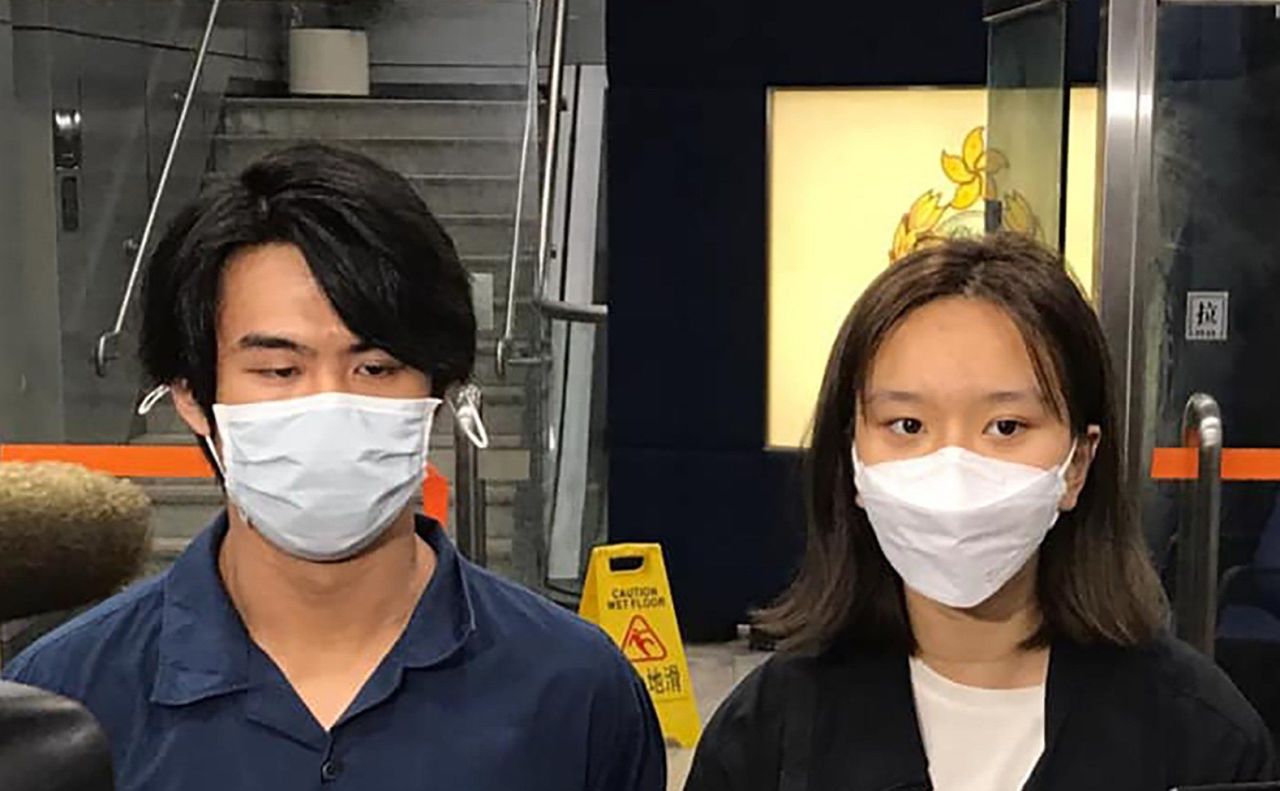 Student Politicism Secretary Chan Chi-sum, left, and spokeswoman Wong Yuen-lam.

The court heard in an earlier session that a common theme of their speeches was to "invite" the audience to join the "struggle" against those in power with a view to establishing an independent state, while others targeted the government's adoption of the "Leave Home Safe" risk-exposure app to contain the Covid-19 pandemic.

Edward Chan Tak-cheong, representing convenor Wong, said on Saturday his client's intention was to focus attention on current affairs. Even though his stance might be wrong, he was not "opposing for the sake of opposing", Chan said.

The lawyer cited Wong's letter to the court dated August 30, in which the defendant said he was sorry for expressing his love for the city in the wrong way and causing enormous public resources to be spent on his case.

But prosecutors took issue with a public statement posted on Wong's social media accounts, in which he purportedly urged his supporters to remain adamant and maintained he felt no regret for his actions.

"Despite having no expectation for the [case's] outcome, [I] have no regret or remorse. At the very least, I had tried to pursue the seemingly distant but beautiful dream. I am willing to endure all kinds of suffering," Wong said in the post dated September 21.

Chan explained his client was merely expressing his wish that Hong Kong would "change for the better", but District Judge Kwok Wai-kin noted that comment could also be understood as Wong instigating his supporters to further his cause by illegal means.

"I believe during the social events in the past, everyone who came forward would say they want Hong Kong to change for the better," Kwok said. "However, some would advocate peaceful protests whereas others would try to 'break' Hong Kong."

Defence lawyers also submitted the four accused were not persistent offenders, as they had refrained from making further speeches in public after the lines were drawn following the conclusion of the first national security law trial in July 2021.

Chan Chi-sum and Jessica Chu had cut ties with the activist group months before their arrests, whereas Chu handed herself to police days after her peers were caught, the court was told.

The defence asked the judge to exercise his discretion under Article 33 of the security law, which states a lighter penalty can be given to an offender who "voluntarily discontinues the commission of the offence and effectively forestalls its consequences", or "voluntarily surrenders himself or herself and gives a truthful account of the offence".

Kwok scheduled the next hearing for October 15, where he is expected to hear further submissions from counsel before passing sentence. He also called for assessment reports on the suitability of the group's two spokeswomen for correctional training.

Conspiracy to incite subversion is punishable by up to seven years at the District Court. The national security law also criminalises secession, terrorism and collusion with foreign forces. It was adopted after anti-government protests erupted in 2019.