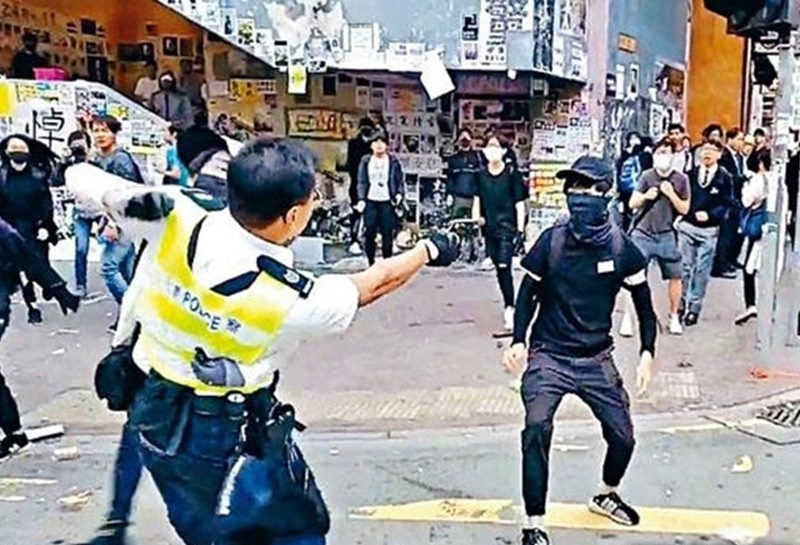 Student shot by police in 2019 protest sentenced to six years
Two students who participated in the 2019 protests, one of whom bore a gunshot wound when being arrested, were sentenced on Wednesday to six years imprisonment after being convicted of obstructing police duty and other counts.
Chow Pak-kwan, 23, and Woo Tsz-kin, 22, appeared in the District Court today, standing before judge Adriana Noelle Tse Ching.

When delivering her ruling in court, the judge described the two as knowingly participating in the riots during the incident and bullying the police officer involved with contempt of their power and challenging the law unreasonably.

The incident occurred on November 11, 2019, according to the court, when the duo joined a gathering in Sai Wan Ho amid demonstrations and strikes that broke out across the city against the government and led to traffic being paralyzed on multiple main roads.

Chow and Woo, the court learned, were at the scene and took part in a confrontation with the police officers. The two attempted to hinder a police officer dubbed "A" from arresting a protester, during which Chow - who was unarmed - tried to grab the gun from A.

The officers fired three shots afterward, and the first bullet hit Chow's stomach; he then tried to flee but was subdued by the police on the spot, along with Woo.

The duo was then arrested and charged with "obstructing a police officer from his duty" and "attempting robbery," with Chow also accused of one count of "attempting escape."

In court today, Chow, who lost his right kidney and part of his liver after being treated for his gunshot wound, said he had always been in severe pain since the accident, while Woo said he suffered from post-traumatic stress disorder and depression.

However, the judge considered the pair, during the accident, conducted the assault and bullying of the police officer despite seeing he was alone and on duty, which showed a provocation to the authority of the police and posed a danger to the officer involved.

On this basis, the judge determined the two were guilty of all three charges and sentenced them to six years in prison each.