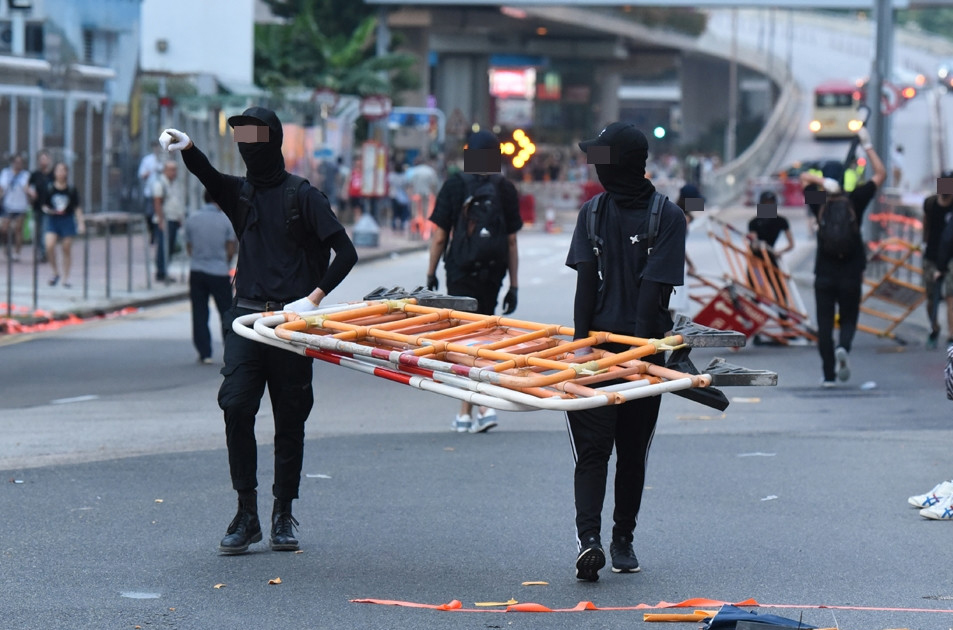 Student and engineer jailed for assaulting police in 2019 Tsuen Wan protest
A 22-year-old student from the Hong Kong University of Science and Technology and a 28-year-old engineer were jailed for 10 and 11 months respectively on Thursday for assaulting police in a Tsuen Wan protest in October 2019.
Yung Chun-hei, 22, and Sin Ka-kuen, 28, were earlier convicted of assaulting police officers in due execution of duty on the first floor of Waldorf Centre in Tsuen Wan on October 13, 2019.

They were also charged with possessing offensive weapon as officers found a Molotov cocktail in a backpack. Yet the charge was dropped as officers handled the liquid inside the petrol bomb on their own without seeking further instructions and the prosecution failed to prove the backpack belonged to either Yung or Sin.

The two appeared before magistrate Pang Leung-ting in the Sha Tin Magistrates' Courts on Thursday. Although Pang will not say the pair conspired to commit the offenses, he can tell the two had plans from their black clothing and behavior, adding that the incident took place at the height of the social unrest.

He continued that there were other spectators at the scene shouting and some even tried to remove evidence.

Pang also referred to the testimony of a police officer, who heard the two shouting "help hit the dogs". Yung and Sin made the insulting remark intentionally to discredit the police and incite spectators to obstruct officers from performing their duties, he added, saying the remark called for a heavier sentence.

In mitigation, defense said Yung is the only child in the family and his mother passed away in 2017. Yet he managed to enroll into a double-degree programme in the same year and he has been continuing his studies after he was arrested.

Another lawyer for Sin said he is a law-abiding man, and he is passionate about his work, The lawyer added that Sin's colleagues at the engineering company spoke very highly of him and hoped the court would hand down a shorter jail term, given that the violence involved in the case was not too serious.

Pang then sentenced Yung and Sin for 10 and 11 months respectively, saying that although they have good characters, the sentence should focus on the deterrent effect rather than on rehabilitation.