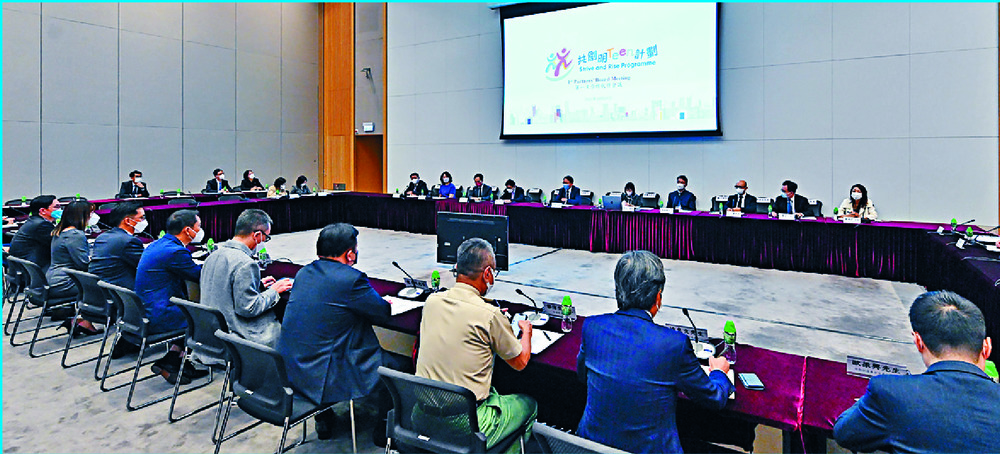 Strive and Rise program takes on more deserving students
A total of 2,800 secondary school students living in subdivided units have been embraced under the Strive and Rise mentorship program.
That is 40 percent more than the original target for the 12-month program, which was 2,000.

A partners' board led by Chief Secretary for Administration Eric Chan Kwok-ki had a first meeting yesterday.

Chan said 20 "strategic partners" were invited to join the board after they provided key support in sponsorship or in nominating mentors since the announcement of the program in August.

Partners are private institutions, charitable organizations and business associations, with eight listed as "vice-chairmen," including FWD Insurance-PCCW-HKT, Henderson Land, Hongkong and Shanghai Banking Corp and the Bank of China (Hong Kong).

China Resources Group, Sun Hung Kai Properties, New World Development and the Scout Association of Hong Kong are among 12 listed as other members, while six officials from the Labour and Welfare, Education, Home and Youth Affairs bureaus are also on the board.

The program has received massive support from some 120 enterprises and organizations and raised HK$140 million in sponsorship funding.

Members were told at yesterday's meeting that the 2,800 underprivileged students admitted into the program will each be assigned a mentor.

Chan noted that the program targets secondary one to secondary three students from underprivileged families, and "it is our mission to support as many of them as possible."

The 2,800 students accepted for the Strive and Rise program live in subdivided flats and are thus near the bottom end of grassroots families.

Each of them will receive HK$10,000 cash - HK$5,000 during and then after completion of the program - to help them advance in the world.

The combination of the government, the business sector and the community will be in full play to support all of the mentees in a targeted manner, Chan said.

Orientation activities will begin in phases from this week, and about 800 group activity sessions, including some run by government departments, are already arranged or are in the process of being set up.