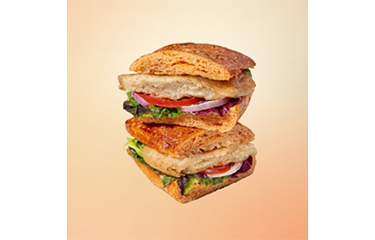 Starbucks Hong Kong launches new product from seafood analogue producer
Plant-based seafood analogue producer OmniFoods is launching two new products for the Chinese New Year through Hong Kong based Starbucks outlets.
The firm is supplying its Omni Golden Fillet product for an Omni Golden Fillet Ciabatta, which will be sold for HKD 54 (USD 6.91, EUR 6.10) in 170 Starbucks locations across the city starting in January in advance of Chinese New Year, which falls on 1 February.

Last November Hong Kong Starbucks outlets of started to sell Thai-style New Crab Cake Salad using Omni crab cakes. OmniFoods, which manufactures its products in China and Thailand, says it distributes in 20 markets and conducts its R&D in Canada, and that the company sees opportunities in China and the U.S.

Starbucks, with its growing network in mainland China, has proven an alluring distribution partner for food suppliers. The firm has been carrying OmniFoods' plant-based alternatives in mainland China and the Philippines since 2020.

Omni has also tapped into the huge McDonald's network in mainland China, selling a plant-based OmniPork breakfast luncheon meat at 800 McDonald's outlets across Shanghai, Guangzhou and Shenzhen in March 2021.

Omni Golden Fillet "retains the flakiness and tenderness of real fish, carrying an ineffable ocean flavor and presenting a healthier rendition of the classic seaside dish," a press release from OmniFoods said. OmniFoods is the food innovation arm of the Green Monday Group, which also runs Green Common – a chain of dining and retail stores in China and Singapore.