Fully vaccinated workers at the North Lantau Hospital Hong Kong Infection Control Centre will now be tested every three days, as opposed to every seven, as part of the push to satisfy Beijing's demands for reopening the border.
Local health authorities have increased the frequency of Covid-19 testing for fully vaccinated staff at a key infectious disease hospital as part of an intensifying drive to convince Beijing to reopen the border between mainland China and Hong Kong.

Officials on Thursday said that workers at the North Lantau Hospital Hong Kong Infection Control Centre would undergo mandatory screening every three days, as opposed to every seven, following a similar move by the Airport Authority targeting staff at high risk of exposure to the coronavirus.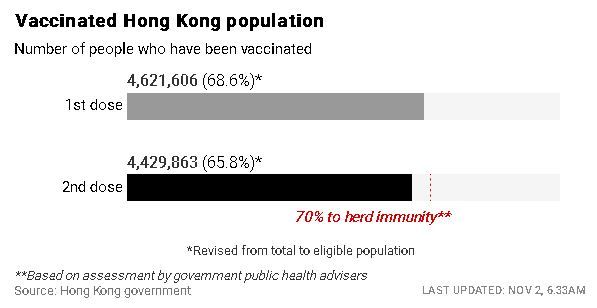 The hospital treats most airport arrivals who are infected with the virus.

Measures aimed at curbing transmissions among other high-risk groups – including quarantine hotel and coach personnel, employees at frozen food facilities and designated workers at cargo ports – are expected to be rolled out in the coming month.

The Hospital Authority also announced on Thursday that all visitors except those aged below 12 or above 65, or others exempted by the government, must use "Leave Home Safe", the official risk exposure notification app, when entering its head office or public hospitals' administrative wings.

Those entering health care areas, such as accident and emergency departments, also need to use the app when "operationally feasible".

The authority's decision mirrored a government move requiring visitors to its premises to use the app before entering.

In a separate move, the government announced on Thursday evening that the "Return2HK" and "Come2HK" schemes – which exempt arrivals from Macau from having to undergo quarantine – would resume from the coming Tuesday after having been suspended since September 25 because of an outbreak of infections in the casino hub.

A government spokesman emphasised that all arrivals in Hong Kong under the two schemes would still be subject to multiple compulsory tests. They should also monitor their health for at least 14 days after their entry into Hong Kong.

The latest developments came as health authorities confirmed two imported coronavirus infections, one of them involving an aircrew member from Belgium. The city's overall infection tally now stands at 12,337, with 213 related deaths.

Increasing Covid-19 testing for high-risk groups, even if they are fully vaccinated, is one of the key conditions for resuming quarantine-free cross-border laid down by mainland officials and health experts at a meeting last month, Hong Kong officials have said.

More controversially, the government this week also announced it was revoking quarantine exemption privileges for most incoming travellers and adding an extra two weeks of isolation for recovered Covid-19 patients after their discharge from hospital as part of the bid to reopen the border.

The latter policy was slammed by a leading health expert, Professor Benjamin Cowling of the University of Hong Kong, as "ridiculous" and "unethical", with the local rights NGO Society for Community Organisation demanding cash compensation for low-income patients affected by the rule change.

Meanwhile, the city's privacy watchdog has demanded 14 restaurants take remedial action after it found they failed to ensure the security of the personal information of customers who opted to register their visit via a form rather than use the "Leave Home Safe" app.

Among the bad practices the watchdog called out were using a common log book to record patrons' names and personal details, failing to put out a collection box for the forms and leaving the papers out in the open.