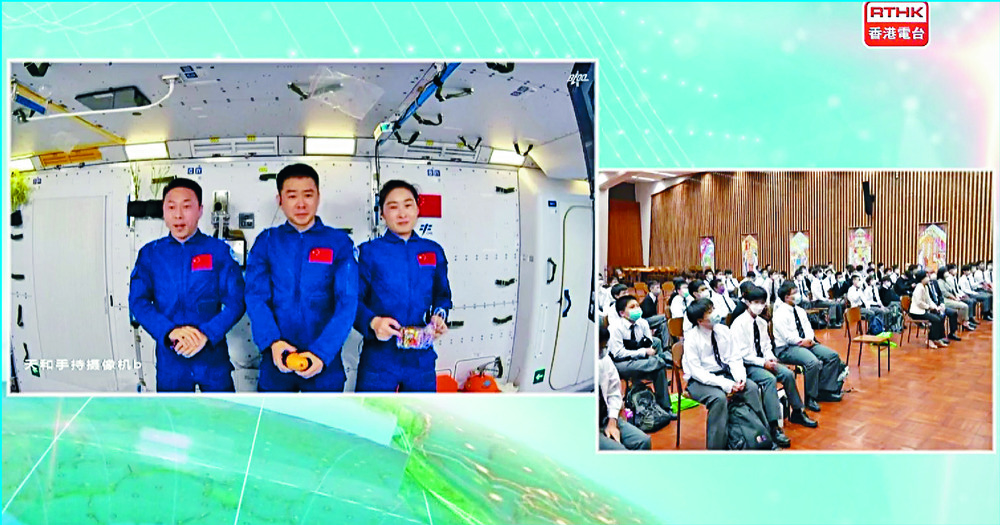 Special interest in space lecture
Hundreds of secondary school students in Hong Kong watched three Chinese astronauts conduct experiments at the Tiangong space station yesterday.
It was in the China Manned Space Agency's third Tiangong class lecture since last December.

Students and researchers from Hong Kong's leading academic institutions have expressed interest in the role of payload specialist in the space program.

Hongkongers are eligible for applying for payload specialist jobs after the agency announced it will recruit astronauts in Hong Kong and Macau.

Applications opened on October 6 for two candidates from Hong Kong or Macau to join China's space missions as onboard engineers with backgrounds in physics, chemistry or engineering who carry out aeronautical experiments and procedures.

Mission commander Chen Dong, along with crewmates Cai Xuzhe and Liu Yang, livestreamed the class to students in Beijing, Shandong, Henan and Yunnan yesterday.

The three Shenzhou-14 taikonauts - China's name for its space explorers - gave students a tour of the Wentian laboratory cabin module.

Liu said: "Inside the Wentian module, our sleeping quarters are different from those in the core module. The core module's quarters are horizontal, but here they are oriented vertically," she said.

She demonstrated how zero-gravity conditions affect basic tasks by drinking juice from a long straw, explaining that the lack of gravity in the Wentian module makes it much easier for her to use the straw.

In Hong Kong, more than a hundred students at La Salle College attended a screening of the Tiangong class. Secretary for Education Christine Choi Yuk-lin said: "I think this lecture is relevant to their studies, their future and even their daily lives. It's very influential to students, and I can see that they are very passionate about space travel."

Meanwhile, there is great interest in the payload specialist role.

The associate dean at the Chinese University of Hong Kong's faculty of engineering, William Wong Kam-fai, said several of his students hoped to sign up.

A Polytechnic University spokesman also said several of the school's scholars plan to apply.

Candidates, who have until October 27 to apply, must be "patriotic" Chinese nationals who are permanent residents of Hong Kong. They must also hold a doctoral degree with at least three years of professional experience.