Chris Tang attributes hesitancy to work with police on misconceptions relating to anti-government protests.
Some Hong Kong schools remain hesitant about allowing police onto their campuses to hold talks on national security and wider themes of law and order, but attitudes are improving, a top official has said.

Secretary for Security Chris Tang Ping-keung attributed the doubts to lingering misconceptions about the force stemming from the 2019 anti-government protests, but said there was growing acceptance of the value in engaging with police.

Responding to legislators' questions on the steps being taken to enhance the law-abiding propensities of students, Tang on Monday said school sentiments towards police engagement had largely returned to the level encountered before the protests.

"But a small number of schools are still hesitant. Our strategy is to tackle the easy ones first and move on to the difficult ones later. It's hard to expect everything to run smoothly," he told the Legislative Council.

"Some are worried their students still have misunderstandings towards the police. Parents may be concerned the presence of law enforcement officers will trigger anxiety among students."

Students formed a significant proportion of those taking part in the 2019 protests, which were triggered by a since-abandoned extradition bill in June of that year but later morphed into a wider anti-government movement.

Officials and pro-establishment figures have dubbed the unrest "black violence" in reference to the signature colour of protesters' clothing and the trend for radical elements to deploy weapons such as petrol bombs and bricks.

Police on the other hand came under fire over their handling of the unrest, with officers accused of using excessive force against protesters. During the protests, schools became markedly more cautious in their dealings with police.

But Tang said relations were improving. "In the past six months or so, we found that it had become a lot easier for us to go into school for promotion purposes, to a point where it has almost returned to the state prior to all these past incidents."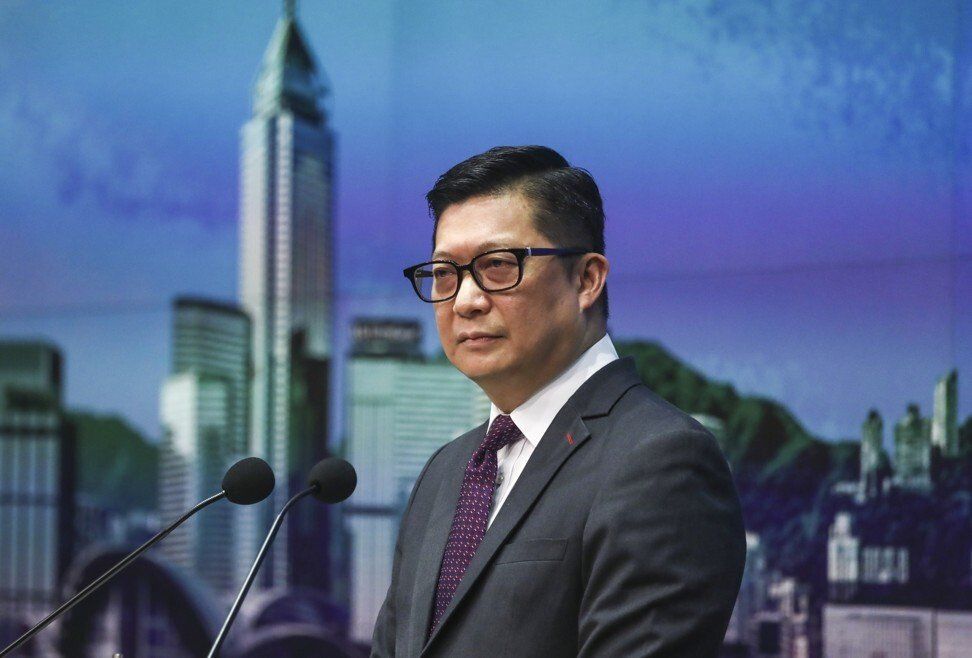 Secretary for Security Chris Tang.

Tang attributed the closer ties to the efforts of the Education Bureau, which he said had been advocating the importance of law and order and national security in schools.

"Some schools realised it was a good idea so they invited our community relations officers to visit those schools to discuss national security and law and order," he said.

One of the ways to educate youngsters involved was through youth programmes launched by the disciplined forces.

As an example, Tang pointed to the Junior Police Call, an initiative launched by the force to instil positive values in the city's youth and improve its relations with young people. Of its 160,000 members about 4,000 are active.

A similar scheme for the Immigration Department has about 400 members, while Customs YES boasts about 1,100 members.

Tang said that, as part of safeguarding national security, police would focus on preventing "lone-wolf" attacks and the pro-independence movement's use of soft tactics to preach "local terrorism".

While the government was still assessing the need for legislation against cybersecurity threats and online forms of incitement, he said police would rely on existing laws for now to plug the gaps. The legal grey areas under review include the spreading of fake news and insulting public officials.

The security chief also stressed that legislating for Article 23 of the Basic Law was a priority, although he did not offer a faster timetable for enactment than the one previously given – by the end of the next legislative term which ends in 2025.

The long-shelved piece of local legislation mandated by the mini-constitution would complement the existing Beijing-imposed national security law, which bans acts of subversion, secession, terrorism and collusion with foreign forces.