Society for Community Organisation conducted in-depth interviews with 40 people aged 55 years or above over six months.
Eight in 10 older workers in Hong Kong do not receive paid sick leave, annual holidays or severance pay as guaranteed by law, a survey has found with the results released ahead of Labour Day.

The data was collected by the Society for Community Organisation (SoCO), which conducted in-depth interviews with more than 40 people aged 55 years or above from last October to March this year.

According to the survey, 88 per cent of respondents said they did not get paid sick leave, 83 per cent were not provided with long service payments, and 80 per cent were not given annual leave and severance pay.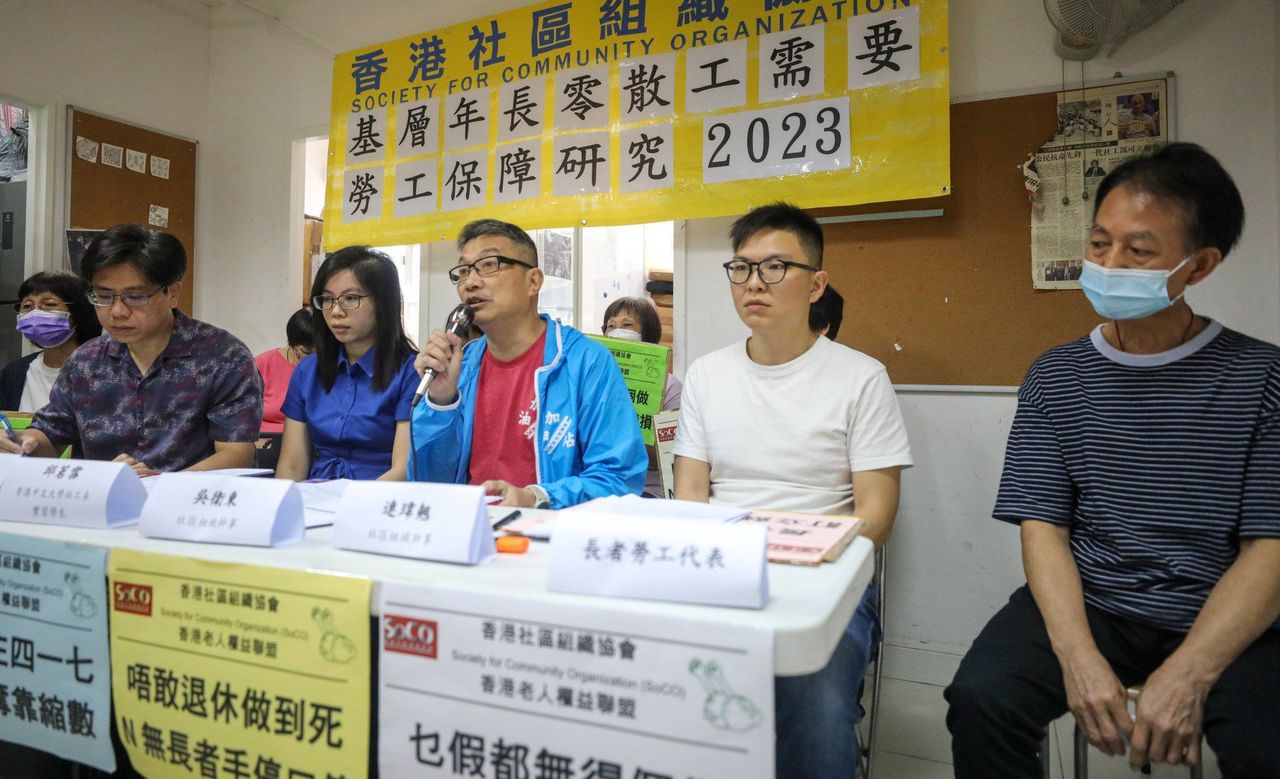 SoCO is pushing for changes in the law to better protect elderly workers.

Lei Jih-sheng, a community organiser at SoCO, said the Employment Ordinance stipulated that a worker who had been employed continuously by the same employer for four weeks or more, with at least 18 hours worked each week, was regarded as being employed under a continuous contract.

They are also entitled to rights such as rest days, annual leave with pay and sickness allowance.

But he said some employers had been avoiding providing statutory protection in various ways or simply ignored them while taking advantage of the underprivileged status of elderly staff.

"When employers use tricks to recruit them, they dare not voice out fearing they may lose the jobs," Lei said.

Many chose not to resolve disputes, citing fear of retaliation, or they were just ignorant about their rights, he said, according to interviews with the elderly.

Lei said the situation had led to a prevalence of casual jobs, with the elderly working long hours without basic protection including annual leave, Mandatory Provident Fund (MPF) and insurance.

More than 40 per cent of respondents reported working 40 hours or more a week, 30 per cent between 18 and 39 hours, and 15 per cent under 18 hours.

Elderly worker "Ah Wai", who was diagnosed with cancer, had been employed part-time for 20 years in the catering industry with no annual leave, MPF or other benefits.

The man, who worked eight to 10 hours a day, six days a week, said he had pursued what he was due twice in six years and managed to get back tens of thousands dollars each time. But he also said he was in the minority who would fight for what they were entitled to.

Lei said SoCO was pushing for changes in the law to better protect such workers including the adoption of 60 working hours in four weeks to define a continuous contract and stopping some employers from playing with words in the law.

"The current deterrent effect [of the law] is low and no employers are ever jailed for violations," Lei said.

The group's call came on the eve of Labour Day, traditionally a time when the city's concern groups held rallies to make their voices heard before the adoption of the national security law and strict social-distancing rules during the Covid-19 pandemic.

An application by a former leader of the now-defunct Confederation of Trade Unions to stage a 500-strong rally on Labour Day was withdrawn on Wednesday, with an co-applicant citing "tremendous pressure" but without going into details because of the security law.

A pro-government group, the Hong Kong Women Workers' Association, planned to hand over a petition on Monday at noon at government headquarters calling for more poverty alleviation measures.