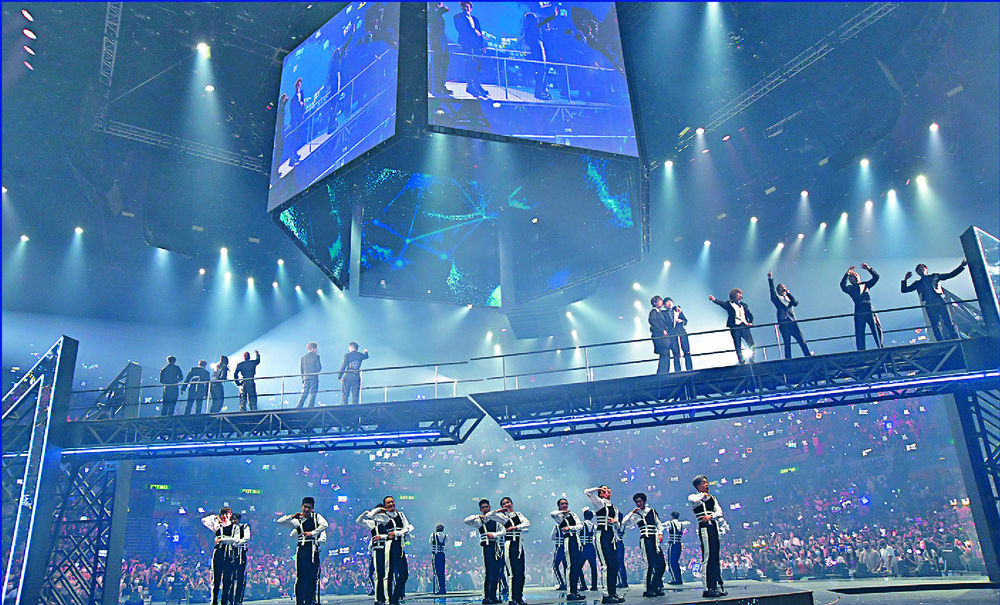 Snapped cable had 'signs of metal fatigue'
The suspension cable that snapped and caused a large video screen to fall at a Mirror concert last month - injuring two dancers - could withstand 20 percent less force than other products, a task force investigating the accident says.
But it refused to comment on who should be held responsible for the accident as it may affect investigations carried out by other government departments.

In a press briefing yesterday, chairman of the task force and assistant director of leisure and cultural services Lee Tsz-chun said the video screen was suspended by two cables, one of which snapped.

The other cable did not break during the concert, but one of its screws was found broken, he said.

The panel's expert advisor Eric Lim Chaw-hyon yesterday said the task force conducted various tests on the cable over the past few weeks.

"We found there are signs of metal fatigue on the snapped cable after using an electron microscope to magnify the surface of the cable 5,000 times," Lim said.

"We have also tested some unstrained cable pieces and found that it could bear 20 percent less strength than normal products in the local market."

Lim said a "rope guard" which was used to secure the position of the cable also crushed the cable's metal surface, speeding up metal fatigue.

Experts also found that the video screen which fell was much heavier than expected, he said.

Lim said the task force also found other injuries on the cable's surface, adding it had already been damaged before it was used at the concert. But he admitted it was difficult to detect metal fatigue on cables.

Lim said the investigation was not finished yet and the task force will have to conduct more tests to find out what caused the accident.

"We have to find out how the accident happened and what caused the accident, and we cannot simply conclude that it was caused by 'human error.'"

Lim refused to comment on who should be held responsible for the accident, saying other government departments, including the police, are also investigating the case and revealing too many details could affect their work.

Dancer Mo Lee Kai-yin, who was critically injured after he was struck in the head by the video screen, remains in critical condition in an intensive care uni at Queen Elizabeth Hospital.