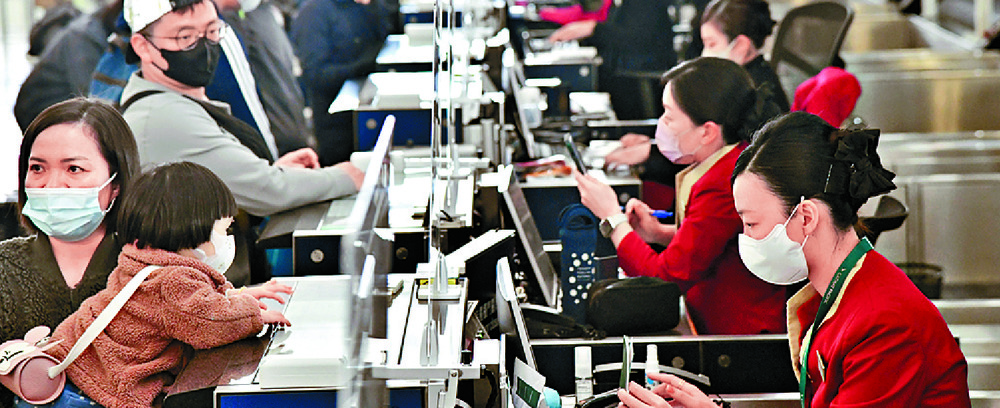 Smooth ride for passengers as Cathay staff work to rule
Passengers on Cathay Pacific flights checked in smoothly despite the carrier's flight attendants' union starting a work-to-rule industrial action yesterday, which has called for improved rosters and manpower arrangements.
Dissatisfied with the company's chaotic arrangements, huge pay cuts, reduction of rest time and manpower, the trade union is seeking fairer roster arrangements, guaranteed minimum stopovers at overseas ports and regular meetings with the airline, as well as more manpower on flights and a review of contracts.

After canceling the assembly scheduled for Wednesday, the Cathay Pacific Airways Flight Attendants Union maintained the decision to start the work-to-rule industrial action yesterday, asking their members to "strictly follow company policies, rules and standards from manuals."

A video on social media on Wednesday urged members not to accept the company's request to work on rest days, to provide quality service to passengers after takeoff, not to be in a hurry to work, and to do a thorough examination when landing.

It also advised employees to ensure that they are 100 percent physically and mentally fit to work, and to seek medical advice otherwise.

Local media yesterday saw Cathay Pacific counter staff receiving passengers as usual, and some popular routes such as Bangkok and Singapore were crowded with people at the counter, but there were no flights canceled or delayed because of the industrial action.

A passenger who bought a Cathay Pacific flight ticket to the Philippine capital Manila said he had not received any cancellation notice.

In a letter to flight crew and airline staff posted on social media yesterday, the union said it "has no choice but to go ahead with our plan of action" to safeguard labor rights and protect the interests of their members in the workplace, as "providing reliable and practicable working conditions and ensuring a competitive and financially sustainable remuneration package for their people seems to be a lower priority for our company."

The Transport and Logistics Bureau said it has urged Cathay Pacific's management to maintain close communication with the trade union and staff to ensure that they are adequately supported to provide a stable service to passengers, especially during the coming Lunar New Year period.

The bureau also called on all members of the airline industry to work together to contribute to the recovery of the industry and to strengthen Hong Kong's position as an aviation hub.

Cathay's chief executive, Ronald Lam Siu-por, earlier called on staff to unite to survive and thrive in a highly competitive environment.