Housing Authority members note unsold batch of 500 shoebox flats under Green Form Subsidised Home Ownership Scheme, saying low take-up rate suggests such tiny homes do not meet buyers' needs.
Officials from Hong Kong's Housing Authority have been unable to commit to a minimum flat size for subsidised housing projects despite being pressured to stop building shoebox homes.

During a meeting on Monday, members of the authority raised concerns about a batch of some 500 shoebox flats which have remained unsold since their launch in 2020 under the Green Form Subsidised Home Ownership Scheme (GSH).

The flats under the scheme, which targets low-income households, are mostly in Tsing Yi and 98 per cent of them are smaller than 189 sq ft. They were left over from the 2020 batch and put on the market again last year.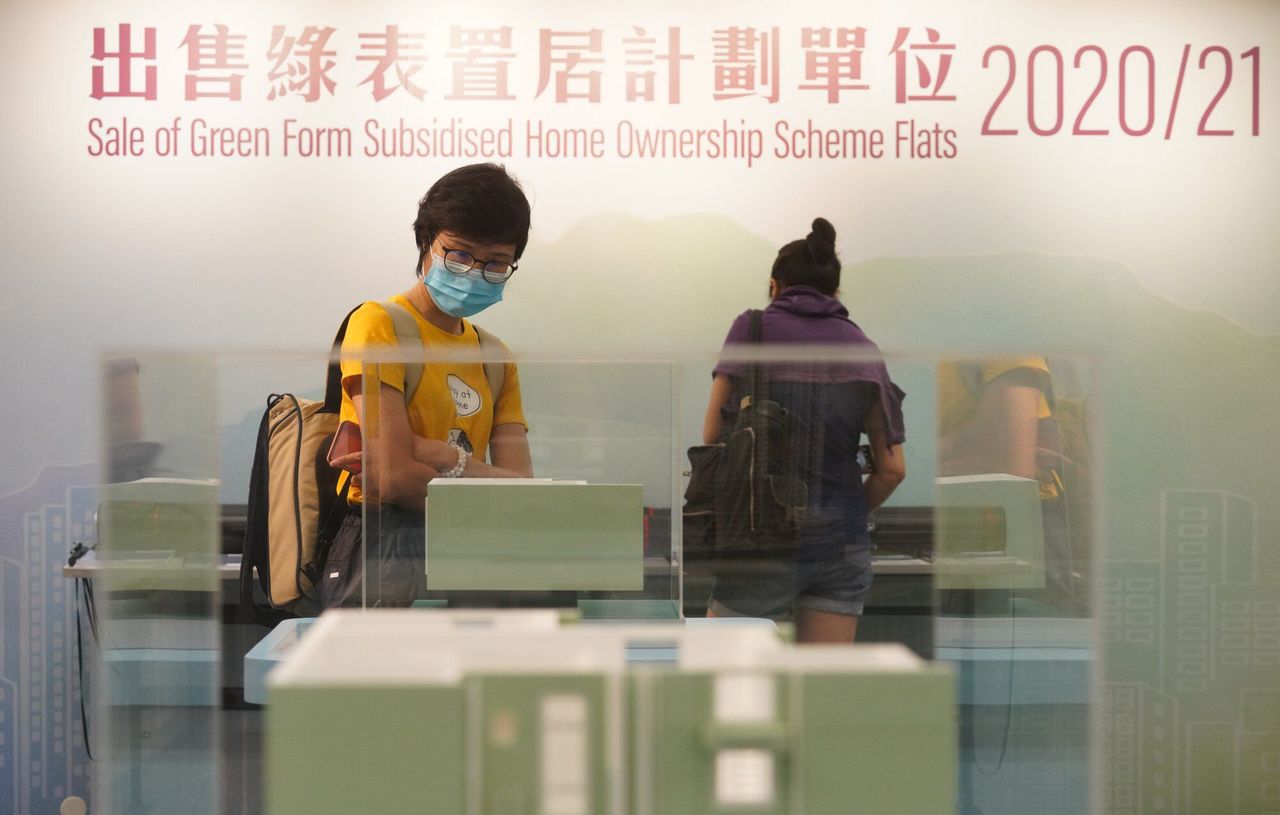 People look at property plans under the Green Form Subsidised Home Ownership Scheme in Kwun Tong in May 2021.

The low take-up rate suggests such tiny homes do not meet buyers' needs, according to some authority members.

"The authority should set a minimum size for flats under the GSH so that residents can enjoy a better living environment, and lower the chance of sluggish sales," Chris Ip Ngo-tung said.

The government has announced plans requiring private developers to build homes of at least 280 sq ft on some of the future sites to be sold, but no such policy will be made for subsidised housing, saying this would affect supply.

Alice Cheung Chiu Hoi-yue, deputy director of the Housing Department, did not respond to Ip's suggestion but said the designing procedures of GSH flats would be reviewed.

"We agree that small flats might not fit buyers' expectations and we would like to create more flexibility when designing the flats so we can adjust the flat size easily when necessary," Cheung said.

GSH homes are built according to designs of public rental housing, but only certain projects will be selected at a later stage to be sold under the scheme.

Member Wilson Or Chong-shing asked if the authority could determine earlier which sites would be sold under the scheme so that a bigger quantity of larger flats could be provided. Secretary for Transport and Housing Frank Chan Fan said decisions would be made early if possible.

The GSH flats, built by the authority, are sold exclusively and at knockdown prices to public housing tenants or those likely to be allocated a public rental flat within a year. This year's batch of 4,693 GHS flats will be sold at 59 per cent off the market price.

Members of the authority also asked about a so-called progressive payment mortgage mechanism floated by Chief Executive Carrie Lam Cheng Yuet-ngor last month, introduced as part of a subsidised home scheme launched by property firm New World Development.

The scheme would help reduce down-payments of subsidised flats by half and allow buyers to defer some of the debt.

"Flats under the Home Ownership Scheme will be sold at 49 per cent less than the market value this year, and GSH flats will be sold 59 per cent less – they are already quite cheap. Is it necessary to make them even cheaper?" said Cleresa Wong Pie-yue, chair of the authority's subsidised housing committee.

Others members were concerned about the financial impact of the scheme as revenue from selling homes formed most of the authority's income.

Chan said the government needed to discuss the details of the proposal and would report to the members soon.

Lam suggested applying the arrangements to government-subsidised homes, hoping to ease the debt burden for homebuyers and encourage residents to "earn more" without fear of exceeding the income limit for those applying for public housing.