Pubs still hedging bets on whether the tournament will prove a money-spinner for the trade.
Hong Kong football fans cheered as the World Cup at last kicked off on Sunday night, but the city's pubs were unsure if the month-long tournament would mean a big win for business even though Covid-related restrictions on opening hours have been scrapped.

The city's nightlife districts remained quiet, with only a few pubs along Lockhart Road in Wan Chai filled with football fans in the lead up to England's clash with Iran at 9pm on Monday.

The Central bar district Lan Kwai Fong was quiet and pubs remained mostly empty an hour after the match began.

Only one or two pubs were showing the game, but the crowds appeared not to be paying much attention to the drama on the pitch.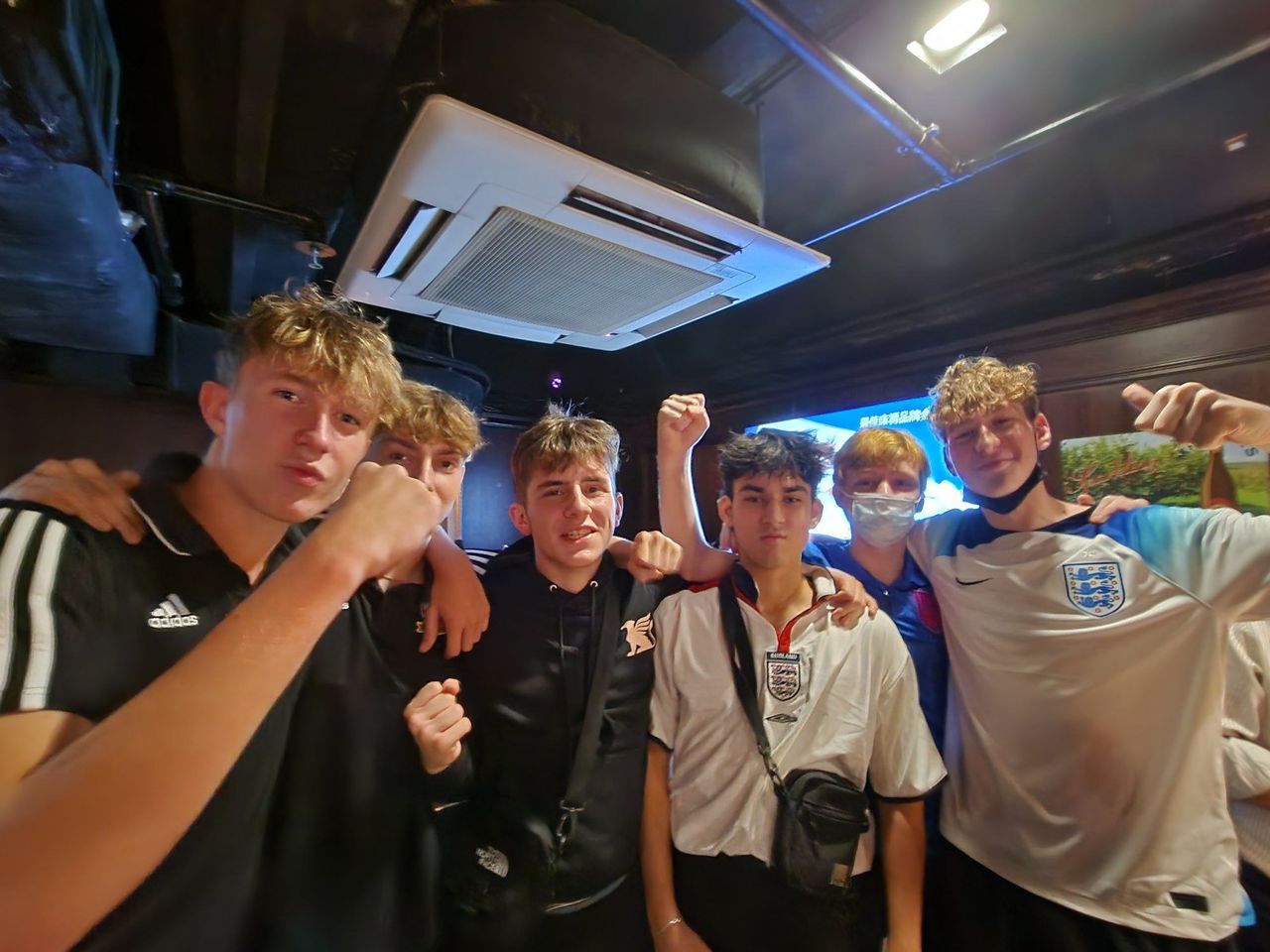 Edward Langston, 18 (second from right) watches his first World Cup in Wan Chai's Queen Victoria pub with a group of friends.
A bartender at Wan Chai's Queen Victoria pub, who asked not to be named, said the usual Sunday crowd was larger than the World Cup fans that almost filled the bar.
"It's more crowded here on a Sunday. There wouldn't be space to move around," the staff member said.
But the atmosphere hit fever pitch 10 minutes before the match kicked off, as empty seats filled up and fans sang the British national anthem and shouted "We love you, England, we do".
Edward Langston and his friends, from Britain and all 18, were at the Queen Victoria for their first time watching a World Cup in a pub.
Langston highlighted the last-minute decision to ban alcohol sales around the stadiums in the host country.
"I don't like that the World Cup is in Qatar. It's not a sporting event there, it's a branding event. Even if I got a ticket, I'd rather stay home and get smashed watching," Langston said.
"I'm waiting for it to get packed and I hope to see an Iran fan soon," friend Ceri Ryder said.
"The vibe is good here. It's a shame about the time difference though. I didn't watch the match last night."
Gary Powell, a company head of customer services, said the Hong Kong Rugby Sevens tournament, staged earlier this month, had given him confidence that there would be a restriction-free World Cup experience at pubs.
The government relaxed restrictions to allow the consumption of food and drinks in the stands at the Hong Kong Stadium venue for the rugby matches.
"I've got used to it for the past months, but they were letting things ease for the Rugby Sevens, so I was expecting to be able to return," Powell, 59, said.
Football fans at Central Market gathered around 8.30pm for the England-Iran match as an alternative to pubs.
The ground floor area of the market has been turned into an open football pitch-style grassed area with live broadcasts on a 4.5-metre tall LED TV and a lounge section.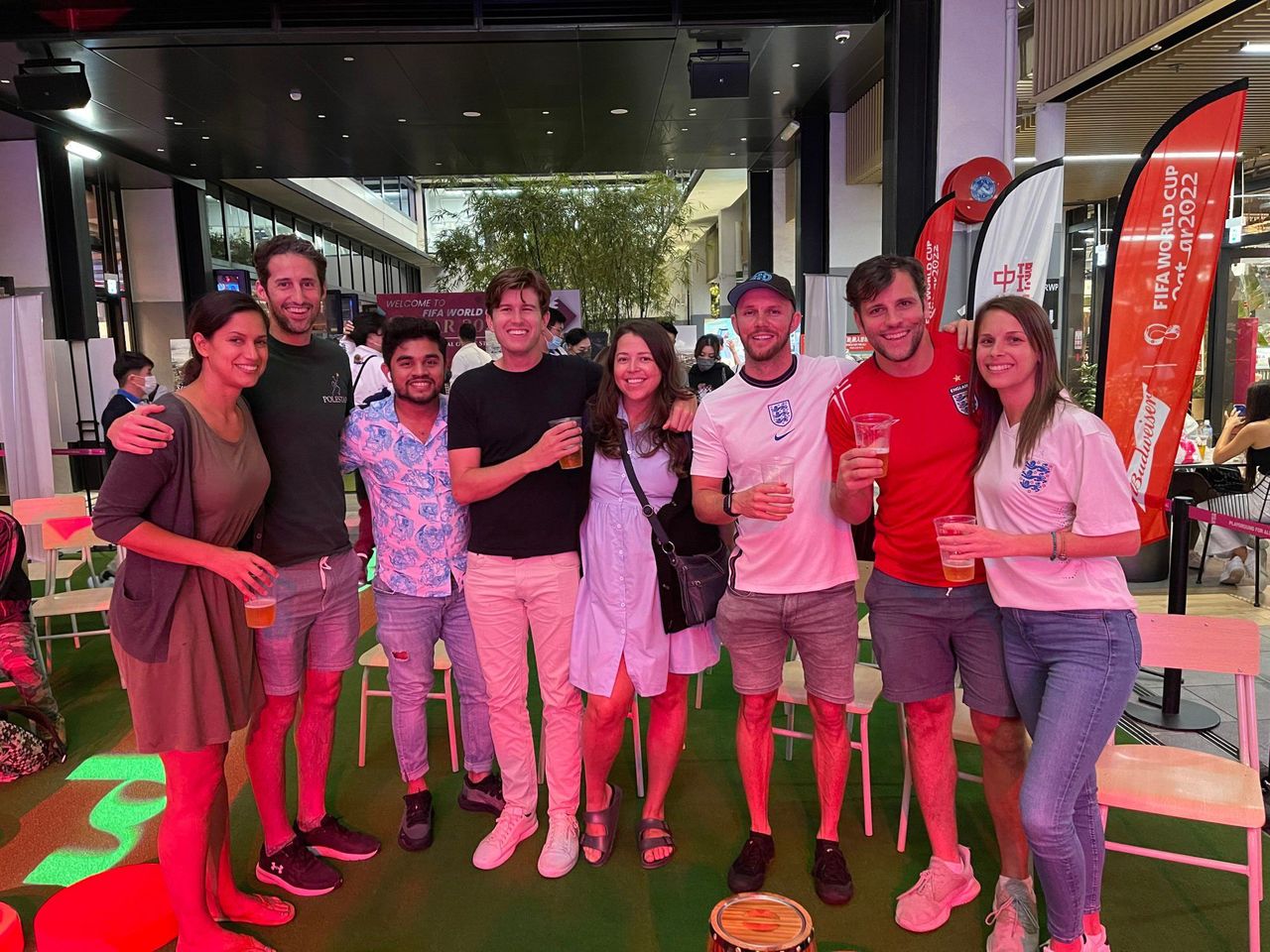 Matt Roberts (fourth from the left) at Central Market with friends, said the atmosphere beat a bar.

Matt Roberts, 30, originally from the UK and who works on sustainability in food packaging, said: "We love the fact that it's an open area where people can cheer as they want. And the vibe is way cooler than in a bar to support our home team."

Viado Pocholo, the manager of the Beer Bar at Central Market, told the Post that it would extend its closing time from 11pm to 2am for the World Cup, but was unable to estimate how much business could be generated so early in the tournament.

Connie To, the manager of a two-storey pub and restaurant in Tsim Sha Tsui, said it did not experience a big surge in customers for the opening match between Qatar and Ecuador and even shut up shop at 11.30pm as no customers arrived after 8pm.

"I closed the bar early because we want to save the utility bills. We were told to pay HK$36,000 (US$4,600) for broadcasting the World Cup matches, but we decided to just play those free-to-air matches, To explained.

"We already paid for a two-year Premier League subscription which we barely used due to the Covid-19 restrictions."

Hong Kong officials loosened off the city's Covid-19 restrictions on November 3 by scrapping the limit on the opening hours for bars and restaurants. Restaurants earlier were not allowed to provide dine-in services after midnight, and bars had to close at 2am.

But the cap on the number of people who can sit together remained, with 12 customers allowed per table in a restaurant and six to a table in bars.

Ben Leung Lap-yan, charter president of the Licensed Bar and Club Association of Hong Kong, admitted he had yet to feel a World Cup bounce at entertainment venues.

"The opening match happened to kick off on Sunday, but people needed to work the next day," he said.

"In addition, the match was also available on a free TV channel, so it wasn't necessarily able to draw people to the bars," Leung said.

He also pointed out that the opening match did not feature fan favourites, so were unlikely to draw a big crowd.

Leung said there was no significant surge in the number of customers and business at bars, despite the relaxed Covid-19 curbs.

"The bars were quieter than we expected. One of the reasons I think was that many people chose to travel aboard, especially young consumers and people with more spending power. We don't see business revitalised yet," Leung added.

But he said he was hopeful that the pub trade would pick up by 20 to 30 per cent over the course of the tournament and into the later rounds, where more people were expected to go out to watch crunch fixtures.