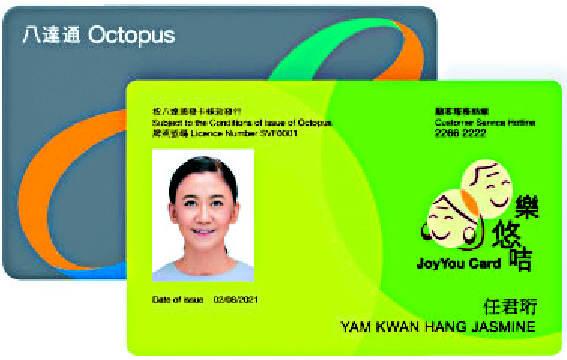 Slow going in paper chase for expanded cheap fares scheme
People born in 1957 flocked to MTR stations for forms yesterday to apply for JoyYou Cards on its first day of registration amid complaints that both the application form and online registration procedures were too difficult.
JoyYou is an expansion of the elderly Octopus card scheme that offers people aged between 60 and 64 personalized Octopus cards that entitle them to travel on public transport for just HK$2 per trip starting from February 27.

A man who queued for a form at the Sham Shui Po MTR station said the procedure was more complicated than purchasing an elderly Octopus card as applications are needed.

"They have employees who can check whether people are entitled to the discounted fares at MTR gates," he said.

"When needed, they can even check our identity cards. I think applying [for a JoyYou card] seems unnecessary."

Other than MTR customer service centers, Hong Kong residents can also download the forms from Octopus' website or at facilities such as Home Affairs Department enquiry centers.

Completed forms can be submitted by post. Applying through the Octopus mobile app is also available.

At the Sham Shui Po Home Affairs enquiry center, a woman said paper applications are more convenient than app ones.

"Applying online is troublesome as there's a lot of requirements, such as uploading a photo and copy of one's identity card. It's easier for me to just print out the documents [for paper registration]," she said.

A 62-year-old woman, Lee, also got a form at the same center even though she is only eligible to apply in October.

"There's a lot of words and I have presbyopia so I need to read it through at home," she said.

Some district councillors have also started offering to help people fill in forms.

Residents born in 1957 can apply for the card until August 31. Each of the next four months will be dedicated to applicants born from 1958 to 1961.

From January 1, applications will be open to all residents who turn 60 within three months from the date of application.

The card will be mailed to one's postal address within four weeks upon receipt of the completed application form.

A government spokesman said yesterday JoyYou cards issued early can only be used as normal adult Octopus cards prior to February 27.

The card is part of a push to curb misuse of the elderly Octopus card scheme, with a JoyYou card carrying a photo and the name of the applicant.

Each senior citizen will be issued one card only.