The suspects, aged 21 to 56, arrested on Monday and Tuesday, include three from triad backgrounds.
Hong Kong police have arrested 16 people in a clampdown on a bookmaking syndicate which pocketed and laundered more than HK$180 million (US$23 million) in crime proceeds over 10 months.

During the operation, officers froze bank accounts containing HK$6.8 million they suspected the gang bagged through illegal gambling business.

According to police, the ring used an overseas website that offered a variety of online gambling games, such as baccarat and poker as well as mahjong.

Members of the syndicate worked as bookies to find punters from social media platforms to gamble on the website. Gamblers were instructed to pay bookies for game points which could be used as bets and later converted to cash.

The syndicate operated its business from an industrial building and used online banking services to avoid detection while transferring the cash, according to Chief Inspector Tang Hoi-tung of the narcotics bureau's financial crimes investigation unit.

"Investigation showed the syndicate used at least 25 bank accounts to launder HK$181 million in suspected crime proceeds between April 2020 and January 2021," she said.

The 16 Hongkongers – 13 men and three women – were arrested during a series of raids on Monday and Tuesday. Police said three of the suspects had triad backgrounds.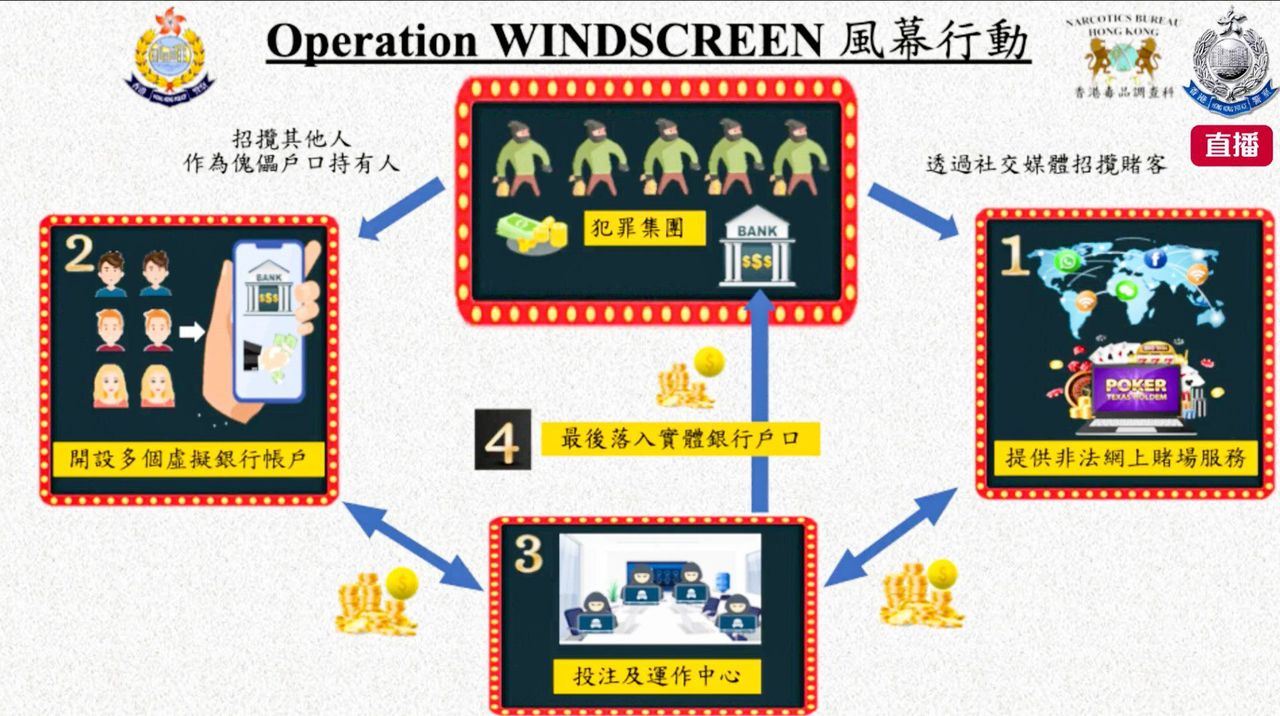 Police arrested the suspects during a series of raids on Monday and Tuesday.

Eight of the accused – seven men and a woman – were believed to be core figures of the syndicate. The others included the holders of bank accounts that were used to collect money from punters or launder crime proceeds.

The suspects, aged 21 to 56, were arrested for money laundering and conspiracy for bookmaking. They included construction workers, clerks, sales staff and jobless people.

During the operation, officers seized computers, bank cards and documents, and more than 80 prepaid SIM cards along with some cash.

As of Tuesday afternoon, they were still being held for questioning and had not been charged.

Officers said the investigation was continuing and further arrests were possible. Detectives from the financial crimes investigation unit are handling the case.

In Hong Kong, engaging in illegal bookmaking carries a maximum penalty of seven years in jail and a HK$5 million fine. The maximum penalty for money laundering is 14 years in prison and a HK$5 million fine.