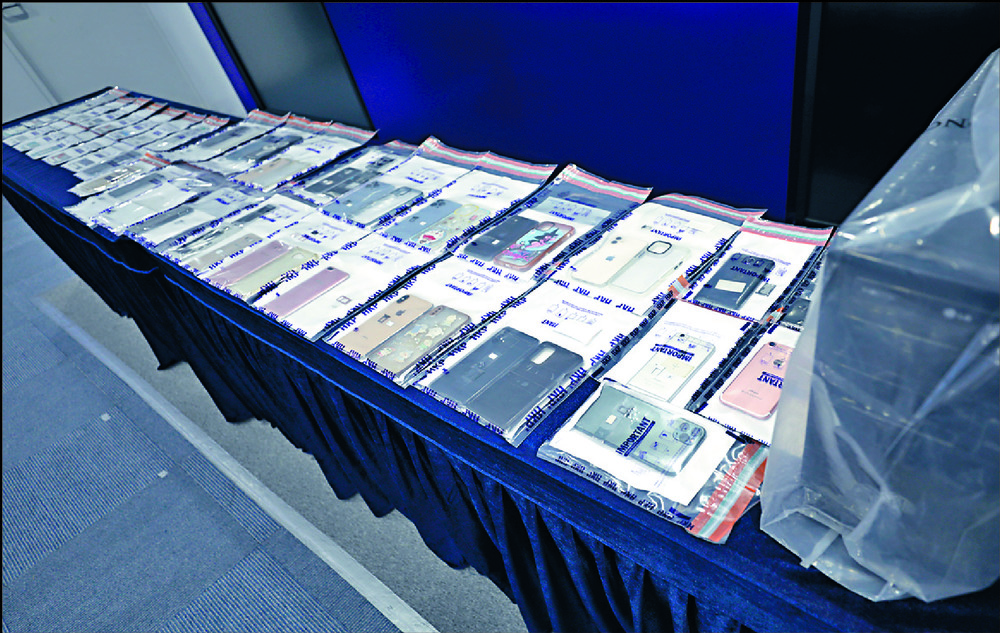 Six held for trapping four in hotel over scam
A gang of six have been arrested for conspiracy to defraud and false imprisonment of four people in a hotel room in Mong Kok.
The four victims, aged between 21 and 37, were lured by online advertisements that offered ways to make "quick cash." They were asked to set up bank and cryptocurrency accounts in advance and then to meet before being taken to a hotel room where they were illegally detained.

Police said there was no monetary loss but did not rule out that victims' accounts might have been used for money laundering.

Arrested were three local men, two south Asian men and one Indonesian woman aged between 18 and 40. Five men have been charged with conspiracy to defraud and were brought before Sha Tin magistrates' courts yesterday, while one local man and the two south Asians were also charged with false imprisonment.

They allegedly illegally detained the victims in hotel rooms from Wednesday to Saturday and placed them under round-the-clock surveillance.

Victims were forced to give up account details and mobile phones, as the suspects hijacked the accounts to carry out scams or launder money, officers said.

The police said the crime syndicate was believed to have posted advertisements on social media platforms or through cold-calls since last month, offering ways to make "quick cash" and luring people to enter certain chat groups such as Telegram groups.

New Territories south regional crime unit chief inspector Chiew Tsi-huen said the investigation came after the 21-year-old victim's family reported her missing on Friday, after she was last seen heading for work last Monday.

Following investigations, officers found her in the Mong Kok hotel, rescued three other victims and arrested three suspects at the scene.

"Victims were threatened into staying in the room and cut off from contact with anyone. Their freedom was stripped off from them in those few days," Chiew said.

Another three suspects were also arrested in an industrial building in San Po Kong, where a computer, 15 bank cards and 24 mobile phones were seized.

Chiew added that the force is continuing to track down the syndicate's accomplices.

Amid the struggling economic situation in Hong Kong, swindlers have been preying on people's need for money and manipulated some of them into becoming tools in money-laundering schemes or scams via false imprisonment.

Officers advised the public to exercise caution over similar advertisements that offer ways to earn "quick cash."

Offenders conspiring to defraud are liable to a maximum imprisonment of 14 years.

The arrests came as seven men who allegedly kidnapped a cryptocurrency trader for a HK$30 million ransom in November appeared in a Kowloon City court.

They were arrested on Friday in connection with the kidnapping and brought before Wong Nga-yan to face the charge. Wong rejected their bail applications and adjourned the case to May 23.

The seven are Hon Hon-tai, Lee Chi-pong, Yip Wai-chun, You Chun-kit, Chan Tsz-hin, Lee Chi-Shing and Ku Lok-ki, aged 26 to 28.

Earlier 18 others were arrested.