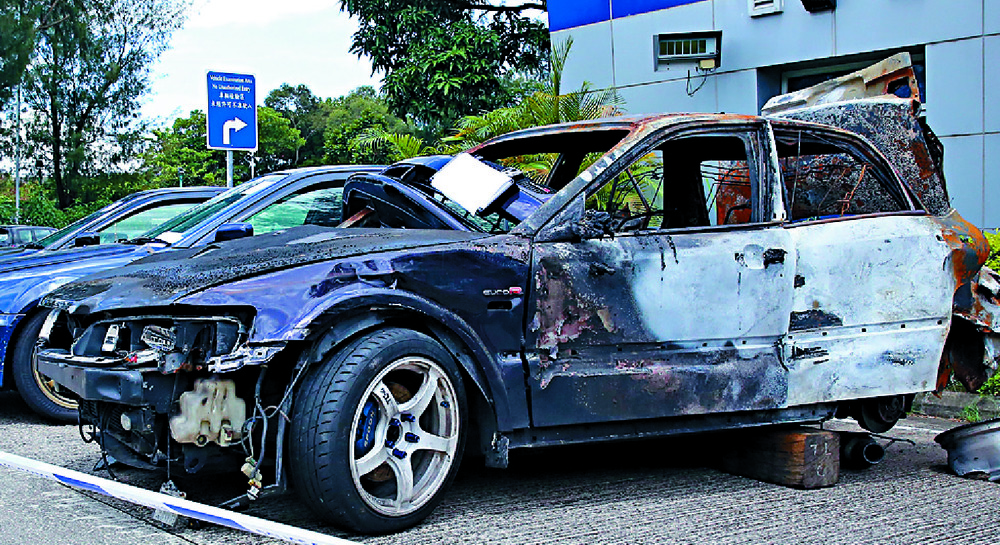 Six held after street racing goes up in smoke
Six drivers were arrested for allegedly participating in street racing on Sunday, with one car bursting into flames after smashing into a road divider.
The six local men, aged between 23 and 40, are believed to have participated in a gathering shortly before the accident.

Superintendent Lam Chi-yuen of the police force's New Territories north traffic unit said that after the gathering in Ngau Tam Mei, Lok Ma Chau, several participants engaged in a high-speed race on San Tin highway and Fan ling highway. During the race, one sports car crashed into the divider and caught fire.

The car directly behind it was unable to swerve in time, causing it to collide with the first.

"The two drivers involved in the crash proceeded to abandon their cars and boarded their friend's vehicle to flee the scene," Lam said.

One of them, 39-year-old Yeung, reported to police afterward that his car had been stolen. However, officers doubted Yeung's claims and after further investigation, arrested him on Monday.

Yeung was charged with misdirecting officers, illegal racing and failing to stop and report after an accident.

He appeared in Fan Ling magistrates' court yesterday for mention.

The other five were arrested over the course of the last two days for illegal racing, dangerous driving and failing to stop after an accident. Lam noted they will likely be charged at a later time. The six Honda vehicles in question have since been impounded for further inspection.