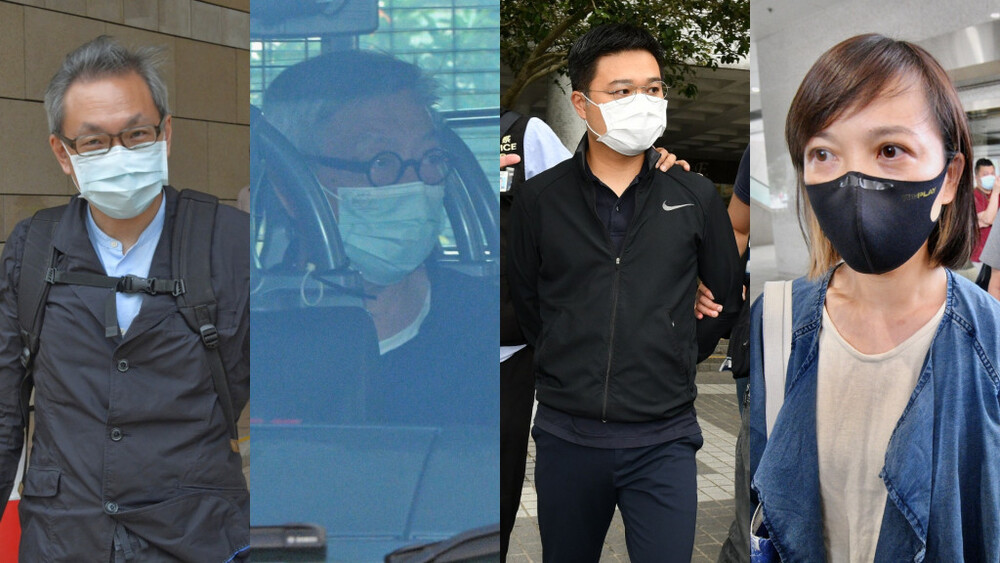 Six former Apple execs plead guilty to foreign collusion
Six former executives of the now-defunct Apple Daily on Tuesday pleaded guilty at the High Court to two counts each of collusion with foreign forces under the national security law.
The case is also the city's first national security law conviction of news editors and media directors since the Beijing-imposed legislation took effect in June two years ago.

The six are former editor-in-chief Ryan Law Wai-kwong, 48; then publisher Cheung Kim-hung, 60; former executive editor-in-chief Lam Man-chung, 52; former associate publisher Chan Pui-man, 52; and ex-editorial writers Fung Wai-kong, 58, and Yeung Ching-kee, 56.

Their case was heard by a panel of three National security judges, Esther Toh Lye-ping, Susana Maria D'Almada Remedios, and Alex Lee Wan-tang.

They were laid with charges of "collusion with external elements to endanger national security" between July 1, 2020, and April 3, 2021, while they were also accused of "printing, publishing, selling, offering for sale, distributing, displaying or reproducing seditious publications" between April 1, 2019, and June 24, 2021.

The prosecution accused them of using Apple Daily to spread content that solicited foreign sanctions against China, presenting as evidence more than 160 articles it had published since April 2019.

The group was accused of conspiring with the news tabloid's founder Jimmy Lai Chee-ying and his three companies linked to the newspaper - Apple Daily Limited, Apple Daily Printing Limited, and AD Internet Limited.

In view of their guilty plea, the group will receive lesser penalties for their charge, which carries the maximum penalty of a life sentence.

Meanwhile, some among the group might be granted further remission as prosecutor Anthony Chau Tin-hang told the judges in today's hearing that some defendants would help the prosecution in the upcoming trial against Lai, which is set to begin on December 1.

According to sources, the defendants to help the prosecution included Cheung Kim-hung and Chan Pui-man.

The six have been in pre-trial custody for almost a year and a half, and will not be sentenced until the conclusion of the trial of Lai and three Apple Daily companies.