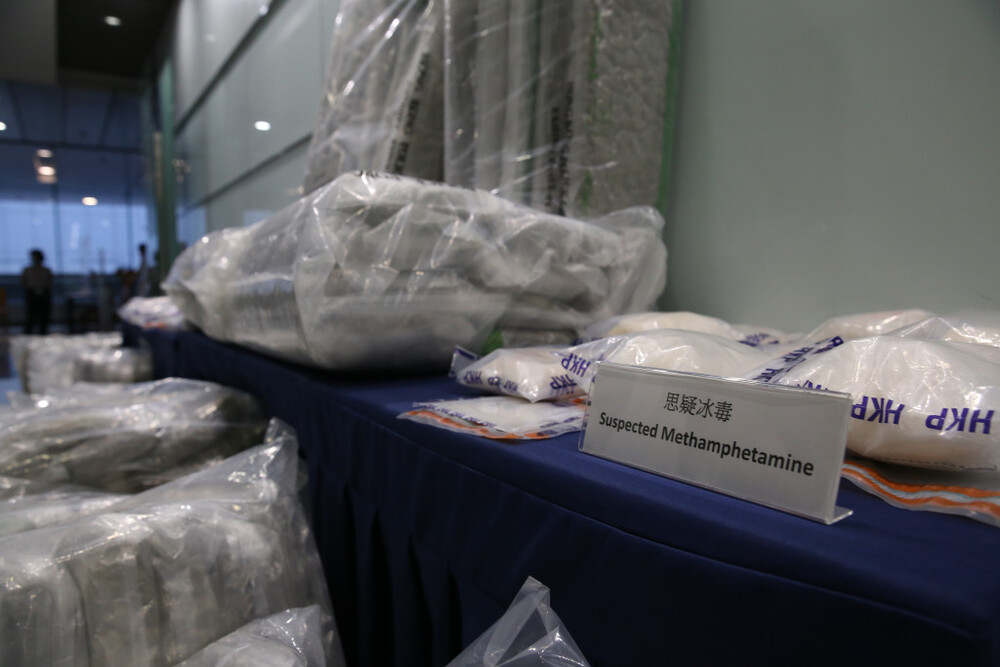 Six arrested for trafficking HK$80 million in drugs
Police arrested six men on suspicion of drug trafficking during a series of operations, discovering more than 200 kilograms of drugs with a market value of around HK$80 million.
The force announced on Saturday the arrest of six men aged between 20 and 59 across the city from November 10 to 11 after receiving information that a group of criminals had taken up public housing and industrial flats for drug storage and sales.

On November 10, during an ambush deployed by officers in Sun Tin Wai Estate in Tai Wai for the suspects, a 52-year-old man was found sneakily delivering a bag to a 59-year-old man.

"Officers launched the detection immediately to arrest the two and seized two packs of cocaine weighing one kilogram respectively," said Senior Inspector Tam Wai-nok of the police's Narcotics Bureau Operations Unit, "after which officers intercepted 42 packs of cocaine from one arrestee's public housing."

Police then targeted a 39-year-old man who was believed to be engaging in drug trafficking with the pair in an industrial flat in Tai Wai, and found two packs of methamphetamine weighing three grams, along with a haul of property, including jewelry and cash worth about HK$1 million and suspected to be acquired by selling drugs.

On the same day, police arrested a 20-year-old man in an industrial flat in San Po Kong who was delivering a batch of construction materials, finding 233 packs of cannabis buds hidden inside the materials valued at about HK$39 million.

The man admitted to his crime and, during the police's investigation, provided information on a core member of a drug trafficking syndicate.

"Officers then launched an operation in Mong Kok on November 11 after conducting an analysis," according to Senior Inspector Tsang Hin-chiu of District Crime Squad 1 of Western District.

On the premises, police targeted a taxi and found 4.1 kilograms of methamphetamine with a market value of HK$2.5 million, with the 55-year-old taxi driver and a passenger, 22, being arrested. The latter was confirmed to be the core member of the drug trafficking syndicate.

The six arrestees are now detained pending a hearing on November 14.