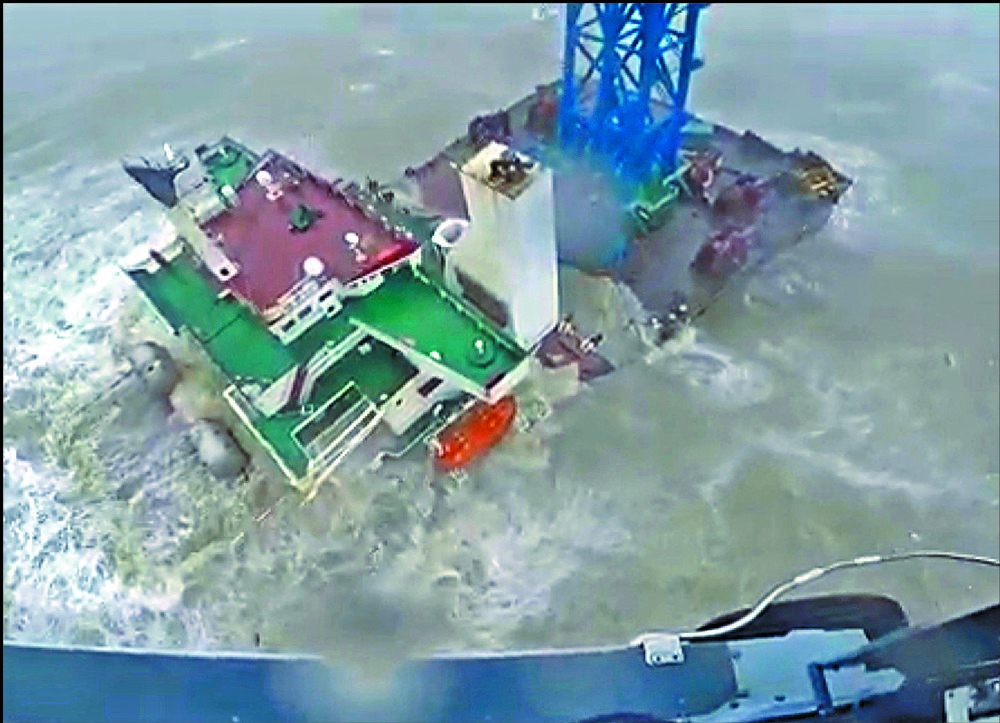 Sinking feeling over 27 lost in eye of storm
A rescue mission is still going on for 27 missing crewmen of an engineering vessel that broke in two and sank southwest of Hong Kong in Typhoon Chaba.
The Government Flying Service said yesterday mainland ship Fujing 001 broke up 300 kilometers from Hong Kong at 7.25 am on Saturday.

Two helicopters and a fixed-wing aircraft were deployed, but only three survivors were rescued, while 27 were still missing.

Pilots said a wind farm under construction near the scene made it difficult for aircraft to get close enough to stage the rescue.

The first helicopter did not manage to save any survivors as it spent too much time trying to find a way through the farm, while the second arrived 15 minutes later and only managed to save three in five minutes.

"According to experience, the chance of finding them alive is very slim," said controller Wu Wai-hung.

However, the search by three fixed-wing aircraft and six helicopters continued yesterday.

"It is the first operation in which we have mobilized all crew members, some of whom were on leave," Wu said.

Fujing 001 was involved in building the Qingzhou I and II offshore wind farms of Guangdong Electric Power Development Corp in Yangjiang, Guangdong.

The vessel belonged to Shanghai Huajing Zhiyun Maritime Technology Corp, and had undergone checks in Fuzhou, Fujian, in April.

The Guangdong Maritime Search and Rescue Center said the ship was sheltering from the storm in the waters of Yangjiang, but its anchor broke.

A spokesman for the vessel's owner said: "The shelter of Fujing 001 was close to the center of the typhoon. Weather conditions were adverse and the winds were strong. The waves hit 10 meters high at one stage, causing the anchor to break and control of the ship to be lost."

Chief Secretary Eric Chan Kwok-ki said he had instructed Government Flying Service and other departments to expand the search.

"We will try our best to search for missing crew members and I wish them good luck," he said.

The Hong Kong Observatory lowered all storm signals at 7.40 pm yesterday.

Chaba was the first typhoon this year to see the typhoon eight signal to be hoisted, and it stayed up for 21 hours 10 minutes on Friday and Saturday.

It was the third-longest southeast typhoon eight signal and was only 50 minutes short of breaking the 22-hour record set by Lion Rock last year.

The Observatory admitted that computer predictions had caused an underestimation of Chaba's development from a tropical storm to typhoon and that it had also taken a more eastern route than predicted.