The central government's commitment to the 'one country, two systems' principle in Hong Kong was apparent at the country's annual parliamentary meetings. However, the city must efficiently tackle challenges ranging from housing to innovation and technology development to meet the central government's expectations.
A number of significant messages delivered by China's leadership at the "two sessions" of the National People's Congress and Chinese People's Political Consultative Conference have further shed light on how Hong Kong can chart its course for the future in an increasingly competitive and intensely unsettled world.

There is no question that the world has embarked on a new era, one characterised by growing global geopolitical tension, shaky international financial markets, regional military build-up, the US' ongoing attempts to thwart China's efforts to be technologically self-reliant and, above all, an unclear global economic outlook. Hong Kong needs a bright beacon and strong support to navigate the turbulent times.

At one of China's most important annual political events, Chinese President Xi Jinping was elected unanimously for an unprecedented third term, ensuring continuity and stability in the implementation of his policies and realisation of his vision for the nation and the Chinese people.

In a way, his thoughts on socialism with Chinese characteristics for the new era will certainly be the fundamental guiding principle for China's governance and development of China in the years ahead.

Because of this, Hong Kong's leadership, as an integral part of Chinese governance, has to demonstrate ingenuity and wisdom in charting the city's course in support of President Xi's vision, for the long-term prosperity and stability of the country, while ensuring that the city smoothly functions under the "one country, two systems" constitutional principle.

At his first press conference as China's new premier, Li Qiang emphasised that the central government would "fully, faithfully and resolutely" uphold the one country, two systems policy for Hong Kong.

Under the one country, two systems approach, Hong Kong is to keep its long-standing advantages and unique characteristics, such as its capitalist and common law systems while operating within Chinese sovereignty. This approach is the best guarantee for Hong Kong to maintain its uniqueness while falling in line with China's strategic plans for national development.

China has strong reasons to strengthen the one country, two systems principle. First, Hong Kong's success under this unique constitutional arrangement between a special administrative region and the motherland would serve as a strong argument to bring about a peaceful reunification with Taiwan, which President Xi referred to at the two sessions. Hong Kong has a symbolic role to play here.

At a meeting with members of the Chinese People's Political Consultative Conference from Hong Kong and Macau during the two sessions, Xia Baolong, director of the Hong Kong and Macau Affairs Office, stressed that the central government's determination to implement one country, two systems would not falter.

At another similar meeting, Wang Huning, who was later elected chairman of the CPPCC, urged CPPCC delegates from Hong Kong and Macau to tell the world of the success of one country, two systems.

However, to ensure that the narrative of one country, two systems is compelling, Hong Kong should resolve persistent internal problems and rise bravely to emerging challenges. These include housing issues, our ageing population, the lack of opportunities for upward social mobility and career development for our youth, and the need to boost our innovation and technology industry, which is still in its infancy. Hong Kong needs to hasten the pace at which it tackles these challenges to live up to the central government's expectations.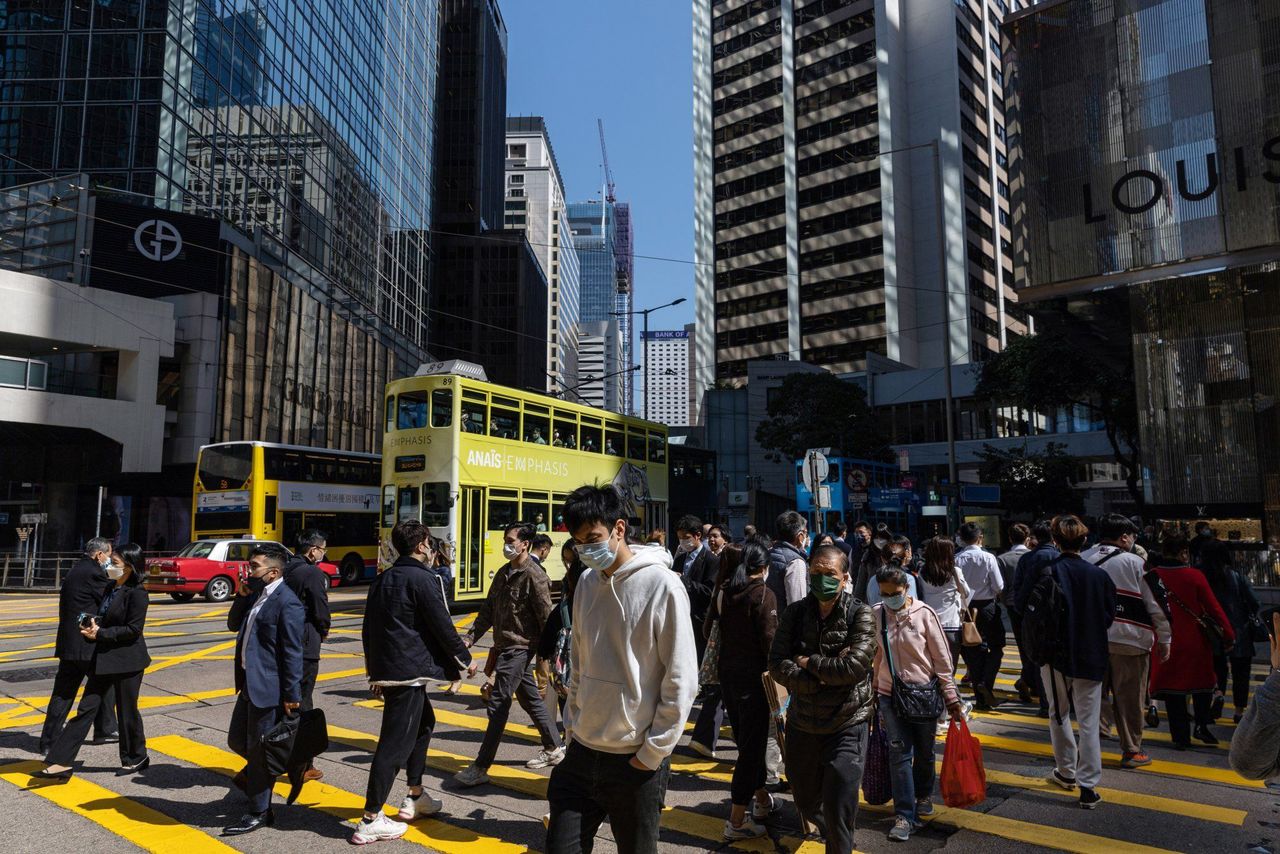 Pedestrians cross a road in Central, Hong Kong, on February 23. The city faces a range of challenges, from unaffordable housing to an ageing population to a lack of opportunities for the youth.

I have confidence that Hong Kong, given time, will be able to overcome these woes. For example, the various youth employment and summer internship programmes launched by many private companies from both Hong Kong and the Greater Bay Area, supported by the Hong Kong government, will widen our youth's horizons, enabling them to garner the experience and knowledge needed to seek opportunities and realise their dreams one day in China, the second-largest economy in the world.

Recently, the multiple-entry visa scheme announced by the National Immigration Administration also highlighted that fostering a closer relationship and synergising with the Greater Bay Area is the way to go for Hong Kong to ensure healthy growth.

Under this scheme, experienced professionals from six categories, including science and research, health, and academia, can make multiple visits between the mainland, Hong Kong and Macau. This move will not only facilitate the exchange of knowledge and experience between talent in Hong Kong and other Greater Bay Area cities but will also jump-start the growth of Hong Kong's innovation and technology sector.

Therefore, when asked about what is next for Hong Kong after the two sessions, I would not hesitate to say that it is getting clearer that this city will prosper under the special arrangement of the one country, two systems, and that Hong Kong's fate is undoubtedly intertwined with its motherland.