Several experts say there is no pressing need to begin offering fourth doses, as three offer adequate protection, but others say a fourth shot can better protect vulnerable seniors.
A leading Hong Kong medical expert has suggested that residents aged 60 and above should get a fourth dose of Covid-19 vaccine.

Professor Lau Yu-lung, who chairs the government's Scientific Committee on Vaccine Preventable Diseases, made the suggestion on Sunday, saying the elderly had lower immunity to the virus than younger residents, and an additional dose would offer them better protection.

Lau's committee currently only recommends a fourth dose of Covid-19 vaccine for immunocompromised patients aged 12 and up.

As of Monday, some 6.07 million people, or more than 90 per cent of the city's eligible population, had received at least one dose of a Covid-19 vaccine. Around 1.95 million people have received a third dose.

However, the vaccination rate among elderly residents has remained relatively low, with only about 51 per cent of those aged 80 and up having received one dose, and just 31 per cent having taken two. Only 1 per cent of the age group has had a third dose.

According to health authorities, more than 90 per cent of those who have died in the surging fifth wave of infections were either unvaccinated, or had only received one dose. The death rate among those aged 80 or older who were not fully vaccinated was 8.61 per cent, around 5.5 times that of people in the same age group who had at least two jabs.

So should Hong Kong be rolling out fourth jabs right now, and if so, who should be first in line?

1. Are fourth doses really needed now?

Professor Ivan Hung Fan-ngai, the co-convenor of the government panel on vaccine effects, said there was no evidence that those over the age of 60 needed a fourth dose right now, as most had not even had their third, though he allowed the extra boosters would be inevitable further down the line.

But for the time being, he said: "Only immunosuppressed patients, in particular those who have undergone organ transplants and are on a high dose of immunosuppressants, need a fourth dose."

He pointed to recent data from Queen Mary Hospital on more than 400 Covid-19 patients, 80 per cent of whom were older than 80, and 90 per cent of whom were unvaccinated. Only 2 per cent had received two doses, and none had taken three.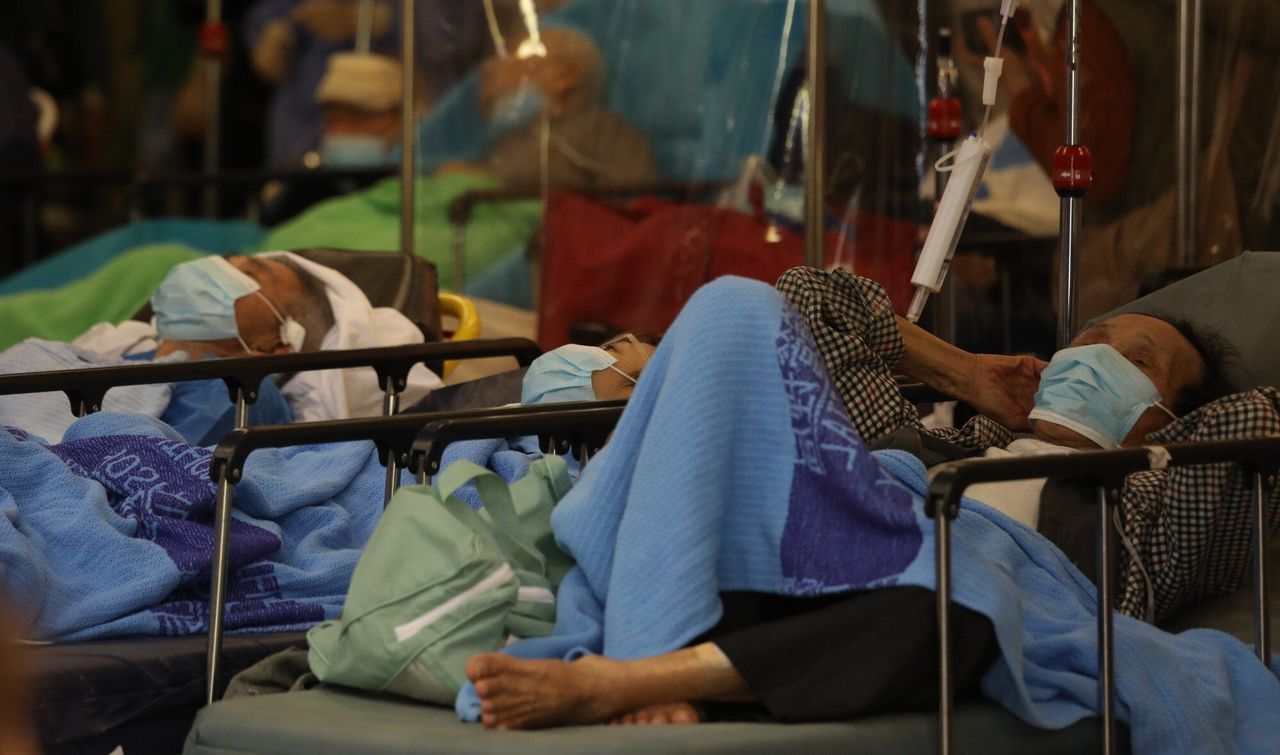 Patients at the packed accident and emergency unit of Queen Elizabeth Hospital in Jordan.

The data suggested, according to Hung, that "three doses of vaccination is adequate, even for the elderly, in protecting against severe infection and mortality".

Professor Benjamin Cowling, head of the epidemiology and biostatistics division at the University of Hong Kong, said that right now: "First doses for elderly would be the priority."

However, government pandemic adviser Professor David Hui Shu-cheong disagreed, saying he supported a fourth dose for the elderly as their immune response was poor.

Referring to the current guidelines on immunocompromised patients, he said: "Age will be added following discussion at the Centre Health Protection joint scientific committee."

2. Who else provides fourth doses?

A growing number of countries are now exploring fourth doses for their most vulnerable.

Israel, which began administering third doses last July, is the first country to begin giving out fourth doses more widely. There, anyone who is a health worker, immunocompromised or over 60 has been eligible for a fourth dose since January.

The country's vaccine advisory panel was also the first to recommend offering a fourth dose to all adults if at least five months had passed since they received their third or recovered from the coronavirus.

Sweden has recommended a fourth dose for anyone over 80, while Britain will offer one starting in the spring to adults aged 75 and older and residents in elderly care homes.

The United States, Chile, Britain and Australia already offer fourth doses to the immunocompromised.

3. What does the data say about fourth doses?

Data released last month from the US Centres for Disease Control and Prevention (CDC) found that BioNTech and Moderna coronavirus vaccines' protection began to decline after about four months.

A trial with the Pfizer and Moderna mRNA vaccines found that a fourth dose provided a modest boost in protection against Omicron and restored antibodies to levels seen right after the third dose. However, this did not translate into significantly increased effectiveness and did not prevent infection with Omicron.

An observational study from Israel showed that a fourth dose offered slightly higher levels of protection against both infection and severe disease for those aged 60 and over and considered at risk. The fourth dose was administered at least four months after the third.

4. When is the best time to get a fourth dose?

Hui said the timing of a fourth dose was yet to be discussed, but would likely be three months after the third.

Dr Joseph Tsang Kay-yan, chairman of the Medical Association's communicable diseases advisory committee, noted that experts differed on whether the fourth dose for immunocompromised patients should come four weeks or three months after the third.

5. How many boosters are too many?

Tsang said he believed the focus in the future should be on stockpiling antiviral drugs.

"Once we diagnose the elderly with having Covid-19, within the first five days' time we can provide these oral antivirals. It will definitely reduce the progression to severe disease, [and lead to] a reduction in the hospitalisations, as well as mortality," he said.

Hung, of the vaccine committee, said that eventually everyone would need a fourth dose of Covid-19 vaccine, probably in the second half of this year, when antibodies begin to drop six months after people's third jab.

"Hopefully by then we will have the Omicron-matched vaccines for the fourth dose booster," he said.