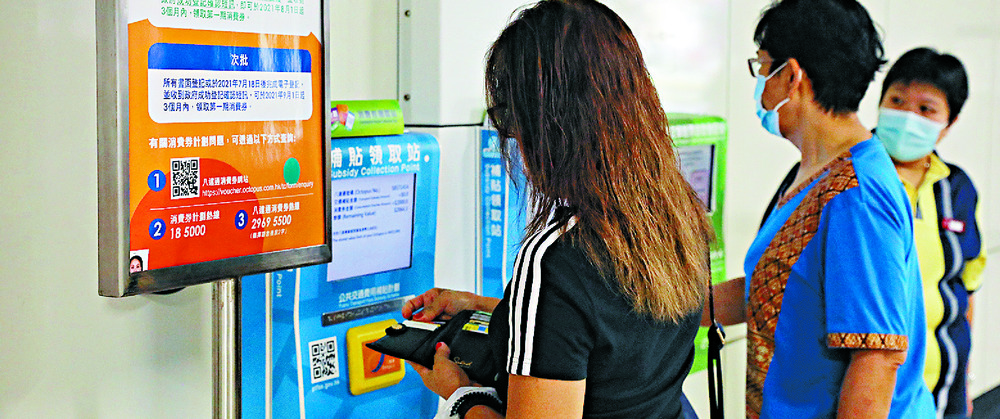 Shop hit over voucher rules
A medicine shop had its electronic payment account canceled after it broke regulation while handling consumption vouchers.
It was among 30 complaints referred by the Consumer Council to four stored value operators for follow-up.

Jessie Wong Hok-ling, head of the budget and tax policy unit of the Financial Secretary's Office, said on a radio program yesterday that operators have sent mystery shoppers to investigate complaints about merchants taking part in the Consumption Voucher Scheme and confirmed one shop had violated the scheme and had its account canceled.

"The shop can no longer use the payment tool to obtain payment," Wong said.

A representative for the Consumer Council said the violation was detected at a medicine shop where the consumer had paid through an Octopus card.

A government representative said the shop involved had collected additional service fees from customers who paid using consumption vouchers.

The watchdog added that the 30 complaints involved merchants collecting an additional fee or setting a minimum charge.

Nine of the cases involved merchants selling electronic appliances and computer products while the rest involved six restaurants, four pharmacies or medicine shops and others.

The government disbursed the second round of e-vouchers to about 5.5 million citizens through four stored value facilities last Friday.

Those that had opted for AlipayHK, Tap & Go,and WeChat Pay HK can receive HK$3,000 for their second round of e-vouchers, while those who chose Octopus can receive HK$2,000. In the first three days since the second round of disbursement, the government has yet to receive any reports of people being unable to use e-vouchers.

Wong said 70 percent of the citizens that have opted to collect from the Octopus card had "tapped" their cards to get the second voucher last Friday.

About 19,000 people had re-registered to obtain the first round of e-vouchers due to reasons such as missing information in their first registration. About 17,000 of them have successfully done so.

Wong added that from April - when the scheme was announced - to the end of August, four stored value operators have added more than three million account users.

Separately, wholesale and retail sector lawmaker Peter Shiu Ka-fai said on another radio program that the second round of e-vouchers has been good for the retail market during the past weekend.

Shiu said sales have increased by 100 percent in sectors selling electronic appliances and gold jewelry. Some dried seafood stores saw a constant flow of people in the first two days.

"The second round of consumption vouchers is better in stimulating the retail market than the first because the e-vouchers were disbursed on October 1, China's national day. Secondly, many get HK$3,000 in this round which seems like a lot. Thirdly, some have learned to make purchases through several payments," Shiu said.