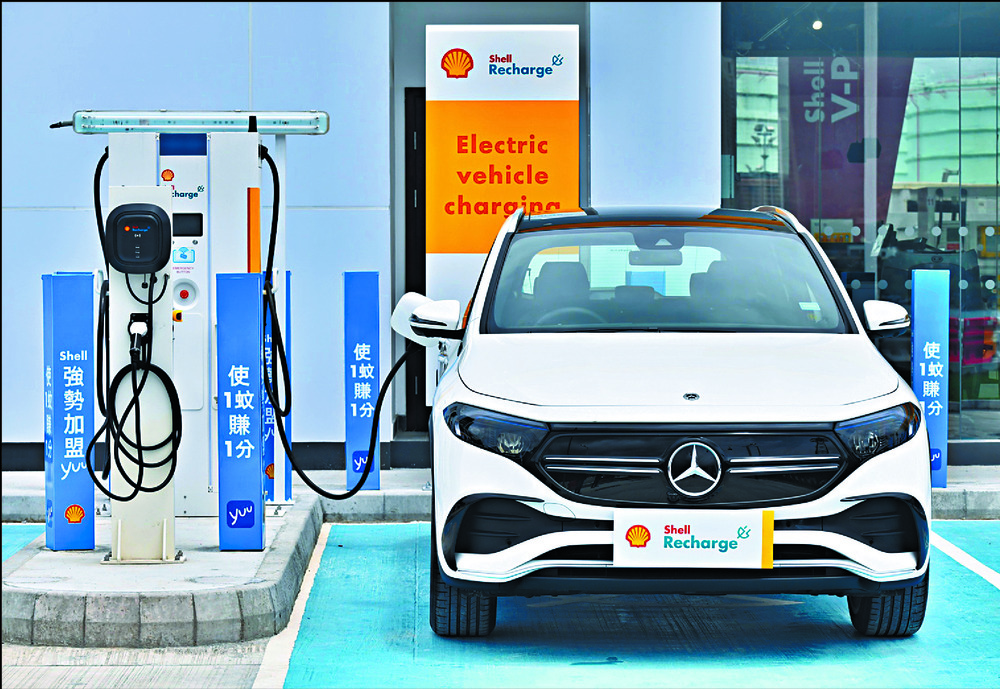 Shell sets pace with new gas-EV station
Hong Kong's first gas and electric vehicle charging station starts service next month at the airport, with the speedier power option costing HK$64 an hour.
The facility next to Airport Freight Forwarding Center covers 5,000 square meters, making it Shell's biggest site in Hong Kong.

It comes with four EV charging points, equipped with two types of connectors to cover 99 percent of EVs in Hong Kong, and 16 gas filling positions.

EV drivers can check whether the charging spots are available for use through Shell's mobile app.

Customers can start charging upon paying online.

Self-service is the modus operandi, but station staff can provide assistance when needed.

Two of the chargers are super-fast, being served by a 60 kilowatt unit with two types of connectors, and they cost an average of about HK$3.20 per kilowatt.

This super-fast options mean EVs can be charged from 10 percent to 80 percent in one hour, which enables the vehicle to travel 300 kilometers - equivalent to three journeys from Tung Chung to Stanley.

The other two medium-speed chargers will cost HK$21 for every two hours at a per-kilowatt cost of HK$2.80. Wider spots are also available to accommodate larger EV models.

The station will offer other services such as lubricant change, car care, washes and retail services.

It also has massage chairs for EV drivers.

General manager of mobility Leung Suk-man said Shell's "short-term goal" in Hong Kong is to provide over 300 Shell Recharge charging points across Hong Kong Island, Kowloon and the New Territories.

"It is expected that 30 percent of Shell's 41 stations can be retrofitted with charging facilities to help achieve zero emissions," she said.

Shell launched its first Shell Recharge EV charging station in December in Fan Ling, making Shell the first mobility solution provider in Hong Kong to offer an inclusive EV charging network, with charging facilities in both carparks and gas and oil stations, to meet a wide range of customer demands.

Located on the second floor of a public car park, the station is equipped with two 120 kilowatt super-fast charging devices to serve four charging points.

Globally, Shell aims to grow its network to over 500,000 charging points by 2025, including 30,000 public charging points on its retail sites and at third-party destinations, Leung said.