How Shanghai and Shenzhen keep their stock markets opened may offer a lesson for Hong Kong, which has been grappling with when and how to enforce a limited lockdown to test residents for the Omicron variant.
Stock dealers in Shanghai and Shenzhen have found themselves juggling home chores with their trading jobs, as they keep the world's second-largest capital market humming along amid a worsening Covid-19 outbreak in both cities.

In the Futian district of Shenzhen, a city of 15 million residents often dubbed China's Silicon Valley, the paperless stock market kept trading even as schools, restaurants and entertainment venues all over the city went into a weeklong total lockdown.

In Shanghai, where dozens of neighbourhoods were partially sealed across the 16 administrative districts of the megacity of 25 million residents, Huichen Asset Management's fund manager Dai Ming drove to work to avoid mingling with crowds. The Line 7 and Line 4 subway services that take him from home in suburban Putuo to his office in Lujiazui via the Dongan Road interchange are used by as many as 1 million people everyday.

An extended outbreak of the infectious disease would be "devastating for the recovery of the economy, where many [aspects of] offline and physical consumption have already stalled," Dai said, adding that working from home (WFH) is the least of his problems.

Benchmark stock indexes of Shanghai and Shenzhen on display on an electronic board at Shanghai's Lujiazui financial district on Monday, February 7, 2022 upon the resumption of trading after a weeklong Lunar New Year pause.

How Shanghai and Shenzhen, with 40 million residents between them, keep their stock markets functioning may offer a lesson for Hong Kong, which has been grappling with when and how to enforce a limited lockdown to enable local health authorities to test residents for the Omicron variant.

"HKEX is committed to operating robust and resilient markets," a spokesperson at the city's stock exchange said last week, after the local securities regulator reminded companies to ensure business continuity in the event of a lockdown for mass testing. "Our intention is always to keep markets fully functioning whatever the prevailing environment."

To be sure, trading from home carries compliance risks for stockbrokers, fund managers, wealth management firms, investment banks and private bankers. For Dai, with 40 per cent of Huichen's employees under lockdown, the biggest headache – and potential inefficiency – is communication. Most trading floors require brokers to record their conversations, a task that becomes ever more difficult to enforce in WFH situations.

"Communication remains a problem as many people are just not around in the office," Dai said. "Of course, in-person communications are the most efficient. Even with phones or communication apps, you still face decreasing efficiency. But that's a situation we have to live with now."

The lockdowns weighed on China's stock market trading, shrinking Shanghai's Monday turnover by 12 per cent to US$60 billion, shaving 10.3 per cent off Shenzhen's volume of traded shares to US$85.2 billion.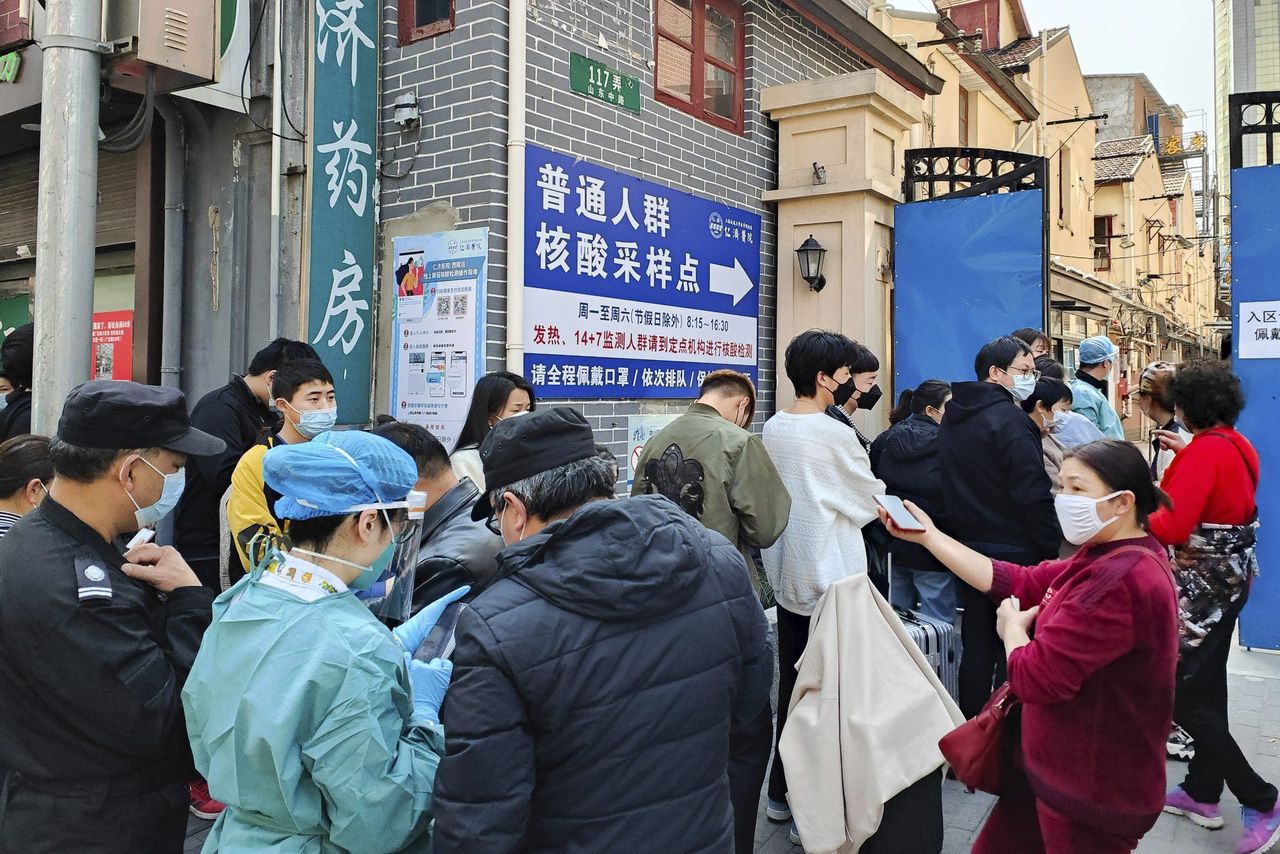 People line up for coronavirus tests outside a hospital in Shanghai on March 11, 2022.

Having kept Covid-19 mostly at bay for more than two years, some Chinese brokers already have contingency and business continuation plans in place, precisely for the day when they must keep their businesses running outside their offices.

Citic Securities, China's largest publicly traded brokerage, had technicians to help employees in the most business-critical departments install secure systems at home for them to continue working away from their offices, according to former trader Wang Chen.

Now a partner at Xufunds Investment Management, Wang said the side effects of WFH are clearly evident, even if home-working is neither a problem for him nor his company. Still, most employees would stay away from their office in Pudong until the Shanghai pandemic recedes, he said.

"Concentration is a problem, and unlike in the office, you cannot entirely focus," he said. "You have your family members and they would be your distraction. Sometimes the property manager [of the residential complex] will do something to distract you."

HSBC Jintrust Fund Management, a Shanghai venture with Hong Kong's largest currency-issuing bank, has kept half of its employees working from home, part of an A-B split throughout the company to minimise transmission risks.